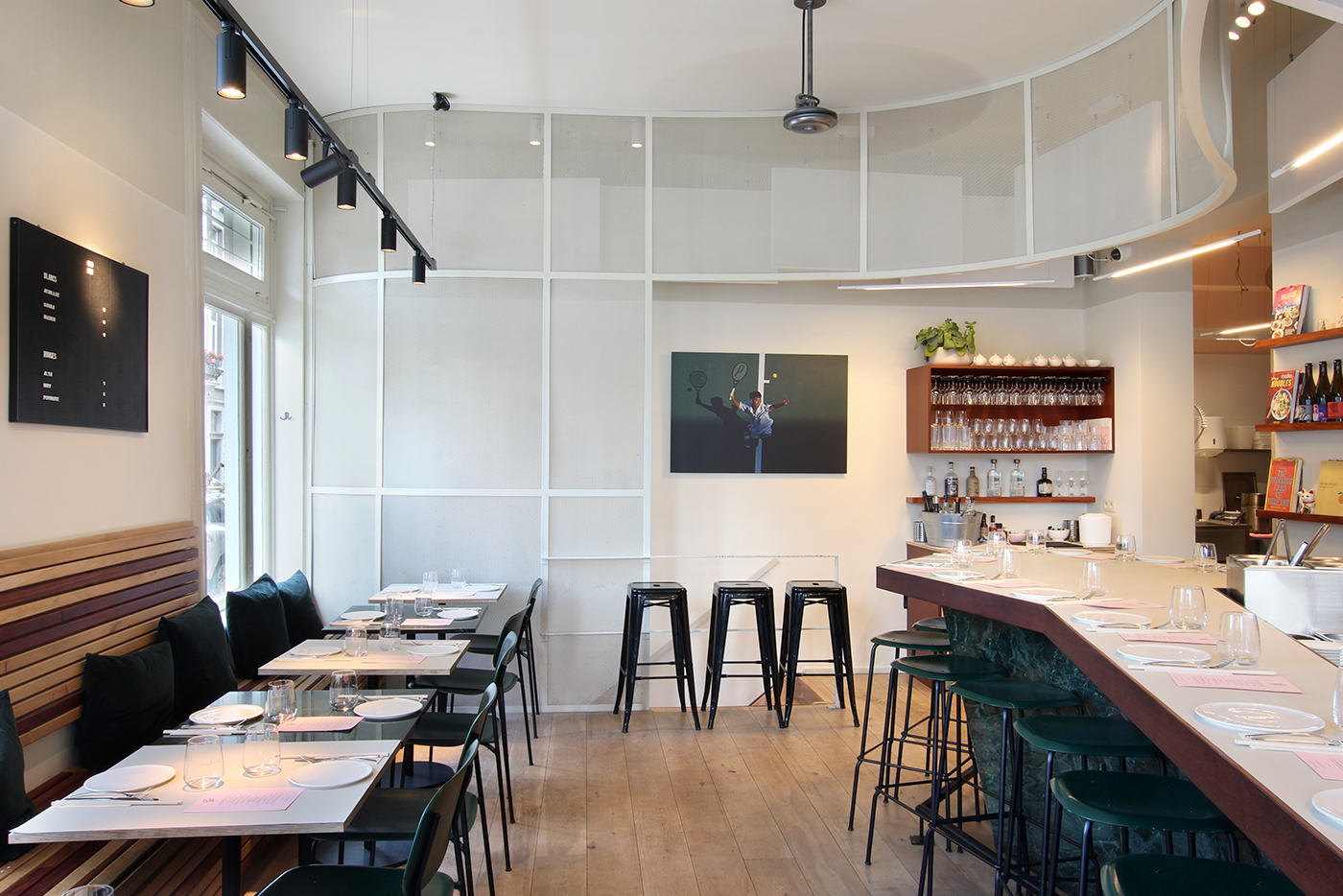 cafés, bars, restaurants
staying active by offering
creative delivery and take-outs

 
Here we go again. We're not gonna lie, this second closing of the bars and restaurant is simply dramatic, and some may not be able to live through the winter.
We can help them to stay alive. If you usually eat out a lot, don't change your habits now. Every order counts.
Keep eating out, but only at home this time. Our favorite restaurant owners have put in place extremely high quality solutions to help you stay loyal to them. Here are just a few of them.
This article will be completed and updated every day, until the horeca reopens. Don't hesitate to contact us on instagram, if you have any information that we're missing.
Restaurants that offer something creative and different
Racines
4-course tasting menu, 45€ pp.
An amazing 4-course tasting menu, where the lasts steps are assembled and heated at home, to guarantee a perfect finishing touch. To be ordered the day before for Wednesday, Thursday and Friday evenings, and to be picked up on the spot at Racines. Orders via their eshop.
This week's menu here.
Petit Racines
3-course fresh pasta menu, 20€ pp.
To be ordered the day before for Wednesday, Thursday and Friday evenings, and to be picked up on site at Le Petit Racines. Orders via their eshop.
This week's menu here.
Le 203
A new menu available every week from Tuesday, to order online on their website here, to take away from 7pm, Wednesday to Friday.
Starters, main course, dessert and cocktails can be ordered separately.
Tontons
In addition to its pasta dishes available for delivery, Tontons also offers their sauces – bolo, or manzo – by the kilo, or directly "ready to cook" packs with sauces, pasta and parmesan for 4 people (30 – 35€ the pack).
Take away orders here and delivery orders here.
San
4 chefs, 1 basket: The chefs of the San family will combine their strengths and talents, and put their creativity at the service of an ultimate 4-course menu for two people + wines at 85€. First menu by Valerio Borriero, Joel Rammelsberg, Toshiro and Kevin Perlot.
Order by email info@sansablon.be until Wednesday and pick up on Friday at San Sablon.
Tero
The restaurant of Brussels and Bierges provide take away meals, local products and vegetables from their own farm.
infos on their website and on brussels@tero-restaurant.com / 02 347 79 46
Tandem
The restaurant is going on take-away for the coming weeks with a map to be found on their instagram or facebook page. Menu available on Tuesdays, Thursdays and Saturdays with 24 hour advance order. Their selection of wines will also be available, don't hesitate to contact them for some advice.
JML
Caterer Jean-Michel Loriers puts his concept of "papilottes" online for delivery. A bistronomic aperitif menu, starter and main course, to be reheated in the oven at home, at 49€ pp. To order here.
Old boy
The restaurant already offers bao and wontons kits, as well as their ice cream to order on their website, to be picked up from Thursday to Saturday between 6pm and 8pm.
Starting next week, the Old Boy at Home is making a big comeback, with a 25€ pp menu with cooking and dressing instructions. The menus will be available on their website, pick up from Thursday to Saturday with delivery possibilities in different communes of Brussels.
We can also tell you that a future collaboration with Brussels restaurants, like their last one with Holysmoke, is in progress. Stay tuned.
Kitchen 151
Three boxes available for delivery or take away, from Wednesday to Saturday.
The Pic Nic box – 4 dishes to be shared, 50€ for 2 people.
The Tel Aviv box – 5 dishes to share, 60€ for 2 people
The Full Experience box, the one we particularly recommend: 6 dishes to share + 1 bottle of wine as well as a small video of Simona and the playlist of Kitchen 151, to feel just like at the restaurant – 70€ for 2 people.
Order to be placed the day before by email to kitchen151brussels@gmail.com, more info here.
Humphrey
The "Tres Amigos" box is a tasting menu prepared by three chefs and accompanied by a cocktail. 90€ for 2 people. Details and order here.
It is also possible to order her box of fresh and organic vegetables, directly from Julie's garden: A mix of 6 varieties of vegetables as well as three fresh herbs or edible flowers, for 18€. Orders and more information via their website and info@humphreyrestaurant.com
Brut
The restaurant will offer 3 different boxes (terroir, brunch and tapas) and also the possibility to buy their homemade local products on their eshop, here. Orders will be placed until Thursday 8pm for pick-up or delivery on Friday.
Hearth by Elliott
Hearth by Elliott is already well known for cooking unsold goods in supermarkets. They are doubling their efforts, as all the big suppliers of the horeca find themselves with large unsold items on their hands, impossible to resell to private individuals.
The association transforms all the unsold ingredients into meals that they redistribute at a minimum price to associations such as La Fédération Alimentaire de Bruxelles, Milo, Les Restos du Coeur, and have been cooking for 3000 people per week for a month and a half.
If you want to join their team of volunteers, send them a message on their instagram account, here.
Bars and cafes offering something different
Titulus
Home delivery, order by email at tituluscheztoi@gmail.com. They will soon offer live tasting through their Instagram accounts, following a different theme each time.
LIB
Cocktails in bottles (from 14€ to 22€ for 200ml), to be picked up on site from Wednesday to Friday from 2pm to 7pm, or delivered on Saturdays. Orders to be placed here before noon on Friday for delivery on Saturday.
OK Coffee Tips
Thomas, ex-Or Coffee and a true encyclopedia of specialty coffee, is reintroducing his "Café Maison" lives. Great moments where he prepares coffee together with a you and a guest, every Sunday at 11am, on his instagram account.
Edgar's Flavors
Their cocktails are offered in bottles (from 20€ for 250ml / 2 cocktails) on their eshop, and are accompanied by advice on service – what type of glass, what decoration, etc.. It is also possible to order some of their best bottles of alcohol, such as Dama Tequila, or Reina Racilla Blanco, an incredible agave liqueur produced in the forests of Jalisco in Mexico.
Delivery all over Europe.