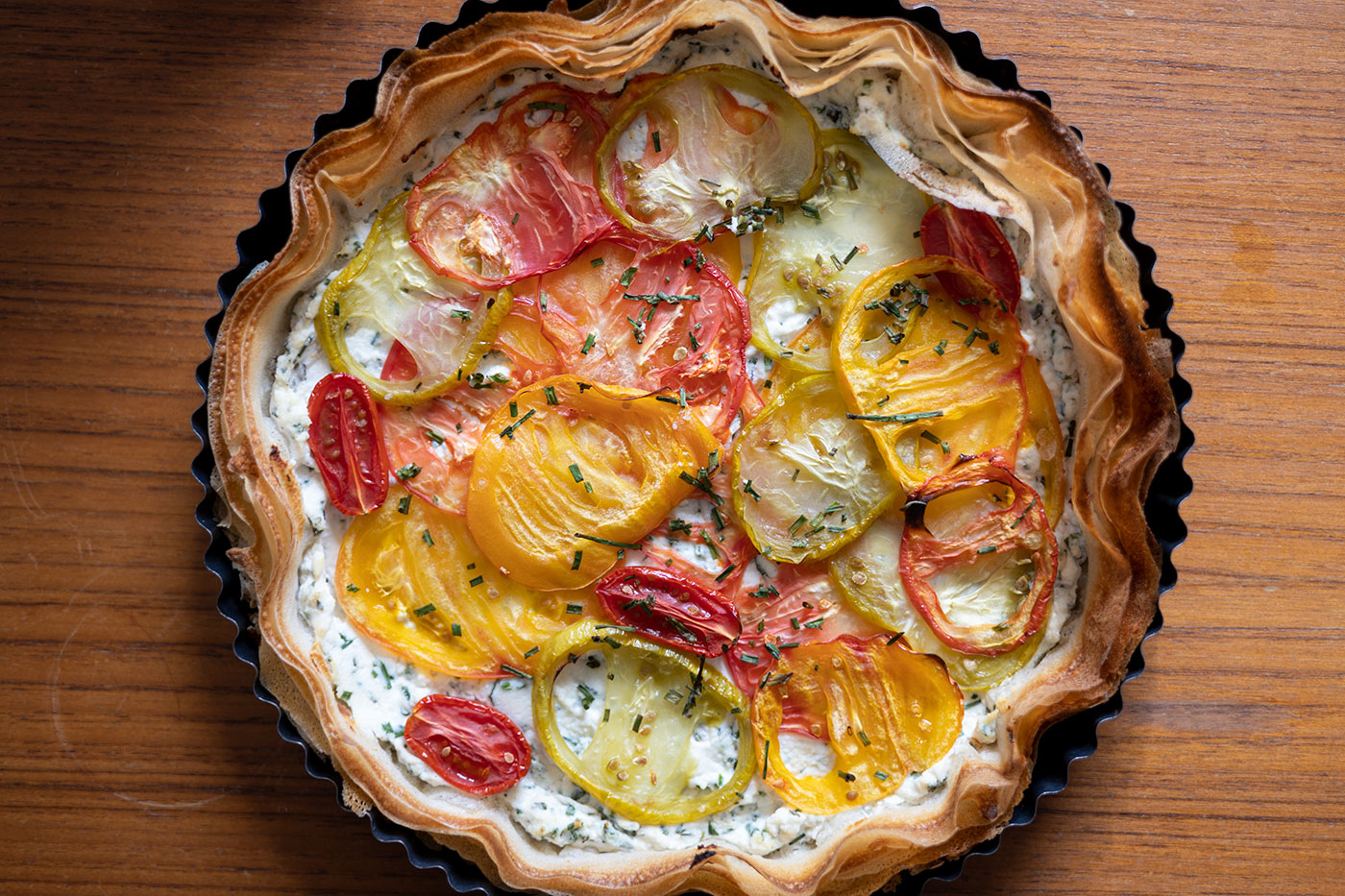 ingredients
– 1 packet of phyllo pastry (10 sheets)
– 300 g of ricotta
– 1 packet of chives
– 1 packet of fresh mint
– 1 lemon
-4 beautiful multi-colored tomatoes
– a few cherry tomatoes
– Utensils
– a Horl sharpener
– a microplane
If you missed it on Instagram, on Sunday we shared our recipe for tomato, ricotta, and fresh herb tart ☀️🍅🌿
It was an opportunity for us to discover the Horl sharpener, which allowed us to obtain tomato slices as thin as paper 🔪
Never underestimate the joy of cutting with a well-sharpened knife ☝🏻
It was the first time I sharpened my knives myself, and I'm still amazed by the ease of use of the Horl sharpener, especially considering that I had absolutely no knowledge of sharpening. Additionally, the sharpener is made locally in the Black Forest in Germany and is truly designed to last 🌳🪵
I'm just saying, it's never too early to start the Christmas gift list 😌

Recipe :
Preheat the oven to 180 degrees Celsius (356 degrees Fahrenheit) on the convection setting.
In a mixing bowl, combine the ricotta, finely chopped fresh herbs, zest of one lemon, a pinch of sea salt, a drizzle of olive oil, and a few turns of the pepper mill.
Sharpen your knife using the Horl sharpener, which is incredibly easy to use. For the sharpening steps, check out the recipe video. Slice your tomatoes into very thin slices. Set aside.
Prepare the tart base. Layer the phyllo pastry sheets on your tart pan, making sure to brush each layer with olive oil using a pastry brush.
Spread the ricotta and fresh herb mixture over the phyllo pastry, then arrange the tomato slices on top.
Finish with a sprinkle of sea salt and some chopped chives.
Bake in the oven for 20 minutes at 180 degrees Celsius (356 degrees Fahrenheit). Now it's time to enjoy! ☀️