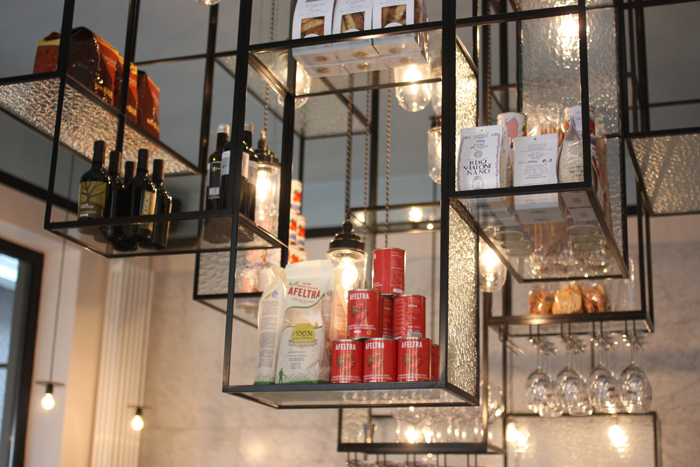 12 RUE DE LA LONGUE HAIE,1050 BRUXELLES
02 513 92 13 SITE WEB
OUVERT DU LUNDI AU DIMANCHE
DE 9h à 23h
Twin sister of the famous Caffè al Dente, Gazzetta isn't any less worth a visit than its sibling. If this modern trattoria is almost hidden, set back from avenue Louise, it doesn't prevent it from being crowded throughout the whole day.
Gazzetta is the perfect place to enjoy a croissant and an espresso in the morning, while sitting at the marble counter facing the open kitchen. For lunch or dinner, to try the pasta of the day, at one of their high wooden tables. And as soon as the summer starts, for a spritz and a burrata out on their terrace, to start the evening right. The place simply never empties. But don't you worry, a glass of Italian wine and a plate of cold cuts will do the trick to help you wait patiently for a table. The pasta of the day (14,50€), simple, delicious and always perfectly al dente, is worth the trip alone. At Gazzetta, there are just as many different pasta of the day as they are recipes for Italian pasta. Penne al'arrabiata, rigatoni with ricotta and lemon zests, orrechiete with guanciale and pecorino are a few among the many recipes you may come across. For simplicity lovers, they also have linguine with fresh tomato sauce and basil (13€), which always stays on the menu.
In this tiny restaurant, everything was custom designed. From the high wooden tables with benches lining against the windows, to the central glass suspension, working both as a light and a shelf to store Italian treats. From across the street, you'll recognise the place by its fabulous window decal, displaying the word Gazzetta in big golden letters.