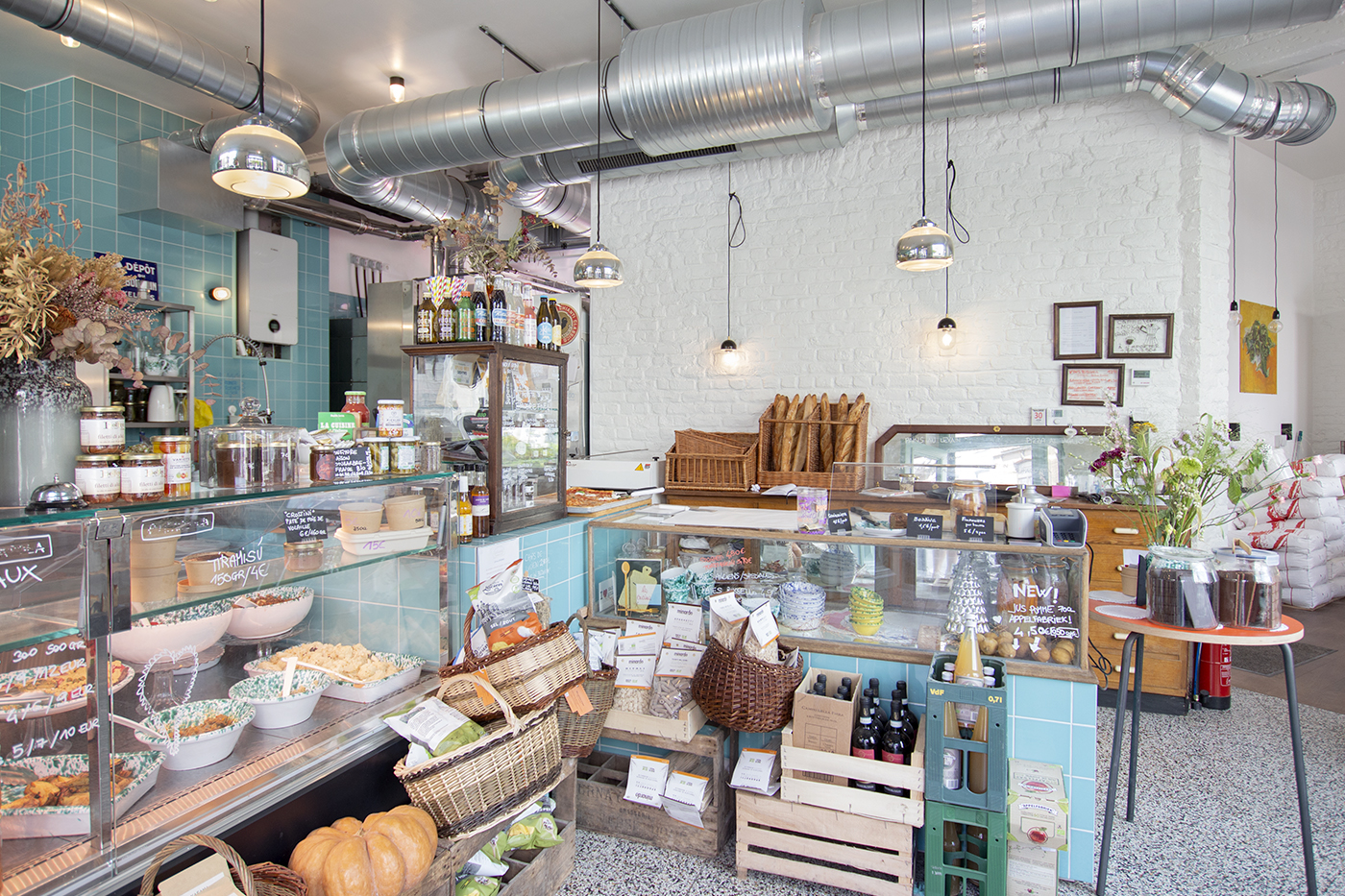 20 Rue Antoine Bréart, 1060 Saint-Gilles
02 732 63 00 – website
from tuesday to friday noon till 6.30pm
on saturday from 8am to 3pm
closed on sunday and monday
It could have been a bakery, a small restaurant or a grocery store. The truth is that, up until the last moment before setting foot inside for the first time, we didn't really know. But the spot had intrigued us for a while. Through the window, we could spot a happy and colorful mess, and on the sidewalk, small tables waiting for customers to take a seat, furnished with enormous pots of basil.
So we settled down, and we began by observing. First, the giant pot of fresh basil repotted in a can of peeled tomatoes. Then, the beautiful spotted dishes in which our water, bread and cappuccino were brought, while we waited to order at the counter. And then, Angelica, the owner, who was happily chatting with the workers on the street, and who, with the little help of cookies, coffee and a bright smile, managed to convince them to stop their jackhammers so as not to scare away her customers.
We hadn't eaten anything yet but we already knew we were in the right place.
Inside, in the small space halfway between a grocery store, a catering counter and a bakery, that's where things got lively. Behind her counter, Angelica took the time to explain to us each of her preparations to compose our plate, small or large. From the idea of a Tuscan counter, she had moved on to something more eclectic to adapt to the neighborhood's clientele, half of whom are vegetarians. The products are often local – from Terroirist – but also sometimes imported from Italy and always in season. Preparations inspired by Tuscany but also drawn from Ottolenghi's cuisine. We had roasted peppers, a Tuscan panzanella with tomatoes and bread crumbs, flat beans with tomato, a quinoa salad with zucchini, fresh herbs and raisins, roasted carrots with honey and rosemary. For two plates, a kefir and a cappuccino, our bill rounded up to an even 26,50€. As you can guess, the contents of Angelica's counter changes every day – a good reason to come back for the minestrone and the Tuscan ragu.
And on the bakery side, Christian, Angelica's husband, bakes fresh breads, pizzas and schiacciata for the local clientele every monring – available just in time for lunch, just like the counter!