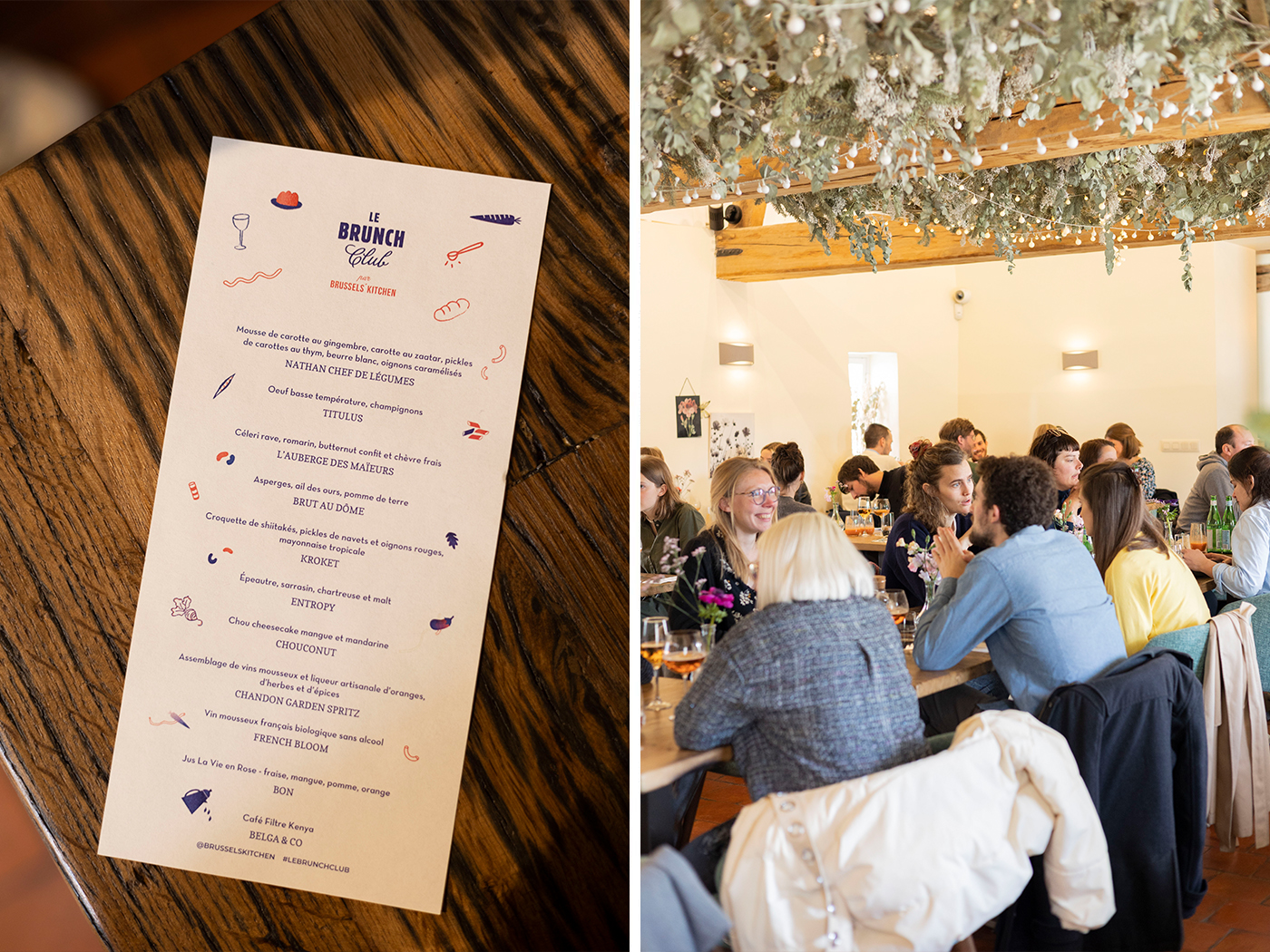 Each month, Brussels' Kitchen gathers 7 chefs from Brussels around a unique vegetarian tasting menu in 7 courses. The perfect opportunity to discover 7 Brussels chefs, with friends or family, during a brunch with a unique concept.
The food will be served in the ceramic plates made by Kylna Art Gallery, and will be paired with good music, Chandon Garden Spritz, Botaniets Gin mocktails, fresh juice BON, specialty coffee from Belga & Co filtered with Moccamaster and San Pellegrino water.
The Brunch takes place in a unique service of 50 people, from 12pm to 3pm, in an ultra friendly atmosphere, at l'Auberge des Maïeurs.

Reservations here
—
Update (august 2022)
Our Brunch Club prices are changing, quite significantly. We'd rather be straight with you : the prince change is not due to the recent inflation, nor to the raise of our salaries (we'd love that though). No, it's actually quite different.
You won't be learning anything new if we tell you again how tough times have been for the restaurant business – between no-shows, inflation, and staff becoming extremely rare, they're fighting more than ever to keep their business afloat.
100% of the price difference will be directly allocated to the chefs.
A fair wage for the stars of the event, a more reasonable price for the content we offer. Since you've been telling us, it's about time we realized that no, 50€ was definitely not enough for a 7-course tasting menu with unlimited drinks included. You won't be surprised to read also that without our dear sponsors, we'd be losing money hand over firsts. From the next 28th of August, the price will go from 50€ to 65€ per person.
The difference for you ? Contributing, with us, to highlighting the talents of your favorite chefs. Acknowledging their creativity and genius, and letting them share their passion with you.
—
Practical information:
Where : at l'Auberge des Maïeurs restaurant, 1 parvis saint-pierre, 1150 woluwe-saint-pierre
When: One Sunday every month. One shift from 12pm till 3pm
What : a vegetarian tasting menu in 7 courses, drinks included
How much : 65€ pp
How: by tables of 2, 4 or 6 people
Reservations here
N.B.: No refunds will be made in the event of a cancellation on your part. However, if we have to cancel for any reason, you will be refunded in full.
Photos by Vivi Pham Photography and Studio Green Kitchenette