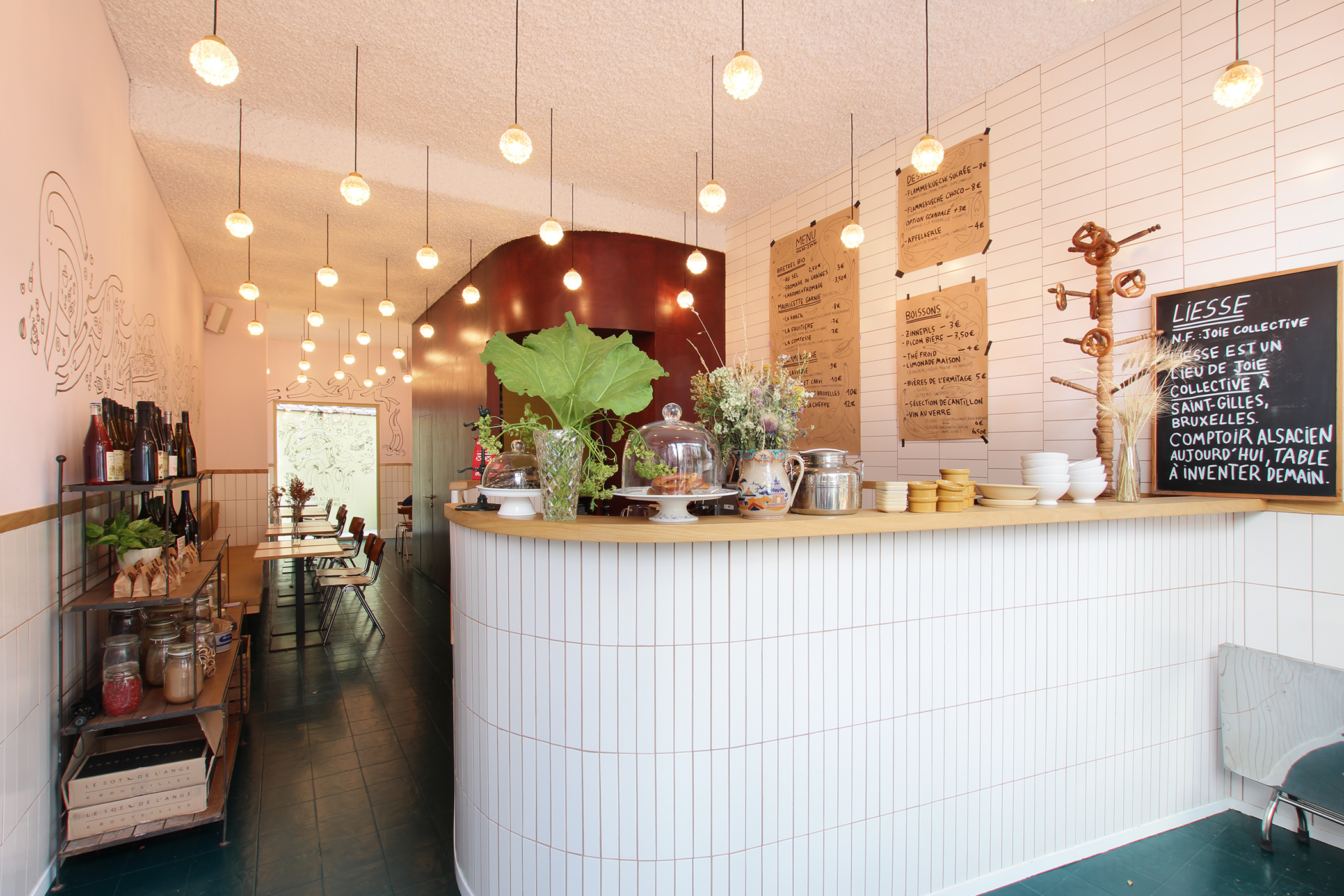 57 avenue Adolphe Demeur,
1060 Saint-Gilles
instagram
Thursday to Monday from 11:30am à 10:30pm
The first time we came, it was on Friday for their big opening. Liesse means "collective joy," explained Pauline. Pauline is half of the duo behind Bouchée Double, and she's the one taking over Liesse's kitchen, with her small team. We'll come back to that. In the Adolphe Demeur street, the size of the pavement has tripled, transformed into a giant terrace by the current context, and there is a serious holiday atmosphere. Even masked, it seems that nothing can reach the collective joy of the customers who come and go to the small counter – designed by the very cool architecture office DEV-Space – to place their orders. It's Friday night in the air, and the evening is off to a good start.
We order "La Knack" (8€) – with homemade pretzel bread. Mamma Mia. And a bottle of natural orange wine, Alsatian of course (45€). We're really, really good. Flamekueche come and go around us, and you can feel the bustle behind the little counter.
There is a real communicative joy in and outside this little place, enhanced by the wine, the laughter, friends and pretzel bread.
Liesse is a culinary hub, a place for aspiring chefs to be, or for confirmed chefs who want to validate their concept on a small scale, before going big. It's a project launched by Pierre and Thuan (Chez Ta Mère), with great values and great suppliers too (Les vins Pépins, the cheese maker La Fruitière). Their baby was born with Pauline and her team from Bouchée Double, who were resident for the first three months. After that? Everything is possible, but what is certain is that Liesse wants to be inclusive, and off the beaten path. We would dream of welcoming an African chef, says Pierre. An Indian chef too, and why not Mexican. But for the moment, we'll come here for a bite of Alsace, and it's already very, very good.