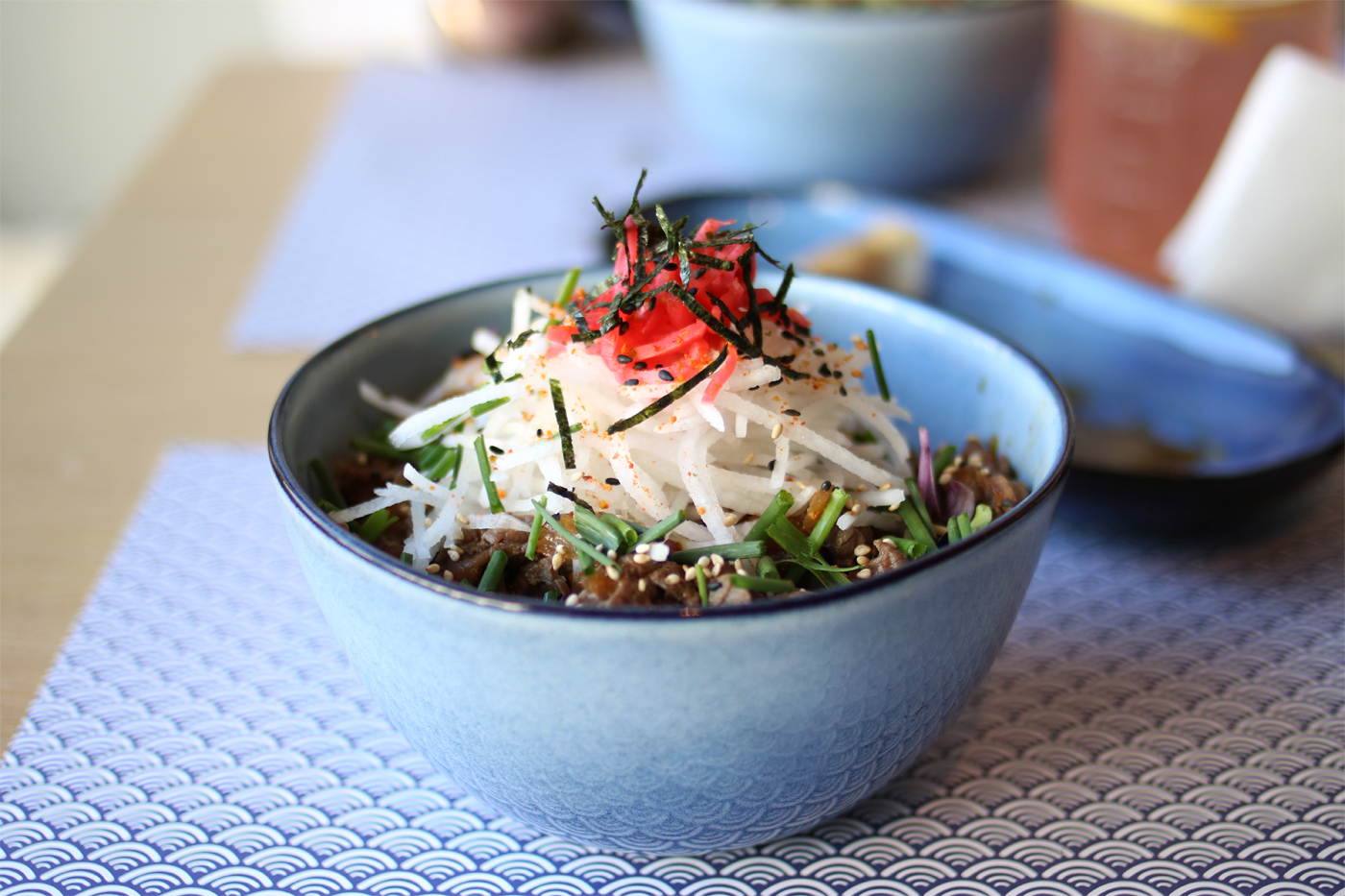 8 rue Lesbroussart, 1050 IXELLES
0488 43 04 42 – SITE WEB – livraison
ouvert du lundi au samedi de 12h à 14h et de 6h à 22h
—
67 place jourdan, 1050 Ixelles
0484 02 82 49 – SITE WEB – livraison
open from monday to saturday from 12 to 2pm and from 6pm to 10pm
When Takumi opened its first venue in Flagey in 2015, they also imported a new food concept in Brussels : the Donburi.
A new Japanese mono-product, simple yet never boring, which had yet to be introduced to Brussels locals. Prepared in five different versions, we quickly rushed to try all of the fancy rice bowls covered in colorful ingredients.
Minced pork with ginger, miso and cucumber, thin slices of beef marinated with onions, caramelized chicken meatballs or chicken fried in a light and crunchy batter and served with cucumbers and soy bean sprouts (14€ each). Without forgetting their delicious homemade gyozas – a delicacy still hard to find in Brussels – pork and ginger, chicken or Korean kimchi (7€ for six).
We directly fell in love with those rice bowls, each looking more appetising than the other, so easy to take away or to eat on the spot with a bunch of friends, before a movie or a long night out.
The place is like the bowls, simple with pretty details and hints of color ; red chairs and blue Japanese-like prints from the tea cups to the place mats.
Takumi's success did not wait, and two years later, the second place finally opens up, this time on place Jourdan. The graphic details are the same, and so is the menu which we are glad to find in this area which has yet to develop more food concepts.
With this second opening, Takumi also launches monthly specials, like the poke bowl with raw salmon, edamame, daikon radish and pickled ginger.
The fact that the food never ever disappoints, the laid-back and warm atmosphere and the very affordable prices never have us hesitate too long before stepping inside Takumi.