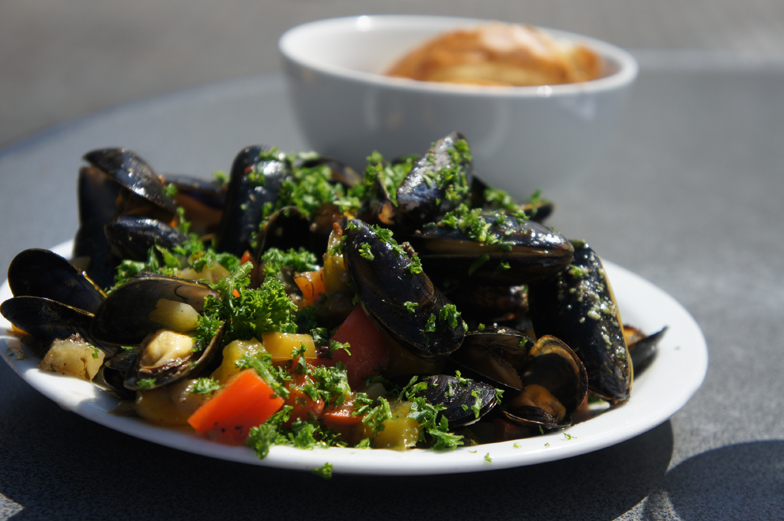 45 RUE SAINTE CATHERINE, 1000 BRUXELLES
TEL: 02 513 11 92 – SITE WEB – delivery
OPEN FROM TUESDAY TO FRIDAY FROM 11AM à 5PM,
FRIDAY AND SATURDAY FROM 11AM TO 6PM
AND ON SUNDAY FROM 11AM TO 8PM
Noordzee is a particularly unique fish shop, located on the famous Place Sainte-Catherine, in the heart of Brussels. On one side, a big fish stall accessible from the street, where you can buy fish like at any other fish shop. On the other side, a huge stainless steel counter where tourists mix with locals to sip on a glass of white wine while enjoying delicious seafood treats with their bare hands.
On the white board, fish and seafood portions that vary with the daily catch, served either fried or cooked on the plancha, and always with a tartare sauce and a lemon slice. The garnaal croquettes (13€ for two pieces) – or shrimps croquettes – are an ultimate stop. But you should also try their fried calamari, bouchot mussels, clams, fresh oysters, grilled tuna or their traditional fish soup, served with grated cheese and croutons. Once you have ordered, move to one of the high tables across the street, to wait for one of the barmen to shout out your name as loud as they can.
It's clearly also for the atmosphere that we like to eat at Noordzee, but most of all because it is a symbol of beautiful summer days in our beloved city.