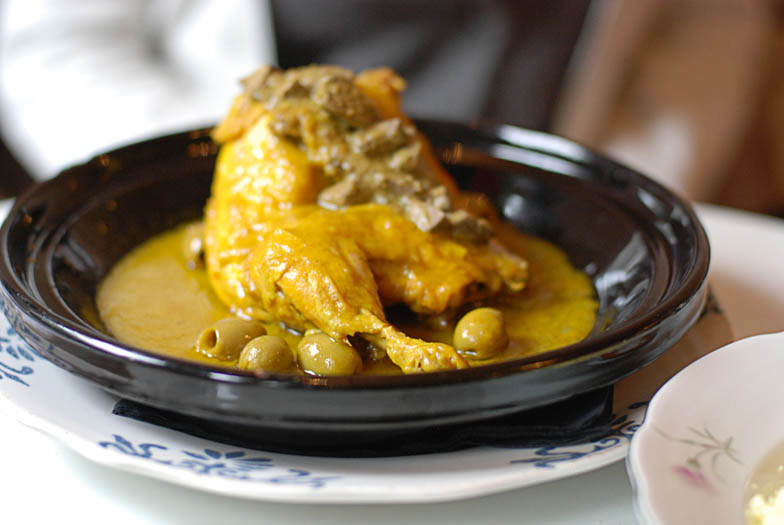 85 CH DE CHARLEROI, 1050 BRUXELLES
PHONE: 02 534 96 49 – SITE WEB
OPEN FROM MONDAY TO FRIDAY FROM 12PM TO 2:30PM AND FROM 7PM TO 10:30PM
AND SATURDAY FROM 7PM TO 10:30PM
Since it opened about a year ago, BabDar was in our restaurant to try list. Bur for a strange reason, it took us a while before stepping inside. We now ask ourselves why. We love it.
This restaurant opened by Jihad Assabi serves a fine morrocan cuisine. We already knew him for the Kif Kif Café near Flagey.(you'll hear about it soon)
Here, the decoration is amazing! It looks like a palace from the Arabian Nights, in a modern version. A perfectly balanced mix of styles. … carpets, old school chairs from the 50's, fiber glass tables made by morocan craftsmen, red thread drawings on the walls (Artist and teacher at La Cambre, Steve Jacobs' creations), and the huge luminous portraits of Nelson Mandela and Mother Teresa, overlooking the huge room. The concept : a place of peace to gather together around a table.
The good tip is to come for lunch. You'll get an excellent value for money. For 15 euros, first and second course with tea or coffee.
We shared small portions of moroccan salads to start (13 euros on the menu). They were varied and delicious, full of colors and incredible favors. They especially had this incredible zucchini caviar, like we'd never eaten before. Explanation on video.
For the main course, we had chicken tajine with lemon and green olives (18 euros on the menu, also great. And to finish, we had fresh mint tea, served with a corne de gazelle, a typical morrocan sweet.
Also note that they have a splendid garden for the summer nights, that you can see here covered in snow.