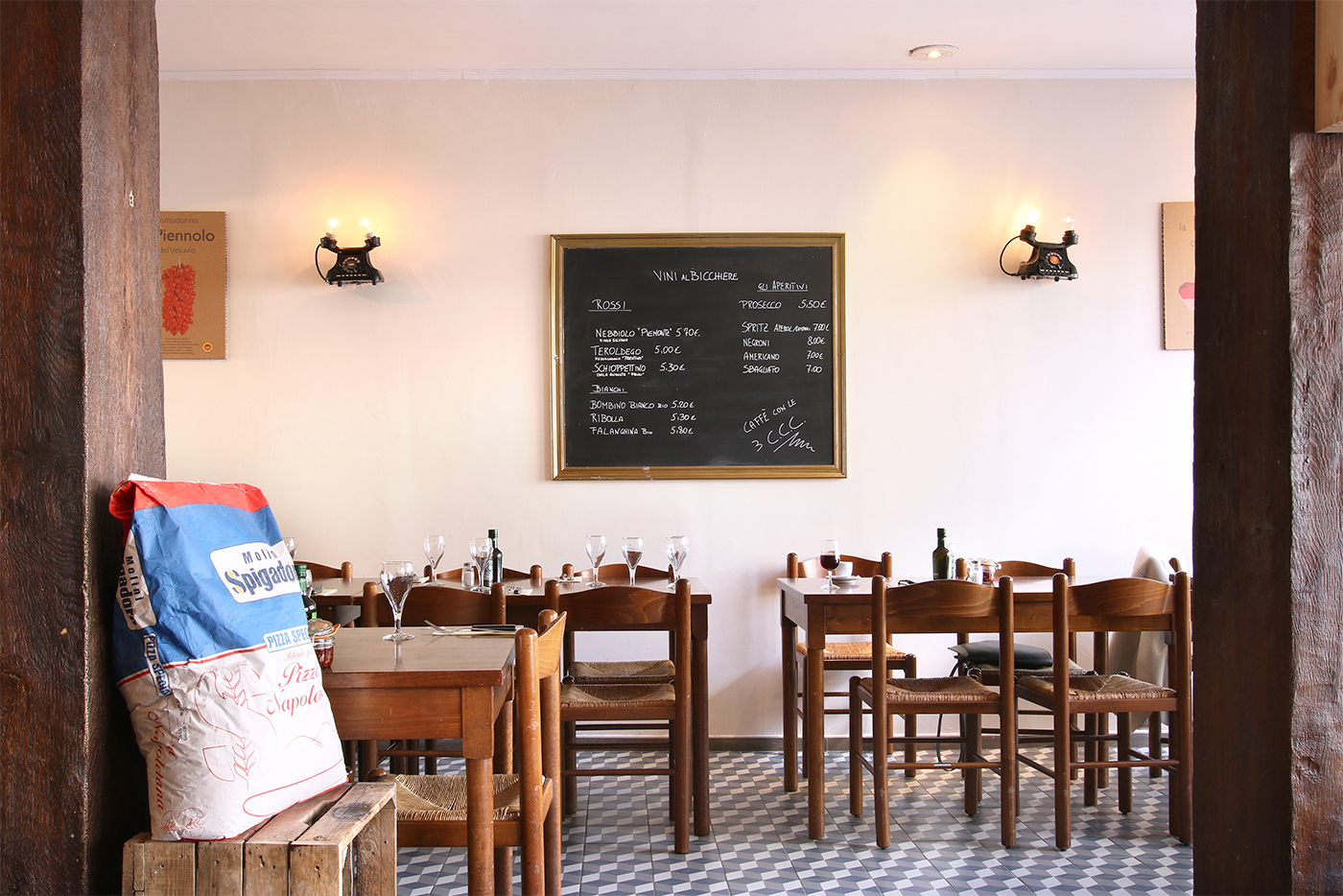 8 place Saint-Josse, 1210 Saint-Josse-ten-Noode
02 465 02 15 – SITE WEB
from thuesday to friday from 12 to 2:30pm anf 6:30pm to 10:30pm
pizza from 8,90€ to 17,90€
Both La Piola and La Piola Pesce (now our beloved Ricciocapriccio) had been around for a while. La Piola Pizza's has now opened to complete the picture, this time in a totally different neighbourhood. It's actually in Saint-Josse, not far from Madou, that Carmine, one of the brothers from the Leone family, runs this little Italian joint with a wood-oven the size of a quarter of the restaurant.
And what an oven! Though the family is originally from Calabre, the pizzas here are 100% Napolitan. In order to do this properly, says Carmine, there is only one secret: the oven. Of course the flour is organic, the yeast natural and the dough rests for 48 hours before being used. But the real trick to the perfect pizza remains in its cooking and its oven, constantly heated at 450 degrees, never less. The pizzas go in for precisely a minute – give or take 5 seconds – and come out both soft in the center and puffy and slightly burnt on the edges. Once the cooking of the dough is mastered, then comes the feast of beautiful ingredients all imported straight from Italy – starting with the spicy oil made with chilies picked in Carmine's mom's garden, back in Calabre. As for the tomato sauce, it comes from Napoli, the cherry tomatoes from the Vesuvio volcano, the pistachios from Sicily and most the ingredients on the menu are followed with the letters D.O.P. (Denominazione di Origine Protetta). Our hearts melted for the Calabra pizza (12,50€), with delicious N'Duja sausage, actually spicy this time, scamorza and San Marzano tomatoes. We also loved the Friarielli and Salsiccia pizza (13,90€), a classic white pizza with wild broccoli imported from Napoli, sausage, parmesan and provola. Besides about 15 pizzas always on the menu, you'll find daily specials including pasta and a couple of mains for lunch, and for lunch only. Our only regret, having missed their legendary Siciliana o' Cornicione pizza, and its crust filled with salted ricotta cheese.