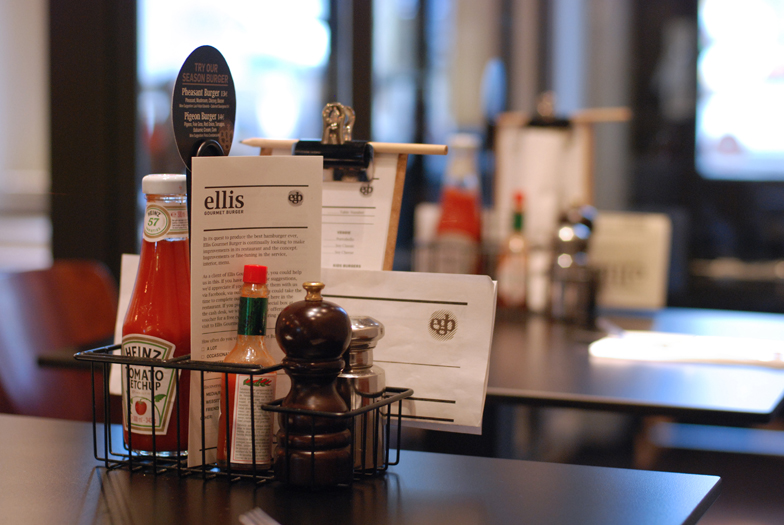 4 PLACE SAINTE CATHERINE, 1000 BRUXELLES
PHONE: 02 514 23 14 – SITE WEB – livraison
OPEN FROM SATERDAY TO THURSDAY FROM 12PM TO 11PM
AND FROM FRIDAY TO SUNDAY DE 12PM TO MIDNIGHT
If, like us, you never know where to eat where you go shopping downtown, this restaurant is for you.
We already told you about Como Como, right next to la bourse. This time, we go to St Catherine, eat at the recently opened Ellis Gourmet Burger.
We step in an old typical house brussel house, where the decoration is rather beautiful. High ceilings, chairs from the 50's, wooden floors, and the burger story narrated on the walls.
We both order homemade ice tea for 3,50, to help us choose what to order. It arrives beautifully, with huge strawberry pieces in it.
Chloé orders the grilled salmon burger, for 9,50 euros, and i decide to get the 3 minis, the perfect solution, if like me, you never know what to get. In it, there are smaller versions of the classic, the lamb, and the chicken, for 13 euros altogether. The first one was really delicious, and the lamb was original and savory, served with guacamole, chili sauce and red onions.
We also got grilled corn and fries, on the side. You have to add 3,50 euros for the fries, but one serving is really enough for two people (at least for two girls like us).
good tip : the menu also has three veggie burgers.
If you're still hungry after all of this, you'll find dessert choices in the same US spirit; muffins, brownies, cookies, milkshakes, etc..
To sum up, really nice discovery, hoping the food will stay as good…