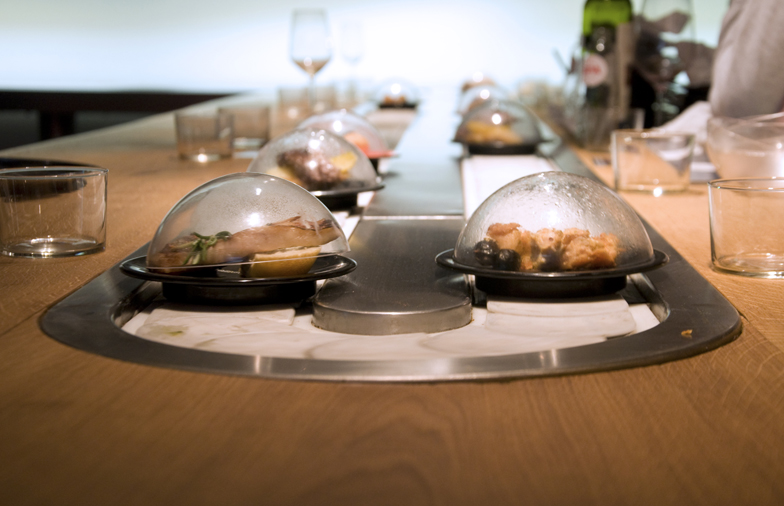 19 RUE ANTOINE DANSAERT, 1000 BRUXELLES
TEL: 02 503 03 30 – SITE WEB
OPEN EVERY DAY FROM 12 TO à 2:30PM,
AND FROM 7 TO 11PM
Como Como is cool. It's the type of place my mom would call hype. It's always full, even a tuesday after the christmas holidays, when no one is supposed to have money to spend on a restaurant anymore.
The principle is pretty easy, pinxos (tapas, for you and me) moving around on a treadmill, like sushis. You check, you lift up the plastic lid, and if it looks good enough to you, you eat it.
And everything looks so good.
Here, even though the place looks pretty "modern", it really feels like Spain, and much more than in those "typically spanish" restaurants where ham are hanging from the ceiling. I mean it's easy, no need to question the chef, he only speaks spanish. And the ingredients from the pinxos? All directly imported from Pays Basques.
And the prices are even pretty reasonable for all the cool things you can eat. And it's a real pleasure to take your time, look, then choose.
With Pauline, we ate 10 pinxos together, so the 9+1 formula, for 24 euros altogether. And that's only 12 euros each. Among what we ate : Beef and mushrooms skewers, fried calamari with garlic, lamb rib, patatas bravas with aioli, stuffed crab legs, rabbit on french bread with a potato slice, also with garlic, honey chicken skewer, chocolate fondant with fresh raspberry, etc…
When it's a bit less crowded, there is less choice on the treadmill. The menu is more informative, but what you'll see varies with the chef's mood. The good thing : if that is in fact the case, or if you're placed at the end of the chain, and everyone is eating before you, the waiters won't hesitate to bring you pinxos personally. And if there is something particular that you'd like, you can also ask them without any problem.
And the good tip : book a table at the bar, you'll have more choices and you'll get to see the chef cook in front of you.
Oh, and of course, everything is delicious!