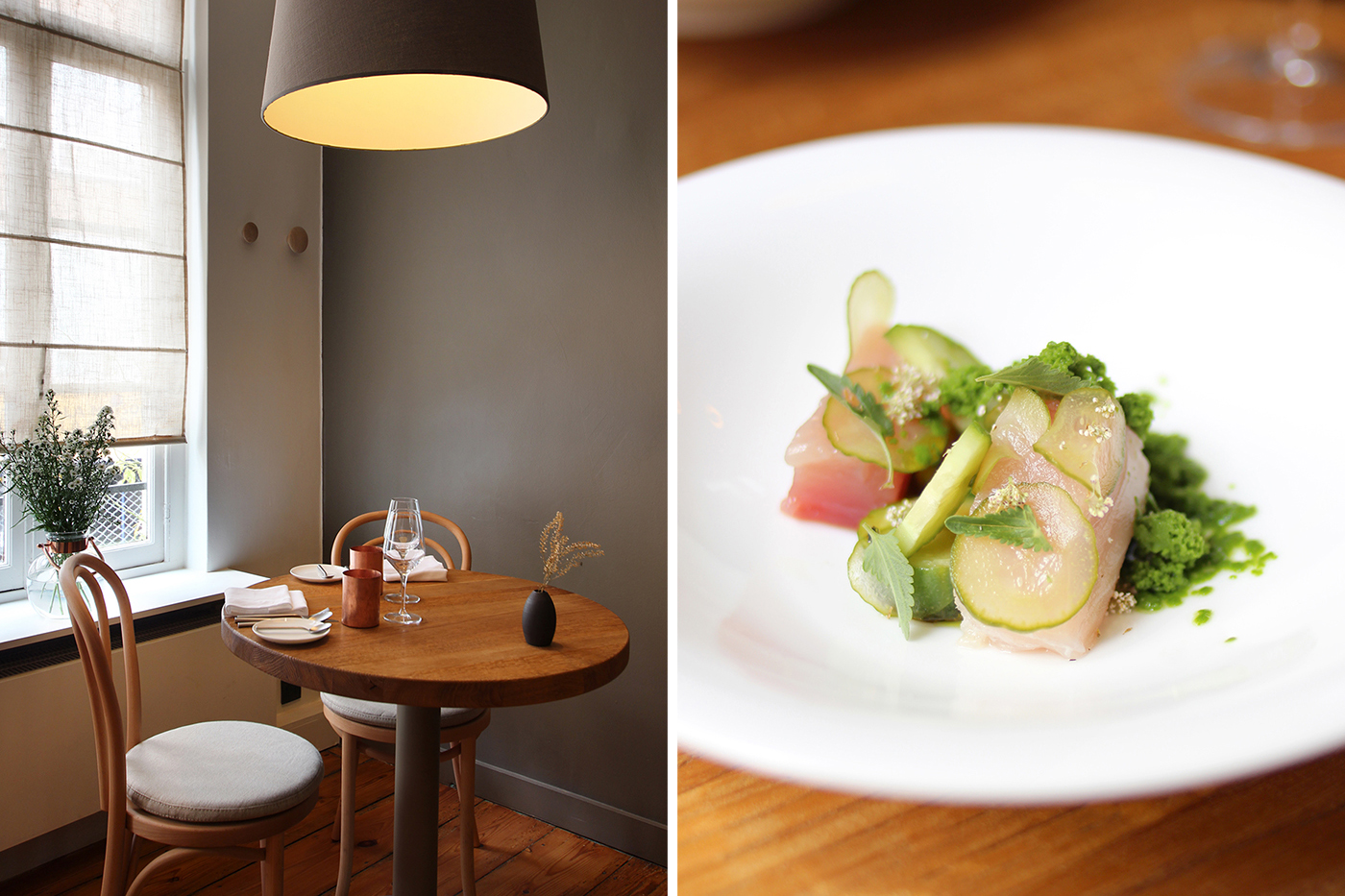 19 rue de Flandres, 1000, Bruxelles
02 318 19 19 – website
Tuesday to saturday from 12pm to 2pm
and 7pm to 9:30pm
lunch menu: 45€
evening menu: from 80€
We hadn't eaten this well in a long time. The last time we remember such a feeling was at Barge, last October. Was it just a random fact that both chefs happened to cross the talented Sang Hoon Degeimbre's path at some point? Probably not. We found in Kevin's cooking – Vertige's very new chef – the same delicate work and consistency. Almost mono-ingredient pairings, such as the pickled white tuna, cucumber pickles and grilled cucumber, perfectly underlined by an arugula sorbet and some wasabi flowers. Executed to perfection, love at first bite.
While sitting in the small room upstairs, we observed every detail of the previous SAN, now completely transformed into a new restaurant. Only the backlit wooden shelves remained, this time surrounded by light wood cladding, Thonet-style chairs and linen blinds. Everything felt as though it had finally fallen into place. As we took our seats, the words elegance and consistency popped in our heads, and ended up staying with us throughout the meal. Another favorite: the main course made of roasted beetroot, beet tops, beet gel and radish tops. Too few are the occasions when a vegetarian dish is the star of a gourmet menu, without having specifically requested it. Even rarer are those occasions when the dish is such an explosion of flavors and textures. We wanted more.
In the kitchen, the chef Kevin told all about how they worked with their suppliers. Here, it's the restaurant that adapts, not the one that places the order. If there's too much of something, we'll ferment it to keep it longer. If there's not enough, we will adapt the menu accordingly, always pushing our creativity a step further. At this stage, there wasn't any need to tell us more, the meal had already got us convinced.
We'll definitely come back for special occasions, and for other ones too. An already beautiful place, that has just gotten even more beautiful. Congrats to the team.