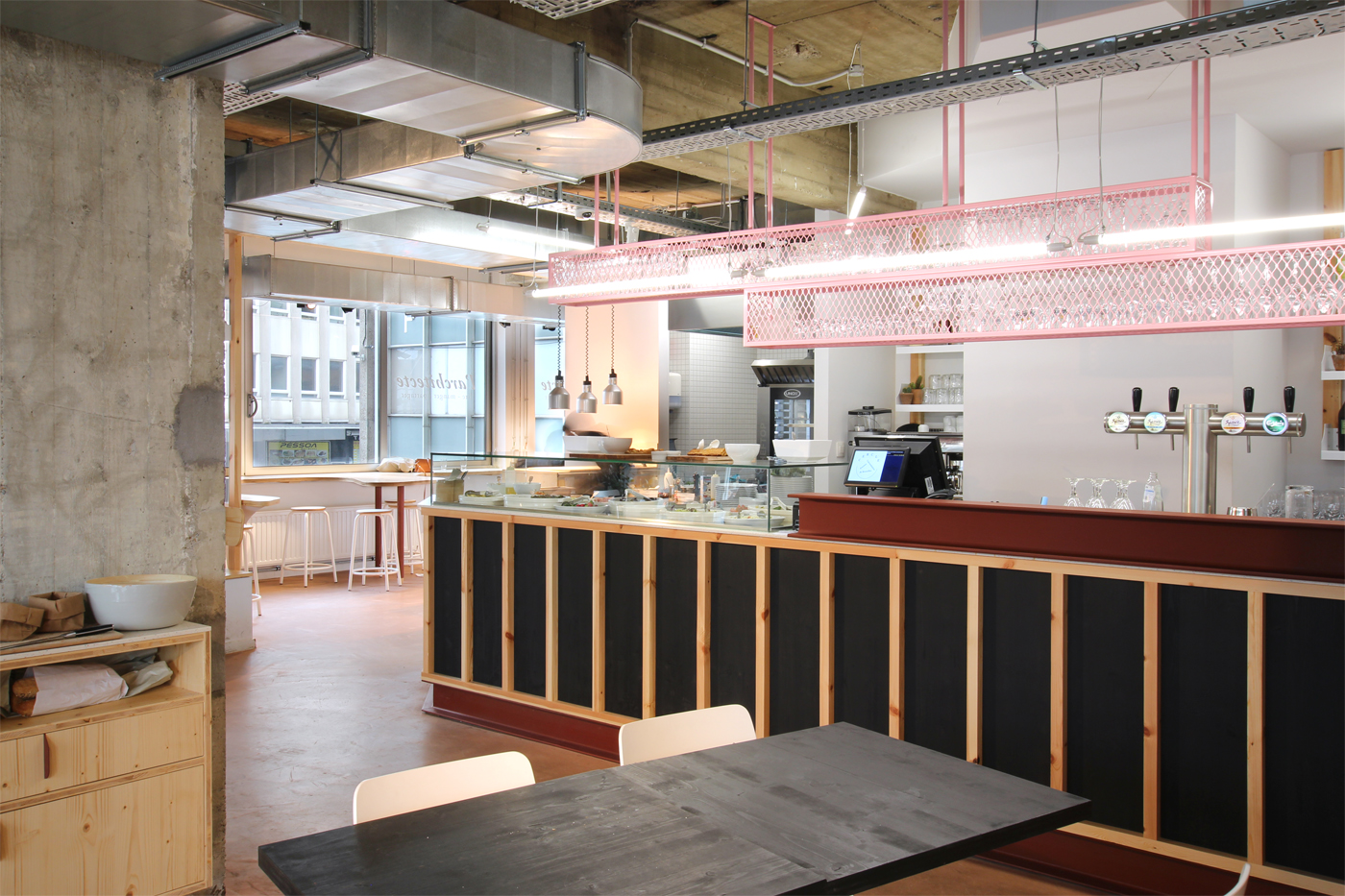 19 Place Eugène Flagey, 1050 IXELLES
02 648 34 36 – WEBSITE
open monday to friday from noon to 2pm
A canteen, a Belgian inspired bistrot, and a quality restaurant, that's what L'Architecte reminds us of. And it's probably a mix of all three at the same time.
Its creation was part of the global renovation of the architecture school La Cambre, done by Lhoas & Lhoas architects, known for places like Les Filles, Maru, or Certo to name a few.
While keeping the existing structure of the building visible, their will was to build the rest of the space with raw materials, in an elegant yet simple manner. We love the pink color of the shelves, and the colourful resin countertops, which make the whole project a little bit more contemporary.
Another pillar of the project is Damien Bouchéry, who took care of the menu. So we said earlier how the place reminded us of a canteen, a restaurant, and a Belgian bistrot all together. A canteen, because the place is always crowded with teachers, happy to finally have a proper spot for their lunch break. With its big salad counter (from 8 to 12€), it's the perfect option for a quick and healthy lunch between two classes. A Belgian brasserie, because fries are always available on the menu, so are mains like a beef beer stew (15€), or a homemade apple pie (4€). And a quality restaurant, because there will always be a refined and seasonal daily special, like the Skrei and celery root purée (15€), served with natural wines from Titulus, cheese plates from Julien Hazard (9,50€), and delicious bread from La Fleur de Pain.
The menu is just as diverse as the customers, who come and go as the day goes by, enjoying lunch, studying, or having dinner with a privileged view on place Flagey.