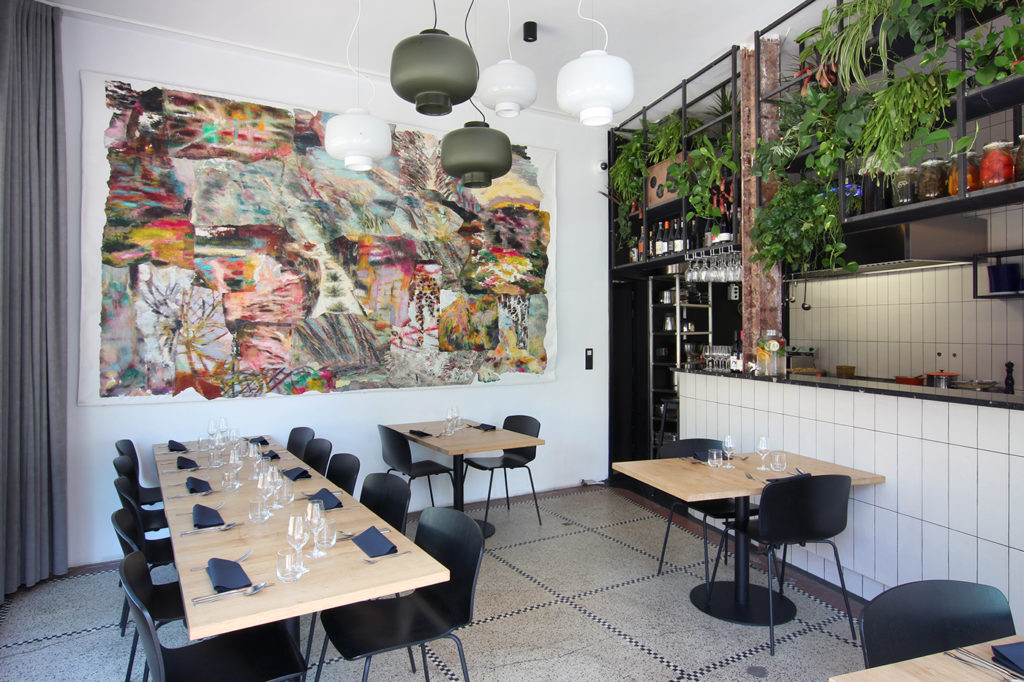 44 avenue coghen, 1180 uccle
02 319 92 82 – site web
from monday to friday from 6pm to 10pm
Tasting menu: 40€
We walked into St Kilda with sparkles in our eyes and little peaks of excitement. It's already been more than a year since this gem has opened, well hidden in a residential area in Uccle, and we'd only just heard about it. Milan and Antoine welcomed us with a smile, from behind their huge kitchen counter, in their semi-confidential restaurant.
Before opening as a restaurant, St Kilda was initially the headquarters of their catering business – hence the size of the kitchen. After living for 7 years in Australia, Milan came back to Brussels to launch his own business, and invited both of his childhood friends, Antoine and Maxime, to join in. The project grew bigger, starting off as caterers in the cinema industry – where catering is usually, more often than not, extremely poor. Then, came the restaurant, and the gorgeous decoration making us want to stay here forever. But better be warned: St Kilda is a different type of restaurant – it does not have opening hours, neither does it have a menu. Before coming, make sure to give them a call, they'll be happy to welcome you. Once seated, let Milan guide you into his unique sharing plates tasting menu (25€ for lunch, 40€ for dinner). We had beetroot gazpacho, "Belgian ceviche" with sardines, maatjes paired with old gouda mousse and pickled onions, tiny squids with grey shrimp and parsley stems, and finally, the most mind-blowing tagliatelle al ragu. We'd made lasagnas, and I happened to have some oxtail, explained Milan. That was clearly fine by us, as it was one of the best al ragu we'd ever had. Most definitely the one restaurant you should try this summer.