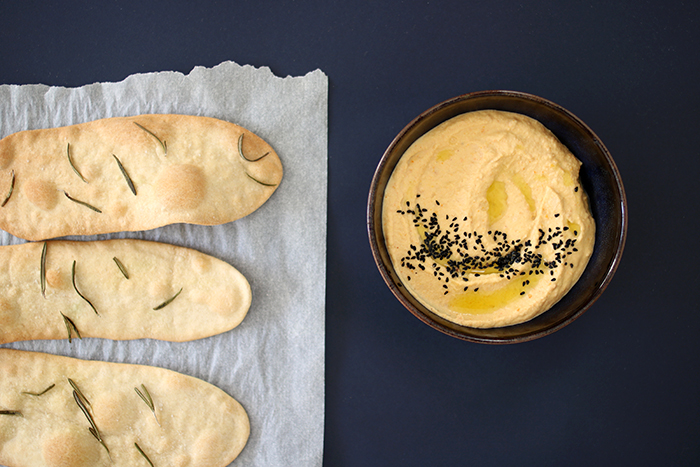 PREPARATION TIME : 1/2 HOUR
RESTING TIME : 1/2 HOUR
BAKING TIME : 20 MIN
Here is the crackers recipe that we had prepared for our first BK's Table dinner. This time, I sprinkled them with rosemary but you could imagine all sort of things; zaatar, fennel seeds, poppy seeds…
I prepared them along with pumpkin hummus, which makes for a great festive appetizer.
FOR THE CRACKERS :
200g flour
15g soft butter
1/2 tsp salt
a pinch of sugar
100 ml water
sea salt, some rosemary sprigs and olive oil for sprinkling
FOR THE HUMMUS :
1 baby pumpkin cut in cubes
2 tbs tahini paste
2 tbs lemon juice
2 tsp smoked paprika
salt
For the crackers, mix the flour, butter, salt and sugar and gradually add the water.
Knead until you have a ball of dough that holds together. Wrap it in cling film and keep in the fridge for half an hour.
Preheat your oven to 190°c. Divide the dough in four pieces and flatten each piece as thin as possible on a floured surface (I used a pasta machine but you can use a rolling pin as well).
Arrange each piece of dough on parchment paper on a baking tray, brush the top with some olive oil and sprinkle with sea salt and rosemary. Bake for 10 – 15 minutes in the oven until the crackers turn golden.
For the hummus, bake the pumpkin cubes 20 minutes in the steam cooker.
Once it has cooled a little, mix in a blender with the rest of the ingredients.
When you are ready to serve adjust the seasoning with salt and lemon and arrange in a plate. Top with sesame seeds or nigella seeds and olive oil.
Serve with the crackers on the side and enjoy!