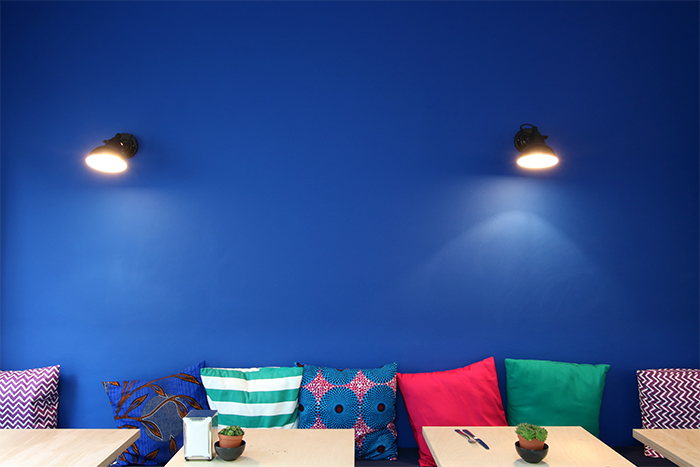 260 CHAUSSEE D'IXELLES, 1050 IXELLES
02 646 75 47 – SITE WEB – delivery
OPEN monday and saturday FROM 11:30 TO 2PM
It's with her dad Luis, originally from Portugal, that Kamala decided to open Luka, uniting a syllable from each of their name in a place that would be just like them.
Warm and welcoming, these are the two words that popped in our minds the first time we visited this canteen with deep blue walls. Luis, standing behind his counter, will greet you with a big smile on his face as soon as you step in, and explain the daily menu written on the blackboard. Though it changes everyday, the menu has a fixed structure : you'll always find a special, a soup, a sandwich, a quiche or pizza, and a fresh spring roll. Everything is made daily by Kamala, depending on the seasons and her inspiration.
Breakfast, Saturday brunch and delicious desserts complete the pitcure. Luis has us try the Polvorones, a specialty from Andalusia, the region where he is from. The pastries are usually prepared for Christmas, but Kamala loves them so much that she's decided to serve them all year long. Like her dad says, "they're simply violent".
Their branding and visual identity matches the color of the walls. Here, everything is blue, blue, blue. We love the pretty illustrations on the cards and menus which perfectly reflect the moto of the house ; joyful and delicate food.
Truth is, even though it's delicious, Luka's spirit is about much more than just its food.