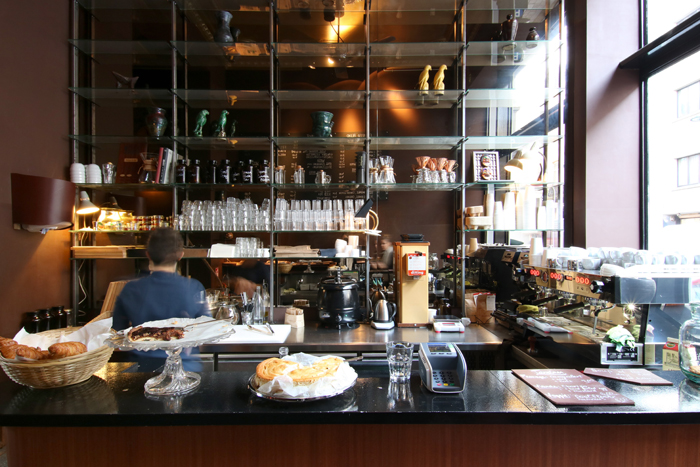 7 RUE DU BAILLI, 1050 IXELLES
SITE WEB – delivery
OUVERT DU LUNDI AU VENDREDI 7H30 A 18H30,
LE SAMEDI ET LE DIMANCHE, DE 8H30 À 18H30
From their very opening, Belga & Co had no trouble convincing coffee aficionados from the neighborhood. During the day, freelancers come and go with their laptops for professional meetings, or stay for hours, working hard off gluten-free cookies and cappuccino.
All the conditions are met to make it the perfect working spot. African masks and coffee bean bags were hung on the deep brown walls of this beautiful house from the 19the century, turning it into a cosy and intimate café. The soft lights also help the concentration, resulting from a smart balance between several wall lamps and natural light coming from the big window by the garden. We love to start our day here, get the focus we need in a calm corner of the room, or simply come by with friends to enjoy a cappuccino in the garden as soon as the sun is out.
For lunch, three types of sandwiches are available on the menu : meat, cheese or vegetarian. And all the day long, excellent coffee is served, roasted weekly in their own Antwerp-based roastery. Behind Belga & Co, a true vision, and the desire of two friends to share their coffee knowledge through simple things of the day. They explain their moto "simple pleasures" written on their window as follows : "Because pleasure finds its way in the most simple things of life".