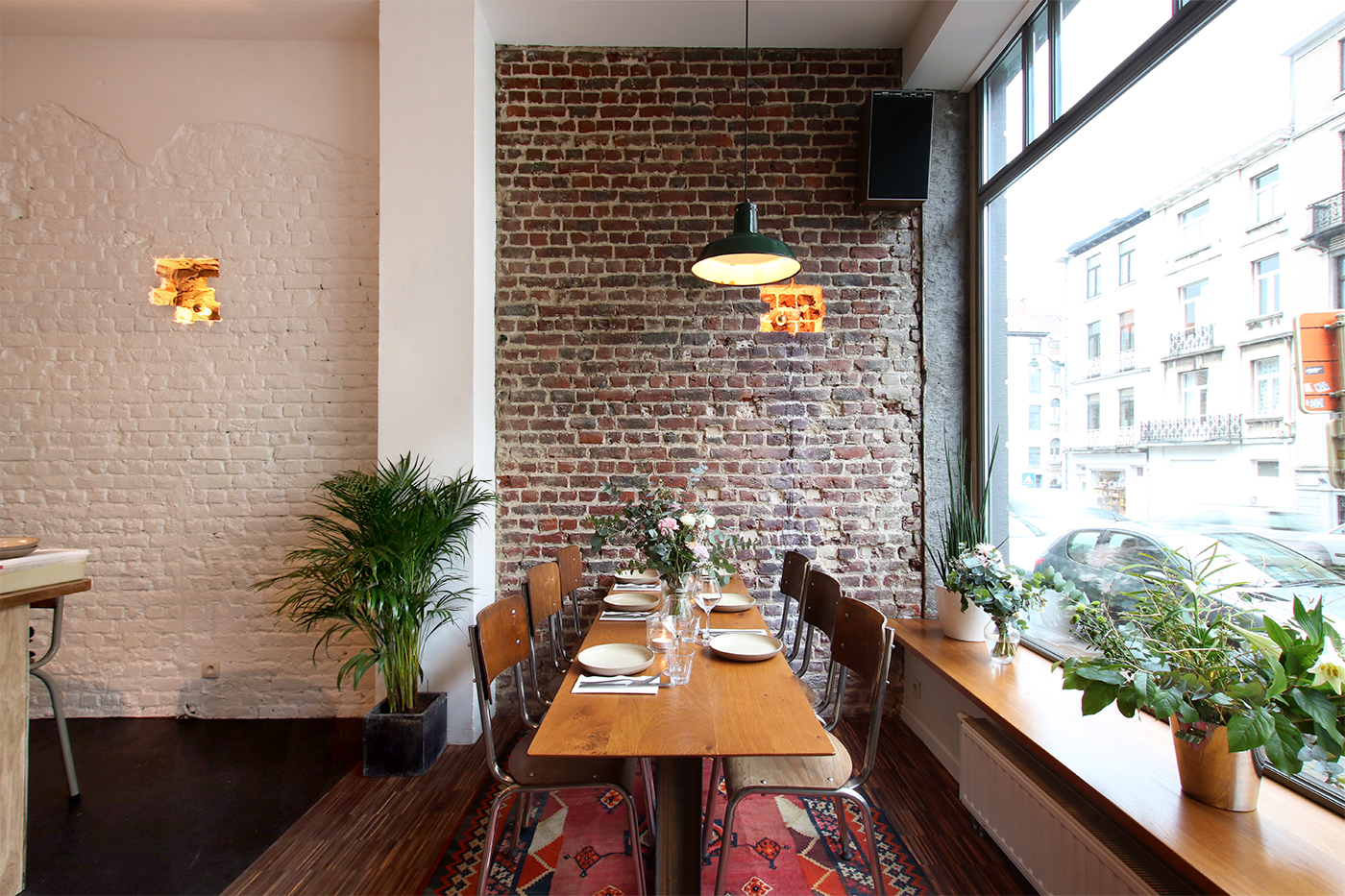 203 CHAUSSÉE DE WATERLOO, 1060 SAINT-GILLES
+32 2 539 26 43 – WEBSITE
open Tuesday to Friday from 12pm to 2pm and from 7pm to 10pm
and Saturday evening from 7pm to 10pm
Le 203 is the story of Richard and Mathilde, who after having lived on the other side of the world finally decided to stop in Brussels. Well at least for a little while.
Before spending two years in Le Prélude's kitchen, Richard lives in Saigon, attends a cooking school in South Africa, and starts his chef debuts in Melbourne. It's only once he's back in France that he meets Mathilde, his life partner for four years now and his business partner at Le 203.
Their multiple trips and different origins (Richard's part Australian and part South-African) have inspired Richard to a cooking style he calls « Pacific », with French, Asian and Israeli inspirations.
They tell us about their desire to keep a short menu, based on seasonal and organic vegetables, quality meats and fish, and great products from local providers.
The wine comes from Rubis and Tarzan, the bread from Hopla Geiss, the coffee from Belga & Co and the beautiful ceramic was custom-made by Marie Brisart.
On the lunch menu ; salmon rillettes (4,5€), followed by falafels, hummus and roasted sweet potatoes (11€), or beef tajine with apricots and almonds (13€). At night, a few more dishes ; grilled sea bream with fennel (17€), black pudding with mashed potatoes (16€), or a butternut squash crumble (15€).
The interior, much like the food itself, was though to make you feel cosy and comfortable. The first floor of this Brussels house was divided into three types of atmospheres ; a big table by the window, fitting up to 8 people, to share or to come with a group of friends, a counter by the open kitchen, to watch the chef cook right before your eyes, and a bunch of tables for two, in the room overlooking the garden, for a more intimate kind of evening.
Having Mathilde next to him, and an open kitchen from which he can see the customers eat, makes Richard feel just as if he had extended the kitchen from his own house. Cooking at Le 203, he tells us, makes him feel like inviting a bunch a friends over and preparing a meal for them, which is pretty much the best you could wish for from a chef.
We were warmly welcomed by Mathilde and her huge smile, and Richard, in his kitchen, was just a few steps away, and brought the dishes to us himself.
It is correct to say that we felt right at home, or even better, as if we had been invited to theirs.