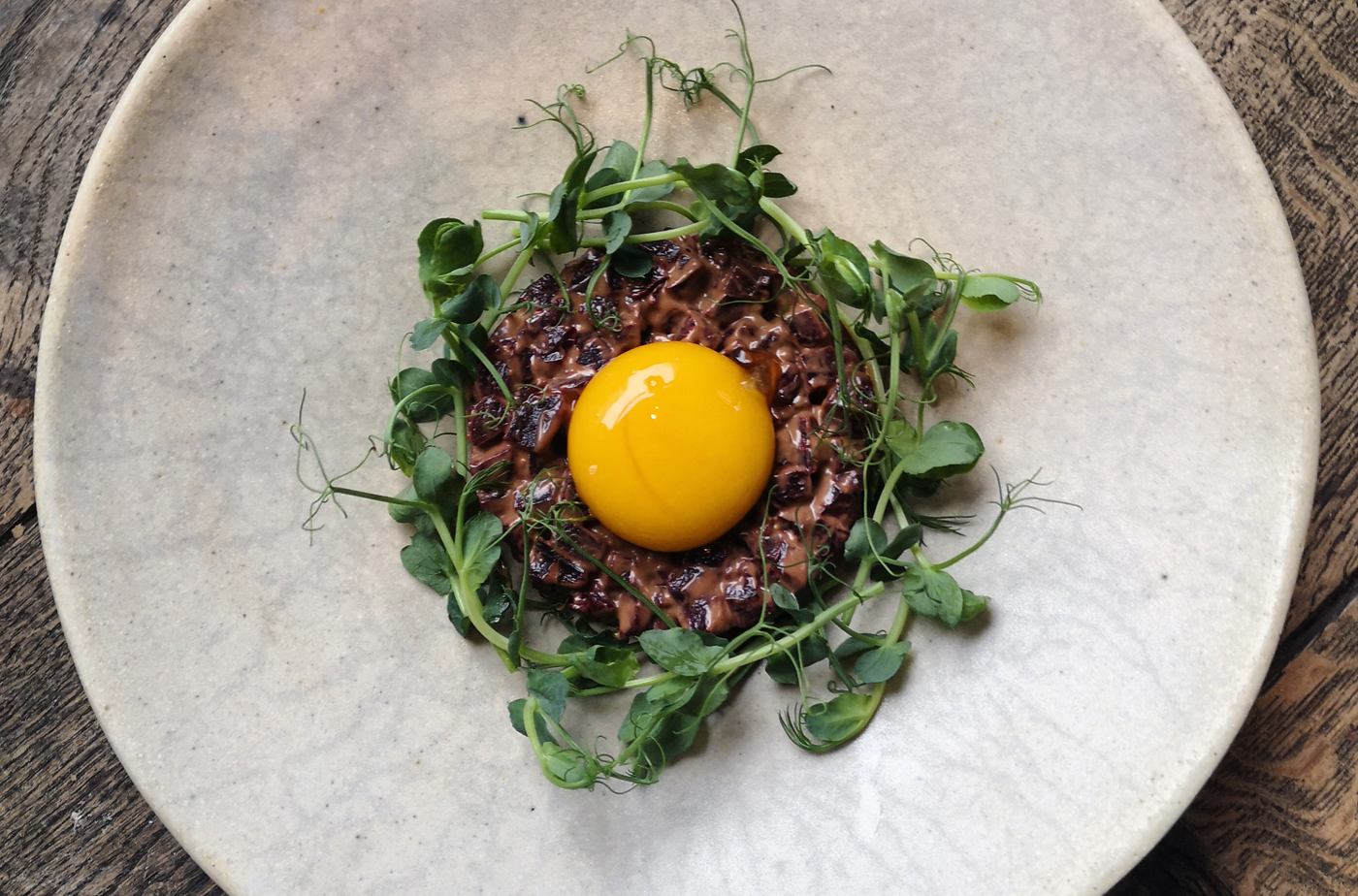 for 2 people
4 big red beetroots
2 egg yolks
a small bowl of soy sauce
2 tbsp of mayonnaise
1 tbsp of chopped flat-leaf parsley
1 tbsp of chopped pickles
1 tbsp of capers
a few drops of tabasco
1 tbsp of worcestershire sauce
(or chopped oyster leaves instead)
We made this at Ötap at the begining of the month. The challenge was to make an American version of our Belgian classic, "américain" (raw ground beef with spices, sauces, and an egg yolk) – reason why we even tried to replace the Worcestershire sauce by oyster leaves. To me, the beetroot is one of the vegetables with the stronger "umami" flavor, and therefore the closest to meat in terms of taste. Also, with its color, it really did the trick.
Beetroot "Américain"
Cook the beetroots in the oven at 160°C for an hour to an hour and a half, until their are tender at heart. Check them with the tip of a knife to make sure, and once they are perfectly cooked, let them cool on the side.
Prepared the egg yolk : let the egg yolks marinate in soy sauce for an hour.
Peel the skin of the beetroots, cut them in super thin slices with the help of a mandolin if you have one, then into small dices. Mix the beetroots with the rest of the ingredients (mayonnaise, parsley, pickles, capers, tabsco and worcesterhsire sauce).
Dress the beetroot tartar on the plates with the help of a ring, and delicately place the egg yolk in the center. Decorate with young herbs, like fresh peas leaves (easier to find these days in organic stores), or mizuna or mustard leaves.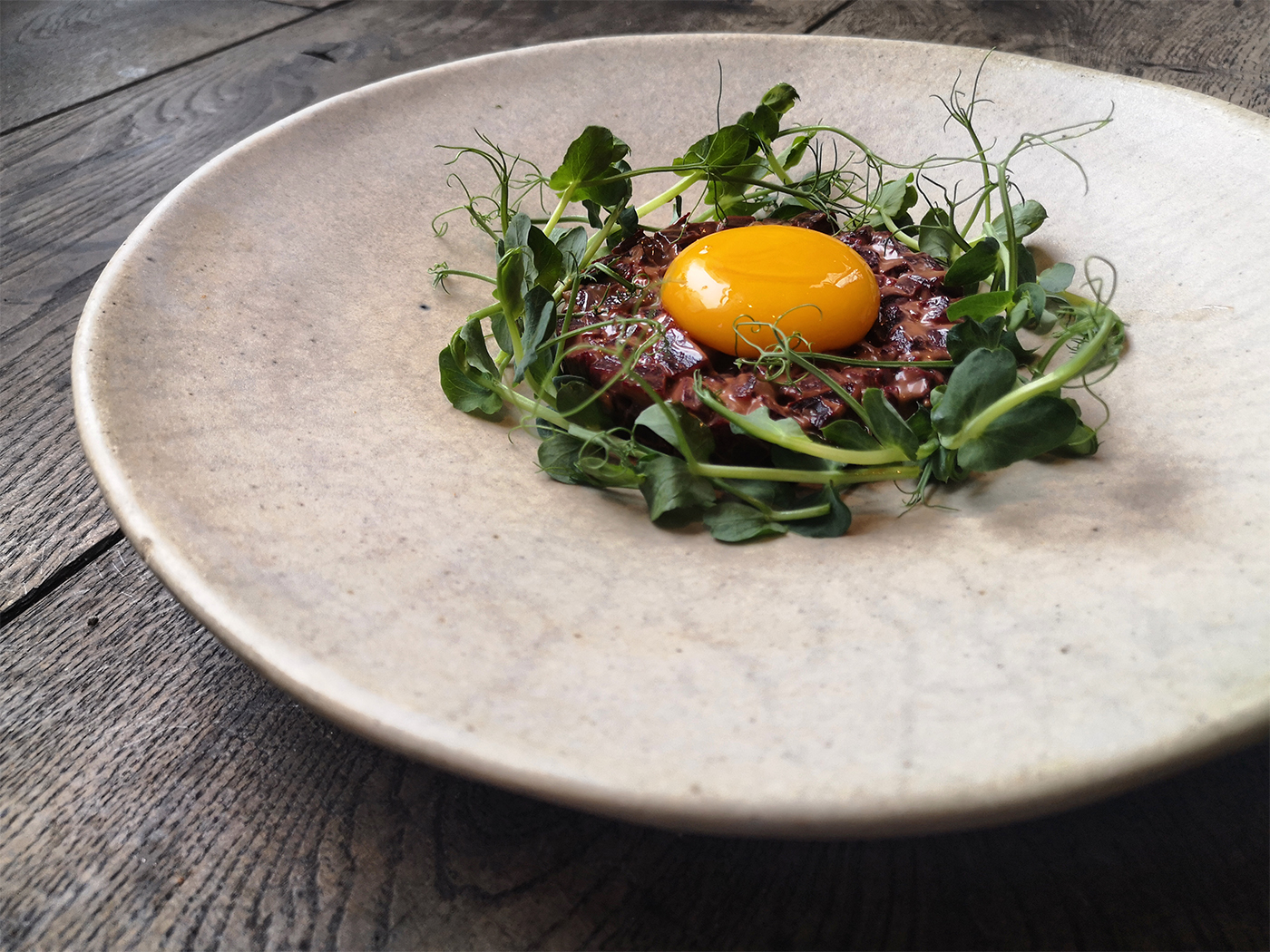 Can you tell us more?
You could say I'm one of those self-taught chefs. I arrived in Brussels 13 years ago, first as a musician, as a double-bassist, then started working in a kitchen 8 years ago. People often make the link with music as they see a clear parallel in the way I improvise in the kitchen. A few years ago, I worked along side gourmet chefs in restaurants such as Bouchéry, Alexandre, Le Passage, Va Doux Vent, and finally was head of the kitchen when I joined La Buvette and stayed there for 3 years.
We were more than thrilled to find him back at Ötap, and are now impatient to see where the future will take him.
Your strongest food memory?
Let's say my grandmother's crepes, perfectly crispy, that she'd serve in her own restaurant. She used to have a "crêperie". As a good futur-Belgian citizen, I would already dip my fries in the egg yolk. And that was the best thing in the world. Usually you don't serve fries with the crepes, but I would just have fries with anything back then. I was eight.
Your favorite place to eat out in Brussels?
First, I just love Bozar restaurant. Everything they make is super precise, very traditional, but with a modernist touch. You have to go. Classical cuisine brought to another level. You really feel as though you're eating in the restaurant of one of the French Worker of the Year (meilleur ouvrier de France). Otherwise, my own canteen, where I go at least once a month, is Kamo, for their Japanese steak. I'm a beef fan (even though I try to avoid cooking meat as much as I can). This Japanese steak, served with its bowl of dashi broth, and a ton of mushrooms, is just amazing. Kamo is my go-to for lunch, and Karen's restaurant my favorite for special evenings.
And there's also the one where I go all the time. Pinafidelis. It's a Portuguese restaurant, a simple brasserie, but portuguese. It's cheap, super good, and everyone is always nice to you. A very good neighborhood restaurant. I always take the grilled fish or the beef filet with the garlic sauce, just like the Portuguese know how to make. Their amazing go-to garlic sauce, topped with lemon juice, parsley, and tons of garlic of course.