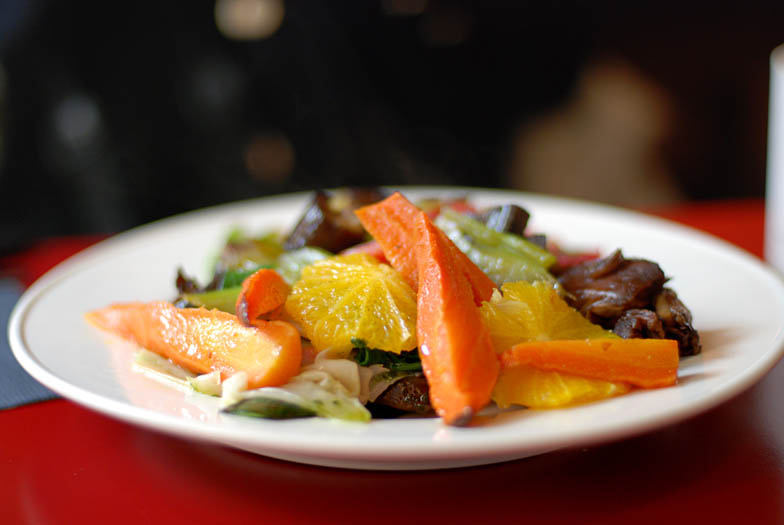 6 AV LOUIS LEPOUTRE, 1050 BRUXELLES
TEL: 02 345 42 44 – SITE WEB
OPEN FROM MONDAY TO SATURDAY FROM 10AM TO 3PM
Tchop Tchop is one of those hard to find really healthy places, located on avenue Louis Lepoutre. On the ground floor of an old "Maison bruxelloise", stretching over three rooms and a little garden at the back for the sunny days.
Open only for lunchtime, we love to get to choose the things we'd like directly at the counter, while listening to the explanations of the owner, a concept very "London".
Here, you can choose between two formulas and a daily special. For the 12 euros combo, you can choose 4 veggies and a protein, and for the 15 euros one, 6 veggies and 2 proteins. You'll find for example ; beetroot quinoa, carrots with orange, chicory with balsamic vinegar, caponata (eggplants, celery and cherry tomatoes), oven baked potatoes, pumpkin, etc.. And for the proteins, we had to choose between homemade meatloaf, ray ravioli, or curry and coconut chicken. We both chose the fish which was really great. Once the plate is full, they heat it then bring it to your table.
You go there to eat fresh, feminine and simple cooking, for a very colorful and perfectly balanced plate, to discover new simple and delicious ways to prepare vegetables, and to eat fresh products from the market.
And of course, no need to panic, you won't leave the place with extra kilos!
And the little nice touch when you get there, you're offered a tiny soup with homemade olive cake.