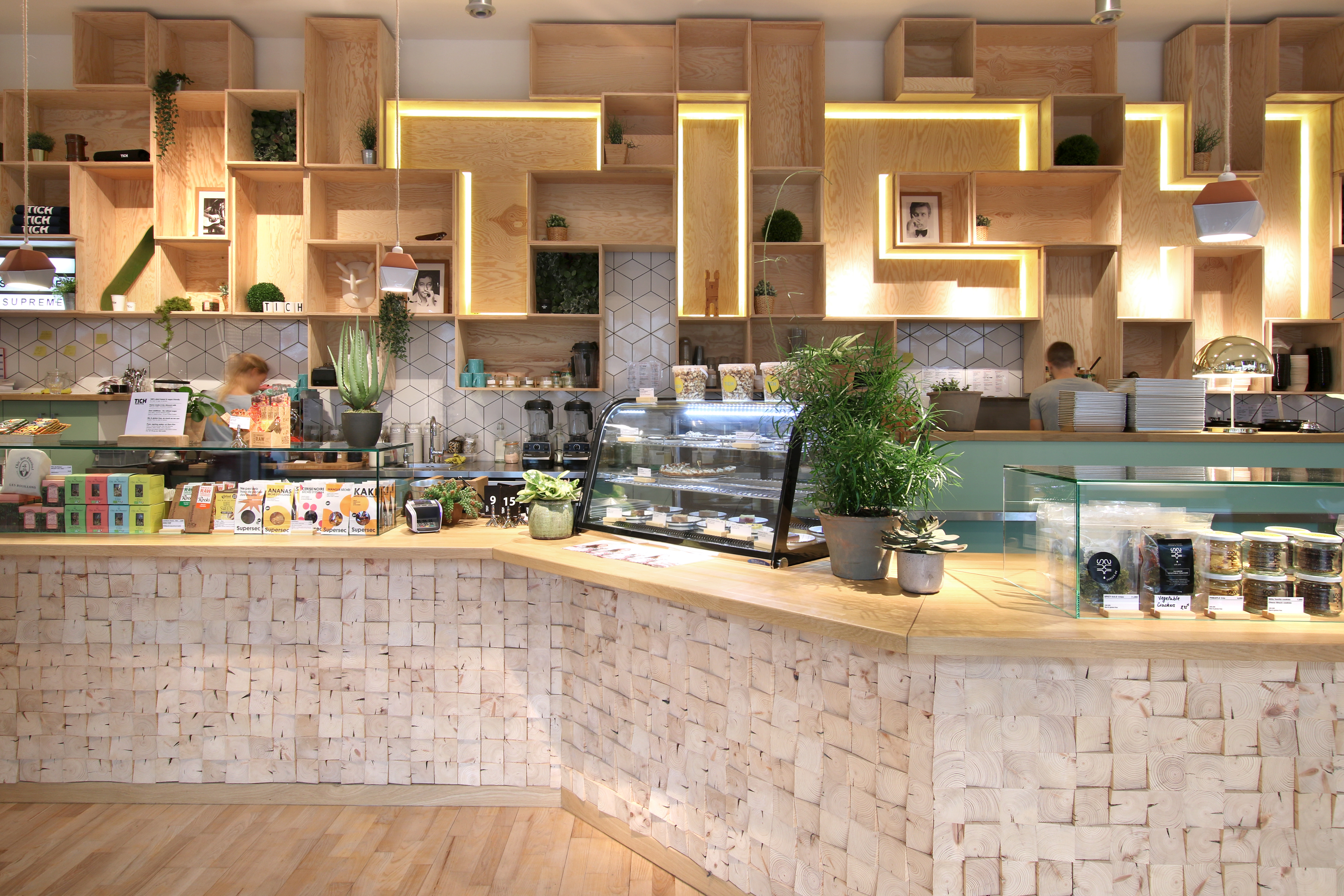 25 rue de Namur, 1000 Bruxelles
website
open from monday to friday from 9am to 6:30pm
saturday and sunday from 10am to 6:30pm
Right across the JAT café, in the narrow rue de Namur, you'll find the latest vegan spot in town : TICH. Rather a true concept-store than a café, TICH has got plenty of different sides that we have yet to discover.
Comfy chairs to work with your laptop, platforms filled with colourful cushions, big tables, a bar with high stools by the windows and fridges filled with everything needed to keep you going a whole day. That's for the café part. But at the end of the room, you'll find quite a few cookbooks, Falcon enamel plates, organic soap made in Belgium, really cool posters from The New-Yorker, and even a series of t-shirt proudly displaying the logo TICH in dark blue velvet. But that's not all. The owner tells us that the small mezzanine will soon welcome a corner completely dedicated to the Veja shoe brand, and that the rest of the selection offered in the shop will only grow larger and more inspired in the coming weeks. The perfect place to find a cool gift or browse through cookbooks while waiting for your almond-matcha-latte. We couldn't be more thrilled.
When ordering, it's without the slightest bit of guilt that we pick about half of what's available on the menu. Everything here is vegan, and refined sugar-free ; you'll only find organic coconut sugar on the tables to pour in your coffee. On the menu, a few toasts, a hot bowl and a soup of the day. In the fridges, organic cold pressed juices, vegetable plates and delicious raw and gluten-free cakes. But the cherry on the cake here is definitely their almond milk, which is homemade on the premises every single morning, making any hot drink a dessert to remember.