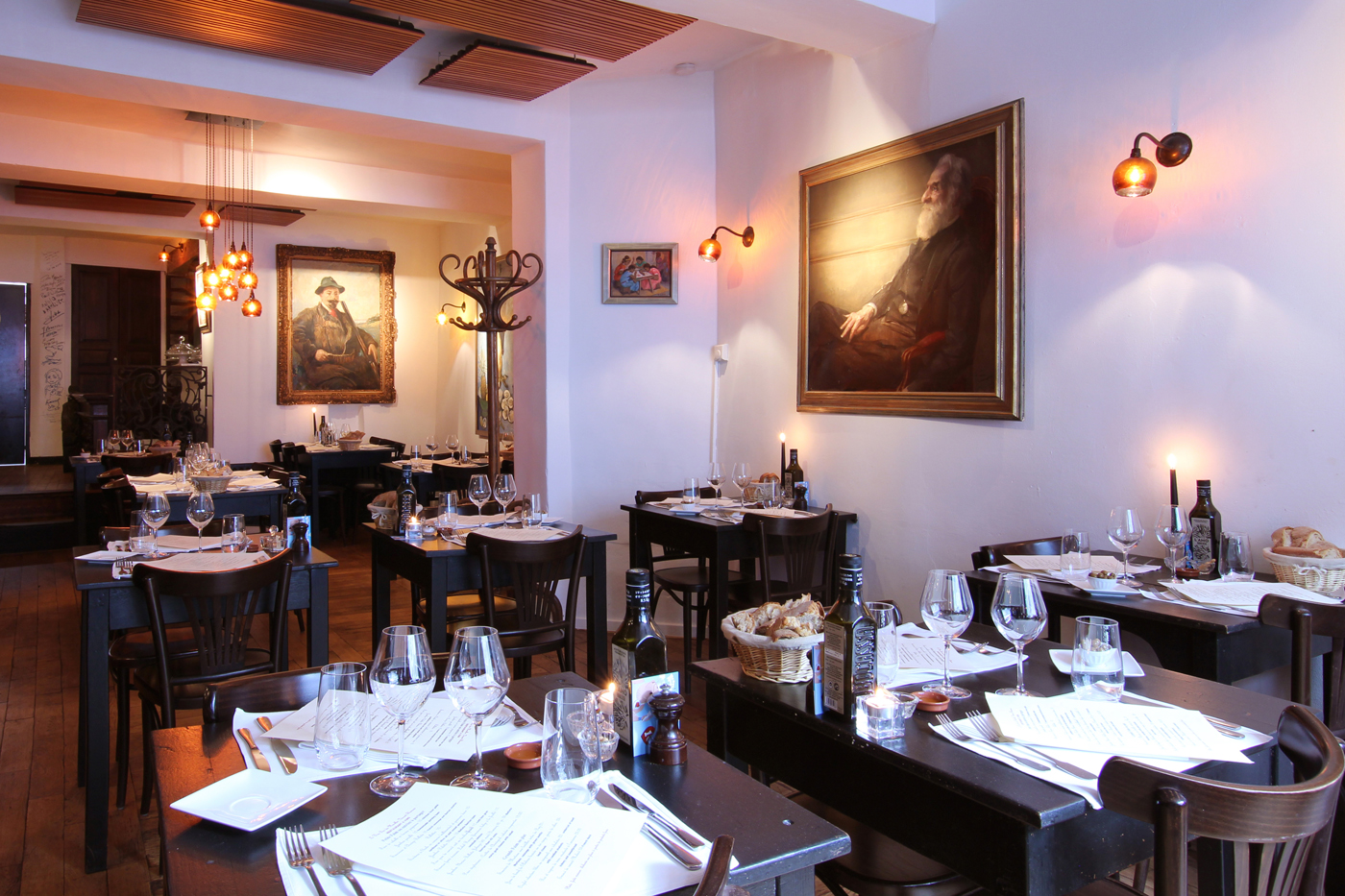 198 rue haute, 1000 BRUXELLES
0496 82 01 05 – WEBSITE
OPEN SATURDAY AND SUNDAY for lunch and dinner
THURSDAY AND FRIDAY only in the evenings
main courses : 21€-35€
The Wine Bar has been somewhat of an institution for us for a long time now. Initially located in the caves of the Sablon, the restaurant and his owner Vincent Thomaes moved to rue Haute in 2007, since then renamed the Wine Bar des Marolles. The setting might have completely changed, the food and charm of the restaurant have remained untouched.
We come here to enjoy a rather traditional French meal, in a undoubtedly intimate and elegant setting. On the walls, paintings from the beginning of the 20th century are hung in thick wooden frames. On the tables, black candles or Tiffany lamps, depending on where you decide to have a seat. For a romantic dinner, we'd recommend either one of the two tables at the back by the stairs, particularly suitable for long candlelit conversations. Foodwise, Vincent is clearly pulling all the strings and only serves the best products. We are conquered by the farmer's butter, homemade every morning, which melts on the bread, cooked three times according to his grandmother's recipe. The wheat, like the rest of the ingredients present in the kitchen, is organic and comes from a small farmer. The menu is rather centered around meats and giblets, with permanent suggestions such as the delicious homemade foie gras with sea salt and caramelized apples (17€), or the sweetbread with whole-grain mustard (25€), but also offers great seasonal choices like baby lobster (26€) or burrata with grilled summer vegetables (16€). And of course, like the name says, the wines are worth the trip alone. Let yourself go to Vincent's suggestions, who will be delighted to guide you through the evening.