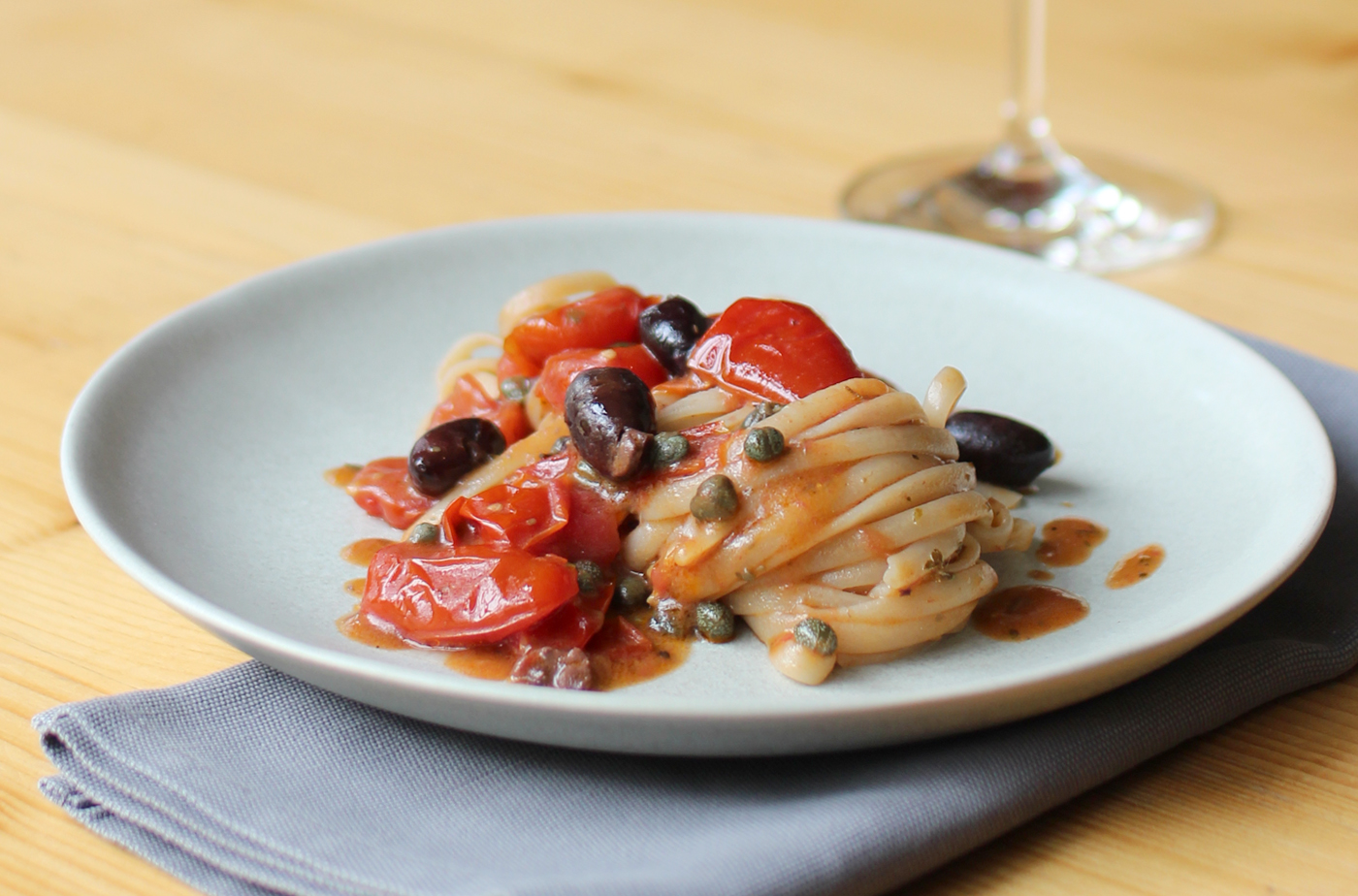 garlic
3 anchovies
a handful of salted capers from Capri,
unsalted in water for 24h
a handful of olives galleta or kalamata
a handful of datterini tomatoes
cut in half, lenght-wise
130 gr Linguine
Ugo and Francesco are the founders of Racines and Petits Racines, on chaussée d'Ixelles. Both from Naples and Florence, passionate about great food and amazing wine, they share their love and passion through Ugo's fantastic cooking and Francesco's exceptional hospitability. By far one of our favorite restaurants in Brussels.
It's a recipe given by the grandmother of one of our best friends. We call it linguine a Napoli, because she's Neapolitan. It's something we like to eat at least once or twice a week. When we first arrived in Brussels, we used to make it a lot, because we didn't have much money. Pasta with tomato, pasta a Napoli, pasta with tomato, pasta a Napoli, and so on.
Linguine a Napoli
Cook the garlic clove in olive oil, while pressing it with the back of your spoon, but don't cut it. Then, you can add the anchovies. The most important thing is to cook them on really low heat, so that the anchovies dissolve into the oil without burning. When they're well mixed in with the olive oil, add the olives. I like to remove their pit but keep them whole. Then, you can add the capers, then the tomatoes, and increase the heat. I slightly break the tomatoes with the back of the spoon. At that point, you can decide whether you want to leave the garlic clove in the pan, or remove it. I like to keep it until the end. To cook the pasta, you can follow the instructions, but remove them from the boiling water 2 to 3 minutes before the indicated time, and finish cooking them in the pan, like a risotto. The pasta will keep on absorbing water and cooking in the sauce, so you can keep adding small ladles of pasta water, until they're perfectly cooked. Then, you taste. At the end, I like to add a bit of olive oil, and a bit of dried oregano to give a nice flavor to the linguine.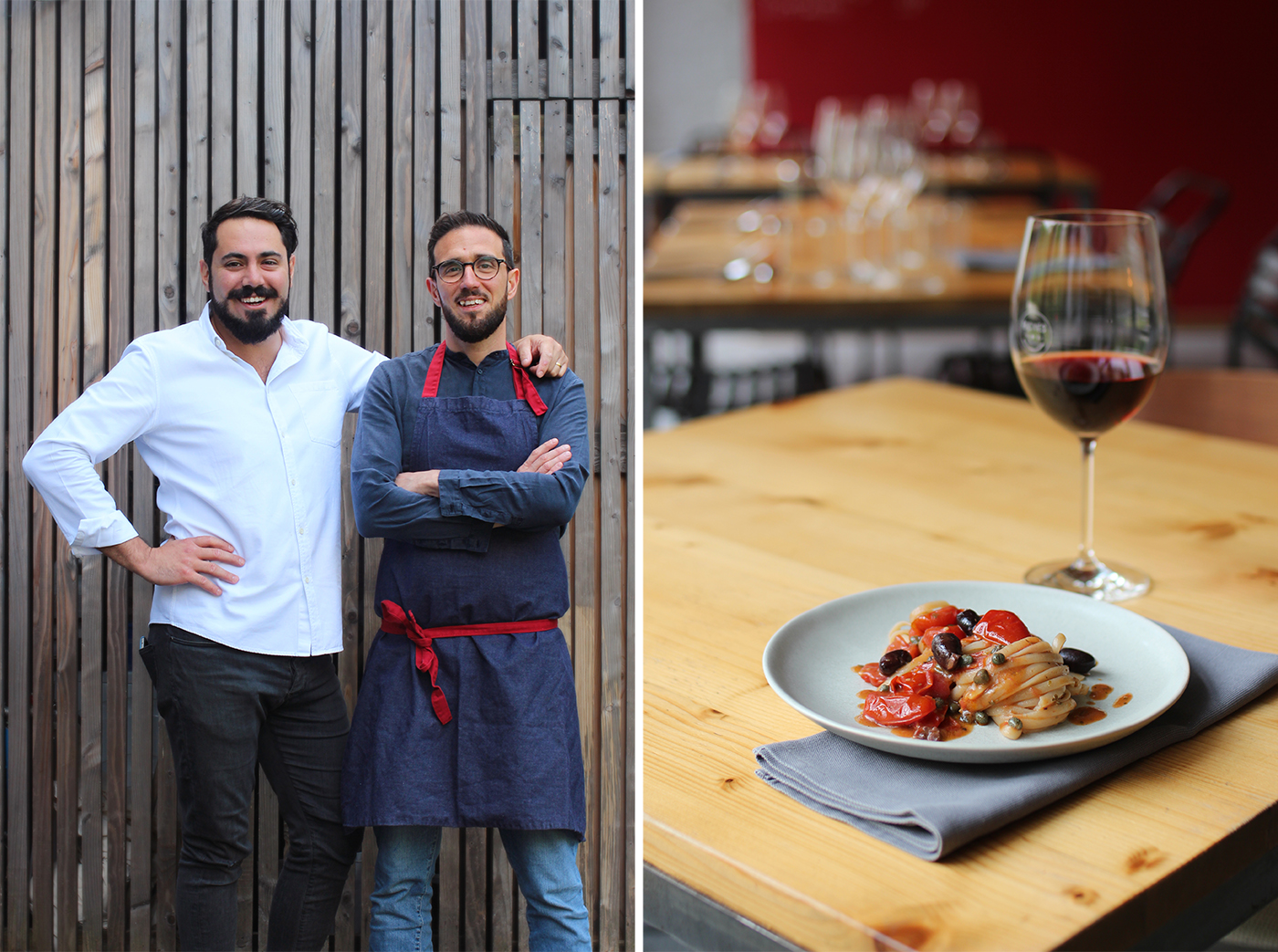 Can you tell us more?
Racines was born about ten years ago, when every Sunday and Monday, Ugo would come over to my place (Francesco), in Florence. We would spend all of our weeks thinking about the recipes we would make the next weekend. I had a tiny kitchen. We would go out on Saturday night, then wake up around 10-11am on Sunday, go for breakfast, then start cooking. We were the two earliest persons to get up among all of our friends. And around 12:30, we would open the first bottle. That's how Racines was born. But at that time, we had no idea we were going to open a restaurant.
Your strongest food memory ?
Ugo and I met 15 years ago, and for at least 10 years, we travelled through Italy to eat in the best restaurants. There was one little restaurant, which is closed now, that was called le Pineta dello Zazzeri, facing Isola d'Alba, on the Tuscany coast. It was a wooden shack, with a tiny kitchen inside and a terrace on the sand. The chef had been honoring Italy's fish cuisine for 40 years. Our strongest memory was a steamed bacalhau served with homemade mayonnaise. He was the soul of the place, and incredible chef, who had a true respect for the ingredients he cooked with. It was a fisherman, he came from a fishermen family and used to cook the fish from the family. He would come to the table holding a fish in his hands. It was a real personality. A real Italian chef cooking simply because he loved to cook.
Your favorite place in Brussels
Bozar Brasserie. Karen for his traditional spirit, and for the extreme precision he puts into each of his dishes. His traditional and intellectual knowledge is huge, and at the same time, he manages to cook contemporary things as well. It's a restaurant with a real know-how in the cuisine, a real team in the kitchen, where they make everything from scratch. It's very similar to our vision of cooking and of artisanal know-how. And at the same time he's really humble. It's a place where he works, he's not a chef who just uses his name. He's the first to be in the kitchen.