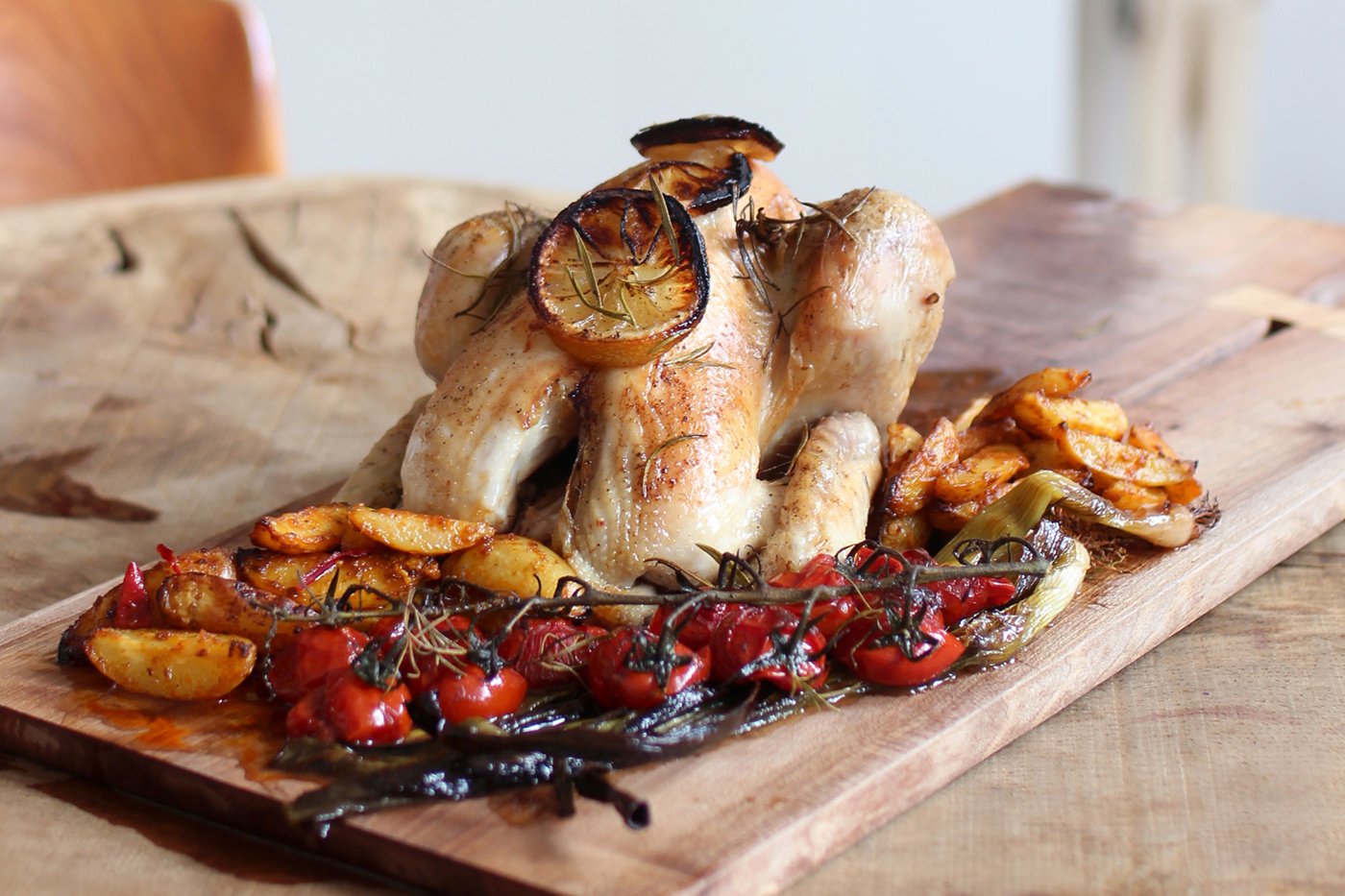 a whole chicken
potatoes
huile d'olive
limes
harissa
lemon
garlic
rosemary
cherry tomatoes
cane sugar
scallions
Charlie and Loïc founded Belga & Co five years ago, quickly moving on from coffee sourcing and production to the opening of specialty coffee bars. Today, their three bars –Bailli, Saint-Boniface and Antwerp – are a hit, offering some of the best coffees in Brussels. And they also happen to be the HQ of Brussels' Kitchen.
Lemon roast chicken
Spicy potatoes
The potatoes are first boiled for about ten minutes in water.
Then, I prepare a mixture with olive oil, lime, harissa paste, garlic, salt and pepper. Afterwards, you mix in the potatoes and put everything in the oven. I always add a bit of lime too. It's in the oven for about an hour and a half, at 150-170°C. After that, five minutes under the grill. The more you boil the potatoes before, the crispier they will get in
the oven.
Chicken with lemon and rosemary
I put lemon and rosemary inside, and that's it. On top, slices of lemon, and I prepare a mixture with water, olive oil, lemon juice and rosemary, and pour it over the chicken every ten minutes while it cooks. And spring onions, because I love them.
Candied tomatoes
It's a recipe from my aunt that I've been doing for ten years now.
Olive oil, pepper, salt and cane sugar, which gets the tomatoes
to caramelize.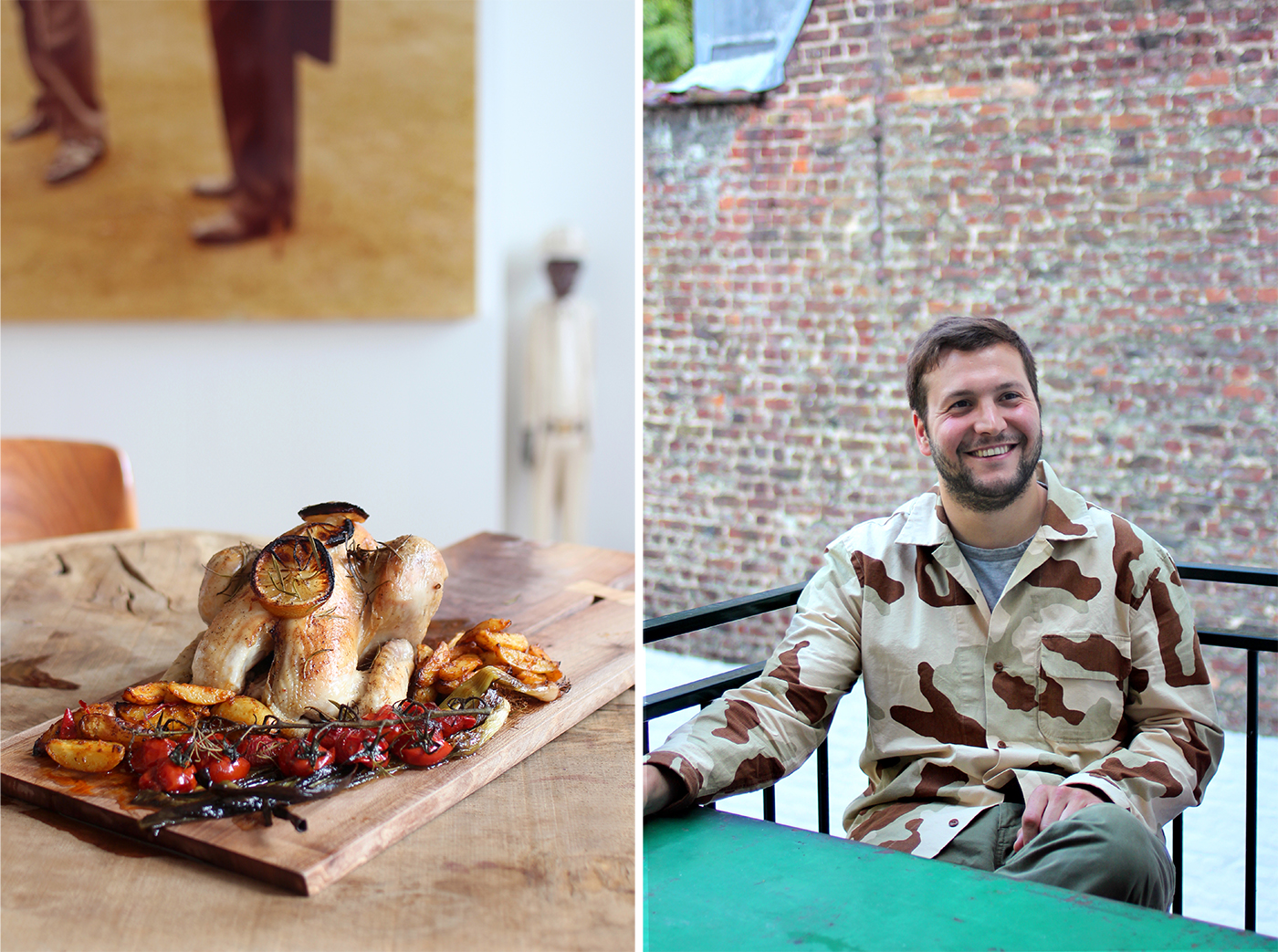 Can you tell us more?
I wasn't a coffee drinker up until we started, about 5 years ago. But I've always loved the smell of coffee, the atmosphere around it. Loïc's family was in the import coffee business, he was born in this. And he used to say, I'd love to do artisanal production of coffee. And one day, he asked, do you want to do it with me? So we started thinking and we signed up for training at Probat in Germany. We were on the waiting list for three months. The day we started writing our business plan, we got an email saying two people had cancelled. We cancelled our holidays in Provence and travelled there to see if I was interested by the product. I was convinced. Then we started the production and the roasting of coffee beans. We thought it would be cool to have a coffee bar int he future, some day, but it wasn't our initial plan. It was more like, "in five years, maybe".
Your strongest food memory?
That's hard. But actually I think it's when we went to Friture René, for the first time. Because ever since I've been going to the restaurant, my favorite dish to order has always been steak and fries, cooked rare, with bearnaise sauce. Because before I wasn't living in a big city, and going to the restaurant was kind of an exception. Friture René, I just loved the interior and the concept, and when we tried the rib-eye steak, it was just incredible. Because it was also the first time in my life I enjoyed eating the fat. It melted in my mouth, it was so tasty.
Your favorite place to eat out in Brussels?
My favorite place, it's really easy, it's Le 203. The first time we went, we didn't really know Richard and Mathilde yet. But it was mostly because of the simplicity, and the quality of the dishes. The presentation is quite simple, but you can see that there is work and technique behind. And it's value for money-wise, there isn't a better place, I think. After, we quickly went back, I think just the week after. And like that we started going every two weeks, and they became friends. But that's not why it's our favorite restaurant. Initially we used to go back for the setting, we loved the food, and also to discover new things.