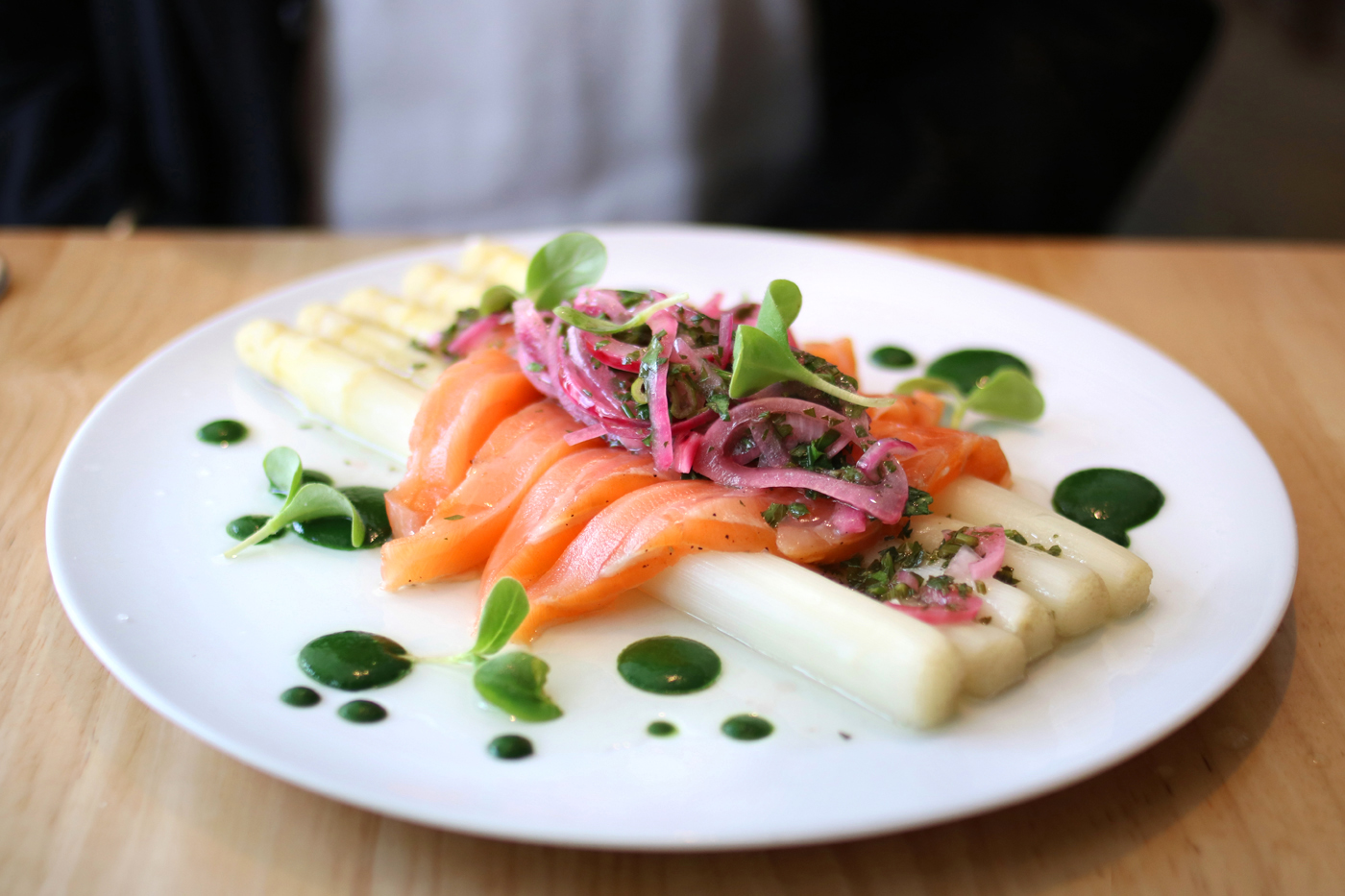 For 2 people
8 white asparagus
240gr of salmon
2 red onions
2 blood oranges
250gr sugar
250 coarse salt
dill
flat-leaf parsley
for the pickles
dehydrated elderflowers
200ml water
200ml vinegar
50gr sugar
50gr salt
Located on the corner of place du Béguinage, with its bistro chairs, leather benches and green metro tiles, La Guinguette en Ville cleverly plays with the codes of the typical Belgian bistro. The first thing we notice as we walk by is the big outdoor terrace, where we'll come enjoy a glass of house white on the high tables, along with a homemade shrimp croquette.
Paul is the young chef of restaurant La Guinguette en Ville, and is co-owner with his mom, the first person to ever have shared with him her love for cooking.
White asparagus, blood-orange marinated salmon, raddish and red onion pickles, elderflower dressing and radish leaves coulis.
The whole recipe has been made into a step by step story, saved in Paul Delrez's Instagram highlights, right here.
White asparagus
First, the asparagus must be chosen right. When touching them, they must be both firm and souple. The heads must be very tight still. Let's beging with their cooking : hold the head up and peel the aspargus from top to bottom. Crack a bit of the tail away, making sure to get rid of all the filaments. The asparagus must be completely smooth. In a big pot filled with boiling water, add two tablespoons of flour, the juice of one lemon, and some salt. Cook the asparagus for 10 to 15 minutes, depending on their thickness. They should be both firm and tender when they're done.
Salmon gravlax
Prepare a brine : half sugar and thick salt, the juice of blood-oranges and fresh herbs (dill, chives, parsley, etc). Marinate for a few hours in the fridge. Tip : if you don't feel like waiting a couple of hours, get rid of the salmon skin to go faster.
Radish and red onion pickle
In a pot, put the same quantity of water and vinegar, and of sugar and salt. Add pink peppercorns, thyme, bay leaves and coriander seeds. Bring to a boil and pour over the red onions and radishes, previously thinly sliced.
Elderflower dressing.
If not in season, use dehydrated flowers. Macerate them in vinegar that has previously been brought to a boil, then let infuse.
Radish leaf coulis
Clean the leaves and briefly cook them in water, then rinse immediately in iced water to stop their cooking. Mix in a blender with one or two ice cubes, and bear's garlic-infused olive oil.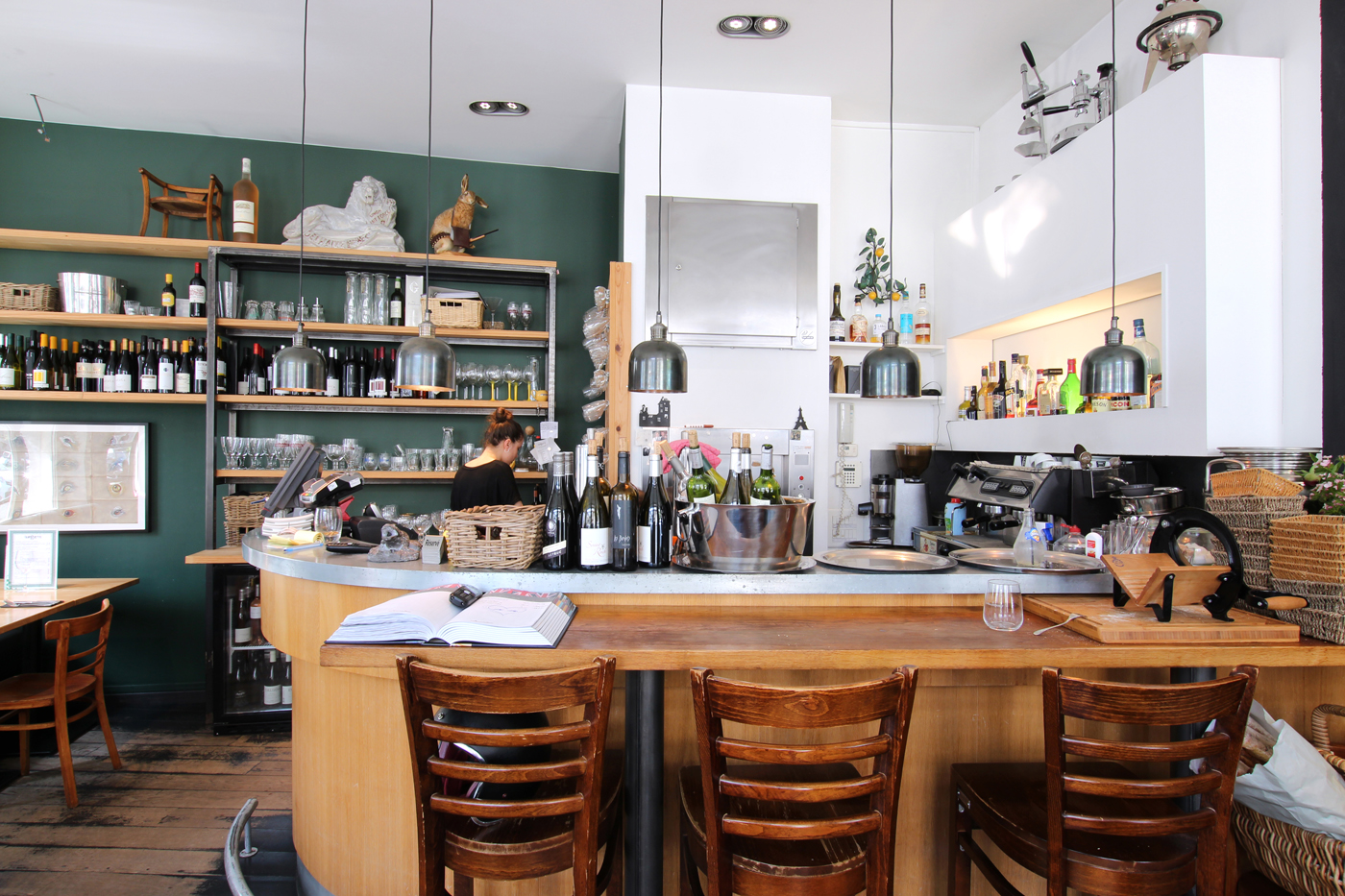 Your favorite place to eat out in Brussels?
Resto Henri. Located at the end of rue de Flandres. Two brothers manage the place, Sven serving customers and Jurgen back in the kitchen. Before opening Chez Henri, they had the "Le Giebereir", a small neighborhood bsitro next to the Calvoet station in Uccle, where we used to go every now and then for a burger, long before it became a renowned spot among the must-try Belgian restaurants in Brussels! Never would I have guessed that over ten years later, I would start working in the kitchen of their next venue, Chez Henri. They prepare a traditional Belgian cuisine, hearty and delicious, always respecting and highlighting the fresh produce for what it is. They've also got a bunch of more creative suggestions, often with a hint of Spanish influence. The menu changes every four weeks, following their producers and the seasons.
Why did you start cooking, and what is your strongest food memory?
My mom was my first inspiration. She's always loved to cook and she shared with me both her know-how and passion for cooking. She always says "eating is the only thing that makes me happy". It's together with her that I opened La Guinguette en Ville. Today we still work together making sure this restaurants is a happy place, where customers are well tended to and where people are genuinely happy to come and eat.
I also have a grandmother who's super talented in the kitche, though he food is quite simple, it's always very generous and heaty. I remember her lamb ragout, her roast turkey, her cod served with mashed potatoes and her vegetable broth served with bone marrow meatballs. She used to come watch us once a week, and it was the day I was looking forward to the most, always wondering what she would have cooked for us that day. In the kitchen, it always smelled incredible and they were always pots and pans waiting for us to return from school.
But what really made me start cooking myself were the moments I spent with my godmother Cathy in St-hubert. They had a gigantic professional kitche, with all the possible utensils and assets a cook could dream of. I was helping their chef Milou.
Milou was a stereotypical chef, like a character coming from a cartoon. She was fierce and knew exactly what she wanted. She used to sit me on the countertop, too high for me to reach myself, facing the pots on the stove, that i would spend the morning watching. She had two helpers in the kitchen, two mustached Indian men, named Souza and Fazel. I would help them dip chicken in yogurt with spices, for a chicken tandoori that would unfortunately only be ready to eat the next day. My godmother's husband, Evence, was a joyful man, always happy to open a good bottle of wine, and always waiting for the best part of the day : dinner.
On Sundays afternoon, before heading back to Brussels, we would have a wholesome meal together, my favorite meal among all: thick and juicy slices of roastbeef cut with a knife, served with homemade bearnaise, super thin and crispy fries, and a delicious salad with a lemon dressing and fresh herbs – Evence's favorite. And a finally, a chocolate mousse, made to perfection by Milou.
These are really my greatest food memories, and they have helped me become the chef I am today.