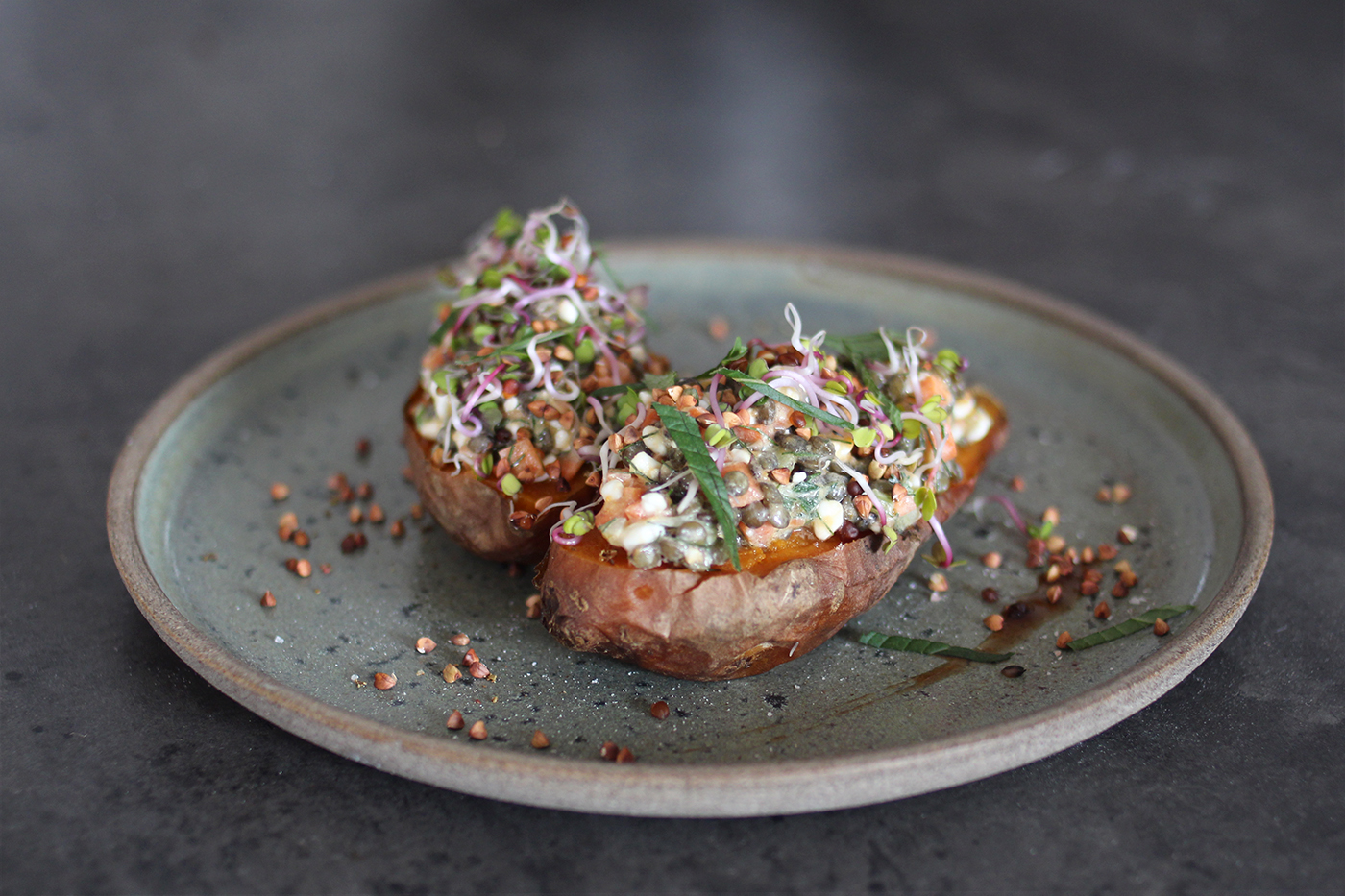 Ingredients (for 2 persons):
200g of green lentils
2 sweet potatoes
200g of cottage cheese (or feta cheese)
1 large carrot
1 rib of green celery
A few greens of fennel (optional)
2 tablespoons chopped mint
The segments of an orange
100g of buckwheat
50g of radish sprouts
For the dressing:
4 tbsp. sesame oil
1 tbsp black balsamic vinegar
1 tsp. mustard
The juice of 1/2 lemon
It was one of our favorites in 2019. We fell in love with this small restaurant full to bursting point; its hyper-festive atmosphere for a gourmet, its fine and gourmet cuisine, and also and above all the team and their vision. If we had known, we would have gone back there one last time before the lockdown.
There are places like that that really touch us, and Brut is one of them.
Today, Alice gives you her special feel-good confinement recipe, which she's been making at home and has shared with all her friends. And it sounds like the bomb, baby.
Baked sweet potato, lentil salad and cottage cheese, toasted buckwheat
Preparation:
– Preheat the oven to 190°c, wrap the sweet potatoes with the skin in aluminum foil and bake for 40-45min in the oven.
– Cook the lentils in boiling salted water for 13-15min, then cool them with water.
– Prepare the filling for the lentil salad: make a brunoise (very small cubes) of carrot and celery. Chop the fennel greens and mint and mix with the lentils (cold).
– Remove the orange segments and cut them into small pieces. Add them to the salad.
– Roast the buckwheat either 12 to 15min at 170°C or in a hot dry frying pan, stir-frying them while watching.
– Once cooked, cut the sweet potatoes in half and hollow them out lightly with a spoon, set aside or use the flesh to bind your dressing.
– Prepare the dressing: emulsify the sesame oil with the mustard, then add the lemon juice, the dressing and salt and pepper. Season the lentil salad with the dressing.
– Compose the plate: Season the sweet potatoes with salt, pepper and a little bit of olive oil. Arrange the lentil salad in the sweet potatoes, add the radish sprouts on top and the toasted buckwheat. Enjoy! 
PS: radish sprouts are very easy to make yourself and taste better!
Just leave the sprouts to soak overnight, then drain and rinse them morning and evening. If you have a jar to germinate it's even easier, or else a bowl and a small colander.
You can have fun germinating lentils, flax seeds, fenugreek seeds…
To get the ingredients: Färm, Sequoia or organic shop with a choice of products.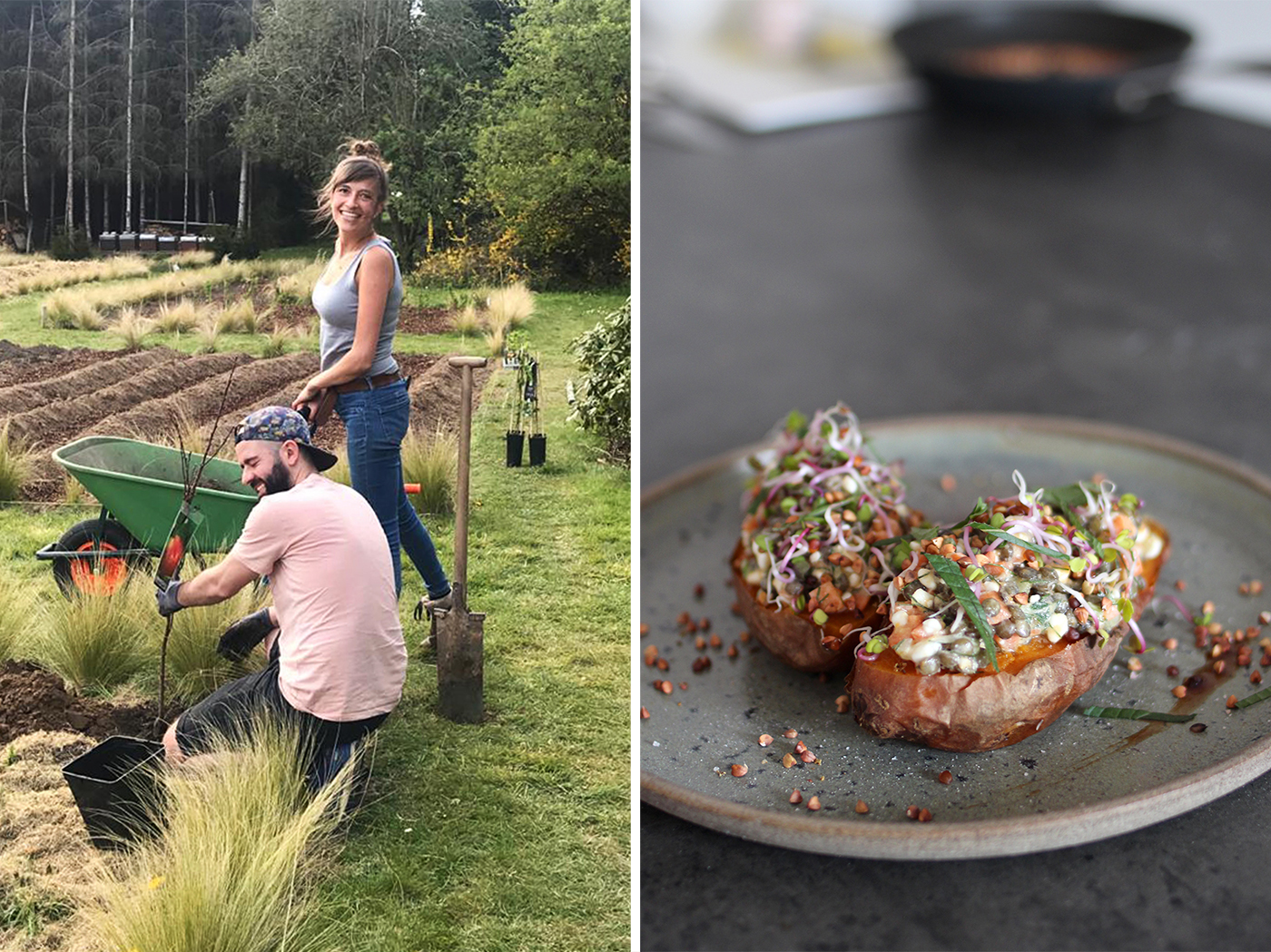 Can you tell us more?
I chose this recipe because I think that when in confinement mode, you'd want something comforting, tasty, hearty. It's a dish that can be cooked in 20-30 minutes, tops. These are also ingredients that we often use at Brut, which are all grown in Belgium and which also honor our local producers. What I find touching at Brut, precisely in view of the crisis we are going through, is that we chose to go down this path a year and a half ago now. As an eco-responsible restaurant that showcases local producers, I am glad we have always surfed on this wave because it is one that is close to our hearts and that makes sense in today's world. It will always be our greatest pride to highlight Belgian producers. And then the great joy we had, which even came as a surprise at times, was to make a lot of discoveries. The producers made us discover a lot of wild plants that we had never seen before, even vegetables that we never thought would grow here. And that pushed our creativity, perhaps in a more "directed" manner, since it's not that easy to have all the ingredients in the world.
Your strongest food memory?
Bon Bon. It's still the best meal of my life. It captivated us with dishes that were quite simple, but so right in taste. It was just incredible. There could be two or three things only in the dish, and it was amazing. Like a tomato and turmeric combinations. Two elements, bam. And it would make you fall off your chair. And there's no need for all the little things, extra seeds, extra decoration, this or that. Sometimes I feel like the more assertive you are as a chef, the less elements you need to put on a plate. And I like the way he thinks.
Your favorite place to eat out in Brussels?
We change restaurants every time we go out to eat. In fact, I don't think we've ever been to the same place twice. We like to try new things. Of all the things I've tried in the last two years, Gramm is the one that impressed me the most. We had a great night. I also thought Barge was crazy impressive. Most of the time, when we go to restaurants, we go to gourmet restaurants. Ötap, I like the atmosphere, I like the tapas to share. I like the fact that it's not very formal. And the selected wines. Just like the tapas he makes at Rebel's are really good too.
I'm very into Asian restaurants too. Izakaya, I called it my downtown Tokyo, I felt like I was literally in Tokyo. Maru, the atmosphere again, I like that you get grilled food in the middle of the table, that you still smell like sesame oil when you get home (laughs). No, but it's really very, very well done, it makes me feel as though I'm in Korea.