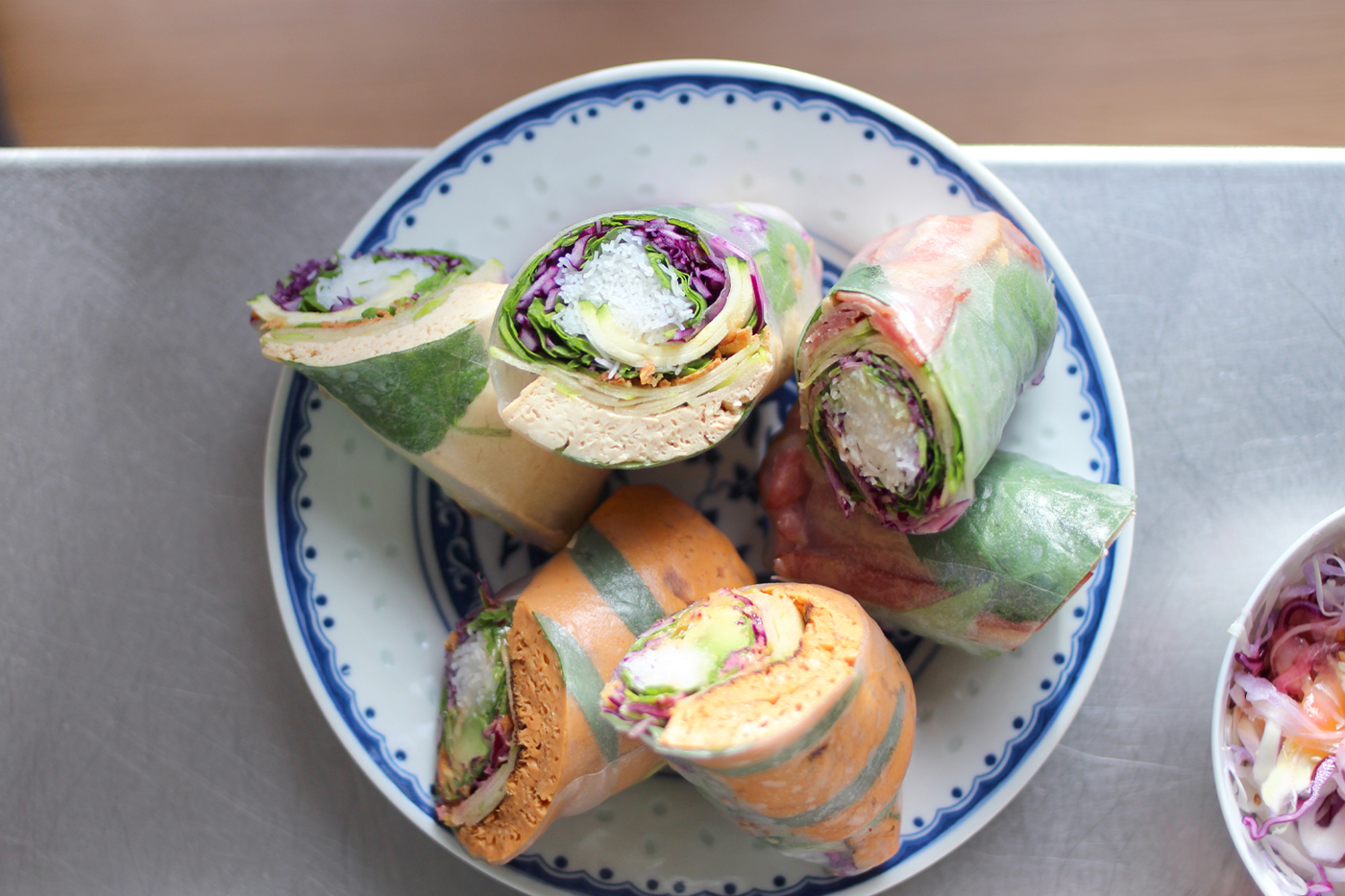 For 1 roll :
A rice paper sheet of 22cm
bought in an Asian grocery store
(Tinie's at Flagey or Ky by the stock exchange)
1/3 rice paper sheet (cut from a whole sheet)
3 slices of smoked bacon
(thin slices, breakfast type)
1/6 avocado
1 green apple like granny smith
a handful of finely grated red cabbage
a washed rocket handle
30g rice vermicelli
beautiful fresh basil leaves
mayonnaise
soy sauce
sesame oil
vinegar rice
sugar
wasabi powder
It somehow feels like Knees to Chin has been here forever, as though they have become a part of the Brussels food landscape. Let's put it this way: their concept is healthy and fresh, fun and delicious, affordable, and launched by two dynamic young sister entrepreneurs.
We've been following them since their very beginning and are thrilled to keep watching them grow. Today, they've shared with us their delicious crispy bacon spring roll recipe. And it's de-lish. Enjoy.
Rouleau de printemps au Crispy Bacon de Knees to chin
– Bring a pot of water to the boil, add a spoonful of salt, then dip in the rice vermicelli. Let them cook, stirring for 2 to 3 minutes. Drain and sprinkle directly with cold water until completely cooled. Leave them in the colander while the other preparations are being made so that the water continues to drain.
– Cook the smoked bacon slices in a frying pan. No need to add oil or butter – the fat from the bacon will do the job – until they are crispy. Once ready, set them aside at room temperature to cool slightly.
– Prepare the wasabi mayonnaise:
Mix two or three teaspoons of wasabi powder with a little water until you get a thick paste. Then mix this paste with mayonnaise according to your preferences, so that it is more or less spicy.
– Prepare the sauce:
Mix 3 tablespoons of soy sauce, 1 tablespoon of sesame oil, 2 tablespoons of rice vinegar, 1 teaspoon of cane sugar.
– The assembly:
Prepare a damp cloth and lay it on the counter. Soak your rice sheet for a few seconds in cold water so that it is well wet, and lay it flat on the cloth.
Little tip: add on top, positioned in the middle, 1/3 of the rice sheet, soaked in water too (this helps for the strength of the roll). See the Instagram post here for reference.
– Start by placing a large basil leaf in the middle (for decoration).
Then add 3 slices of bacon on top. Just a little more towards you, in front of the bacon, add another 2-3 basil leaves, a small handful of rocket salad, a small handful of red cabbage.
On top, add your rice vermicelli, the equivalent of about 30g.
On top of the noodles, place your mayonnaise, about 2 teaspoons, lengthwise.
Add 3-4 slices of finely sliced green apples. And finally your 1/6 of avocado.
– For the rolling
Start by folding down the part of the rice sheet that is towards you, you surround all the food inside, tightly. Then, while keeping the whole thing tight, fold down both sides of the sheet. And then, and this is the technical part, roll the whole thing up to close it, holding tightly. The step by step video is here, on Instagram!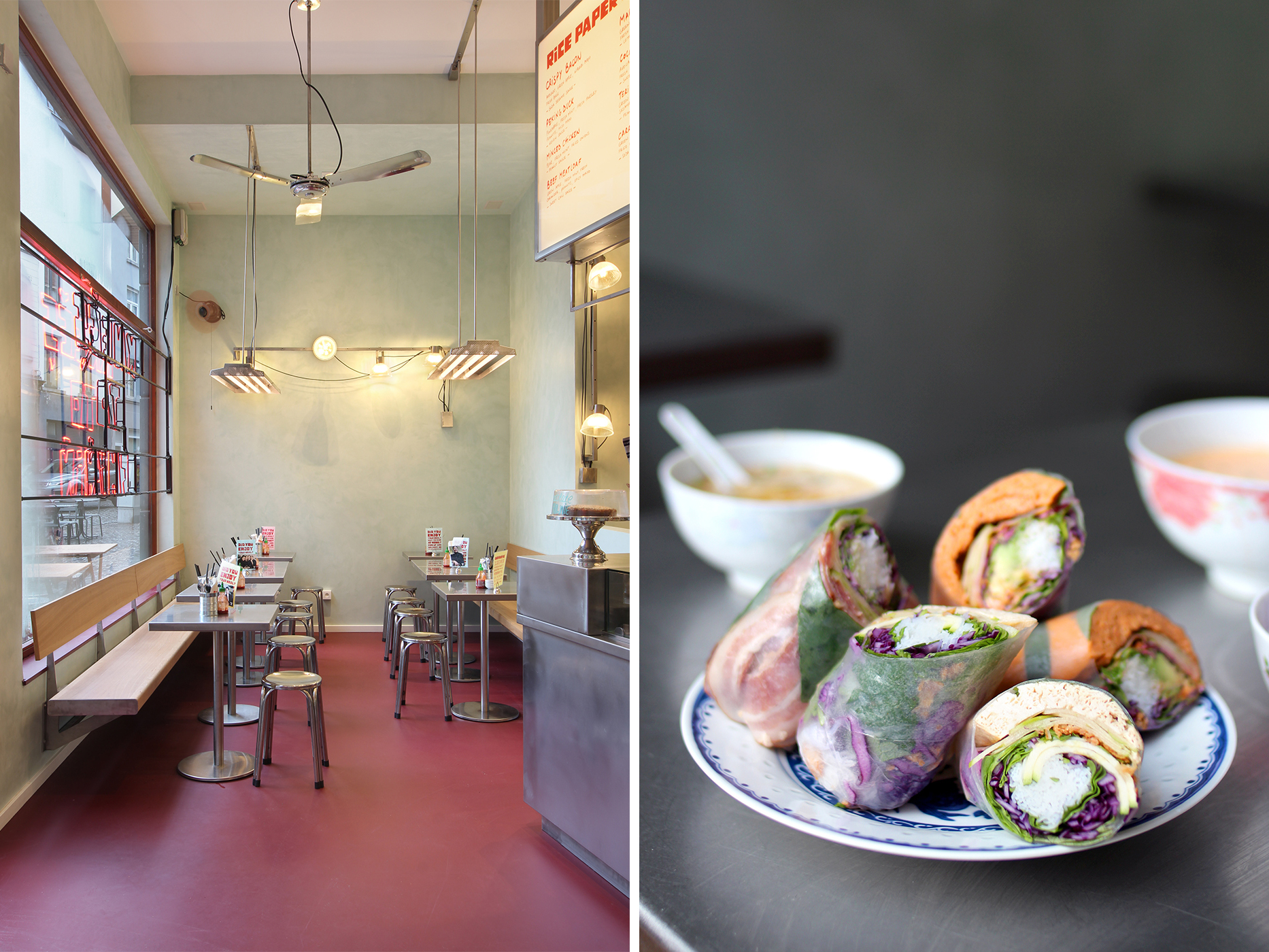 Can you tell us more?
I'd like to start by thanking a number of people. First and foremost you, who does a great job of keeping people awake and stimulated by food on all levels – whether it's cooking at home or going to restaurants that are still open to get take-out, or giving a voice to restaurant owners like you're doing with me today, by asking us to share a recipe. And then thank all the customers, all the people for their support. We're open right now in Bailli and it's so nice to see all the people who are here, super positive, super encouraging. People are really present, and aware and trying to help us in one way or another, and remain super supportive. I think it's important, a lot of initiatives are being taken, and in our sector – which is very affected – I think it's crazy. Thanks also to the restaurant industry – it is such a positive, supportive sector. People are all at home and we still manage to bring them together around food and causes. I think that this confinement will have shown a beautiful facet of this sector, of the people who are behind it, who are trying to support us, of people like you.
Your strongest food memory?
If there really is one family dish that my sister Agathe and I are too fond of, it's our mom's stuffed cabbage. Just the way it's prepared, it's so beautiful. We put minced meat between each leaf of the cabbage, close the cabbage with rope, and then wrap it in a cloth. A kind of very thin cloth. And then we cook it in a broth for a few hours, and it's just very comforting. There's a lot of textures, the cabbage, the meat, the broth. I love it, it's really super delicious. It's the ultimate family dinner that we're really into. It's a real grandmother's recipe, and the process for making it is super pretty.
Your favorite place in Brussels?
There are all kinds of different styles in Brussels, but we're still often attached to Asian food. It's one of the things that stand out to us. I also like the idea of going to a restaurant where there's a personality behind linked to the owner. Maru for example, I'm a big fan, it's really super delicious, and my boyfriend knows Kiki a little bit, she's the owner and a real character. I also love going to Indochine's, rue Lesbroussart. It's run by a couple, they're so much fun. The kind that tells you not to order something from their menu because it's not good, and have you order something else instead. The kind of owners with a strong personality.
Ajiyoshi's at St. Catherine's Square, where you almost get shouted at to take a seat. The experience around it makes me laugh and the food is really delicious.
I also had a very nice experience with Les Petit Bouchons where the guy is really nice. We were heading off to Brittany a few days later with my boyfriend and he gave us lots of advice. So we went back to tell him about our trip when we got back. And I really like this kind of experience, very human. And he only works with good products, it's really delicious.
And another one who really manages the surf and turf combo is Crab Club. Their crispy pork with the octopus is really amazing. They make really amazing combinations, it's really delicious.