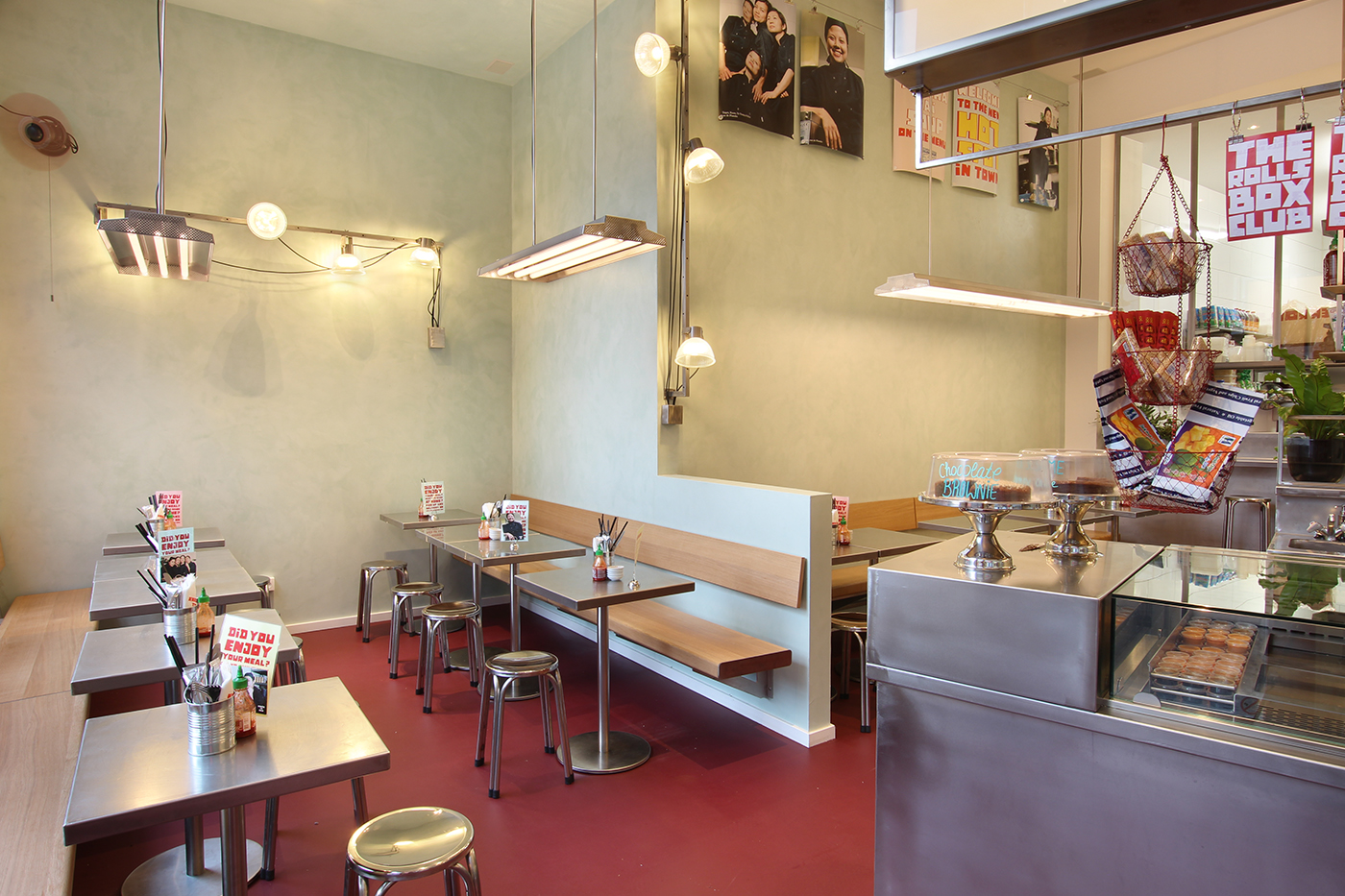 SITE WEB – LIVRAISON
St. Boniface
rue francart 18
1050 Elsene
02 705 24 30
Monday to Friday from 11:30 a.m. to 2:30 p.m.
Thursday to Friday from 6 p.m. to 9 p.m.
and Saturday from 11:30 a.m. to 9:30 p.m.
We love success stories, especially when they're Belgian and women-made. Roxane and Agathe's story is one of them – the two very successful sisters behind Knees to Chin have now 5 shops open and running, and they're about nowhere near close to stop. We still remember the very first one they opened in 2014, in Bailli. It was already super pretty and super good, and we had immediately caught on to the concept of those fresh paper rolls served with a bunch of delicious of homemade sauces. Five years later, the spirit and vision have remained untouched – we still meet up with friends at Knees to Chin for a quick and healthy dinner, or stop by to grab a box to take home. The only difference is, the demand has grown so big, that the sisters had to face new challenges. But it was also time for them to take a step back, time to think, let their creativity speak, and come back even stronger.
About a year ago, the two sisters finally went on a trip to Vietnam, to find and try the best local street-food there is, keeping a focus on spring rolls, of course. But it wasn't only about spring rolls. They came back with tons of ideas, and one of them was to redo the interior or Knees to Chin. The previous decoration was quickly thrown out the window – though let's admit, it was super cool already – to create a real immersion into Saigon's tiniest streets. And we're into that. In their latest venue on Place Saint-Boniface, the light is made of white neon, the counter looks like a street-food stall and the walls have that pale greenish color so typical of these South-East Asian eateries. It's like we're there. We share with Roxane this odd love for white neon lights and authentic settings. It reminds us of Asia too. But at Knees to Chin, the interior has been executed beautifully, it's authentic but well-balanced and pretty.
It was the perfect timing to make a few changes in their menu, too. From Vietnam, they brought back new ingredients, and a few brand new recipes – like the Vietnamese beef with fresh herbs and peanuts, or the shrimp with lemon balm leaves. And of course they did keep their best-selling recipes too – now famous all over the city.
rue de Livourne 125
1000 Bruxelles
02/644.18.11
Lun-Sam : 11h30-22h
Centre
rue de Flandre 28
1000 Bruxelles
02 503 18 31
Lun-Dim : 11h30-22h
St Gilles
chaussée d'Alsemberg 148
1060 Bruxelles
02 732 20 56
Lun-Sam : 11h30-21h
Wolf Food Market
rue Fossé aux loups 50
1000 Bruxelles
Lun-Dim : 11h30-22h