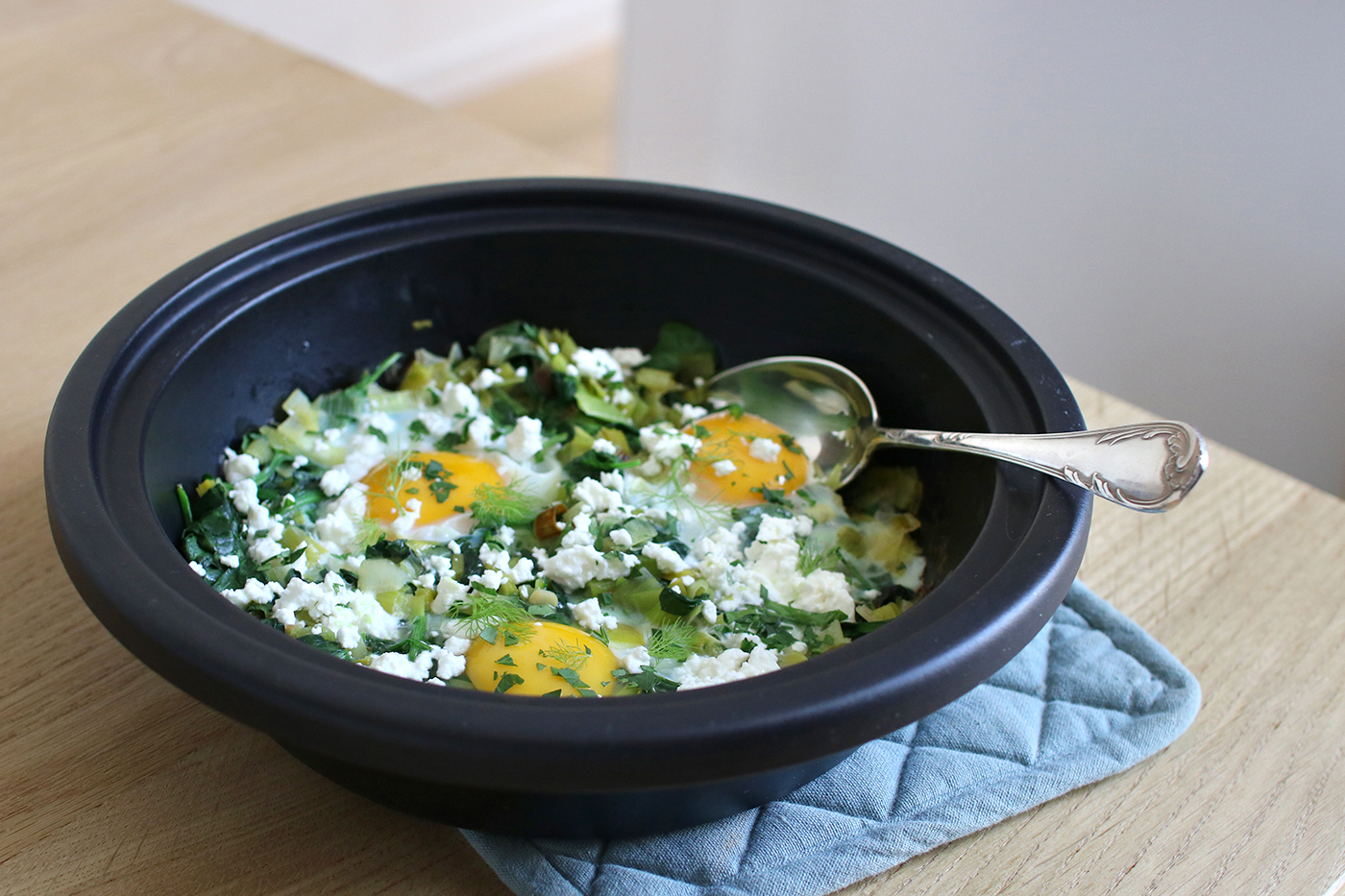 A knob of butter
150g fresh spinach (if the leaves are big,
Chopped coarsely)
2 leeks
2-3 eggs
Flat leaf parsley
Coriander
Dill
½ tbsp cumin seeds
½ tbsp coriander seeds
½ tbsp fenel seeds
80g of feta cheese
1 big garlic clove or 2 small ones
1 avocado
4 slices of good bread

Sarah is the cofounder of Brussels' Kitchen. We met at La Cambre, back when we were both studying to become interior architects. What brought us together was clearly a passion for food and an even wider passion for beautiful things. That's how Brussels' Kitchen was born, in 2012, as we were both still students. Passionate about cooking, Sarah left the project over a year and a half ago to launch her own cooking and catering business and do what she loves most: do magic with beautiful ingredients. Today, she gives cooking classes (well outside this lockdown period obviously) for small groups in her home, and runs a catering business for events.
For you, she has shared with me her recipe for her amazing green Shakshuka.
Shakshuka vert
Cook the spices in a pan, without any oil. When they're fragrant, set them aside, wait for them to cool down then mix them in a blender or with a mortar, until they transform into a thick powder. In a wok-style pan, cook the chopped leeks (white part only) with the butter, until they are soft and tender. Add the crushed garlic and the spices. Add the spinach, washed and dried, and let cook until they are tender. Add salt and pepper to taste. Add the eggs on top, and the crumbled feta cheese, and let cook at medium heat.
Serve with chopped fresh herbs and half an avocado per person, sliced. Eat with bread, naan or pitta bread.
.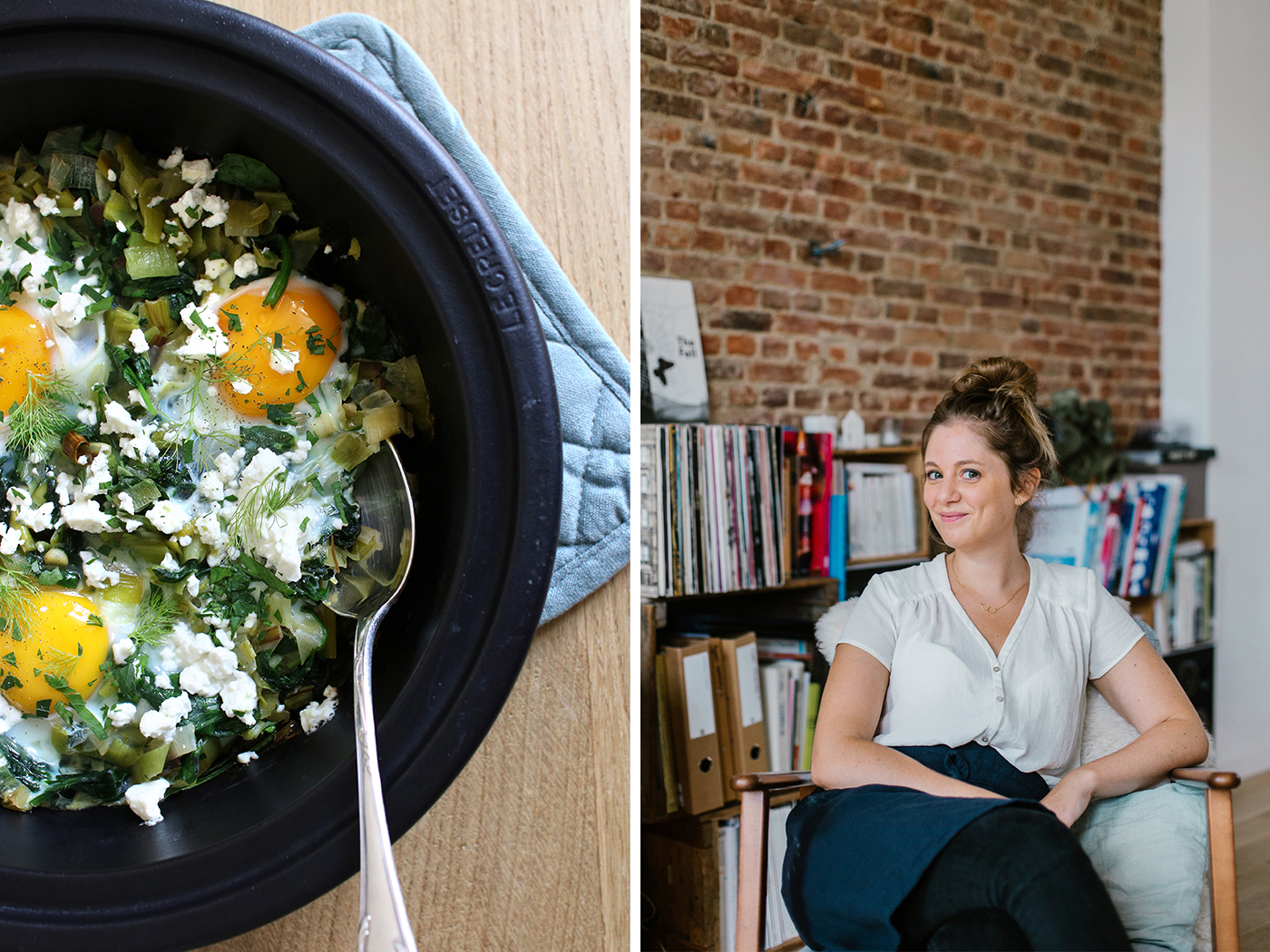 Can you tell us more?
I studied interior architecture, that where I met Chloé, at La Cambre. But I always have had a passion for cooking. After working on Brussels' Kitchen together, I missed the creative side I had in architecture, and also found in cooking: assembling materials, colors and textures. That's when I started working at Henri & Agnes, back when they had just opened, and that's where I learned everything. I'd always love cooking but I couldn't really cook, or at least, not professionally. And that's where I learned all the techniques, but that's also where I started having a true vision regarding the quality of ingredients. I love meat for example, but I don't cook much today as I've mostly learned to cook vegetables in millions of ways. A beetroot for instance can be steamed, roasted, slow cooked for hours, everything is possible. And the seasonality makes it an interesting and exciting challenge, too. I love telling myself that asparagus season is coming, and that we've got to make the most of it, because after that, it'll be something else.
I started a year and half ago as an independent, giving cooking classes in small groups, and launching a catering and private chef business, where I mostly cook lots of vegetables.
Your strongest food memory?
I'm going to tell you about the ravioli my grandfather used to make. On my dad's side, my family is Ashkénaze jewish, and every year, for Roch Hashana, my grandfather would make raviolis called Krepler. He would make the dough himself, then stuff it with meat. It is served together with a broth. The meat cooked to make the broth is then stuffed in the ravioli, with some chicken liver too. It's super comforting. When I was little, my cousin and I would compete trying to eat as many ravioli as possible.
Your favorite place to eat out in Brussels?
Ever since I became a mom, I nearly almost never go to the restaurant anymore. I'd say Bouchéry, for lunch. It's really the perfect place to eat good, beautiful, healthy food. It's a vegetarian buffet with lots of creative vegetable-based recipes. Also, close to where I live, to eat a plate of pasta with a glass of good Italian wine, Caffe Al Dente, on the Enoteca side.