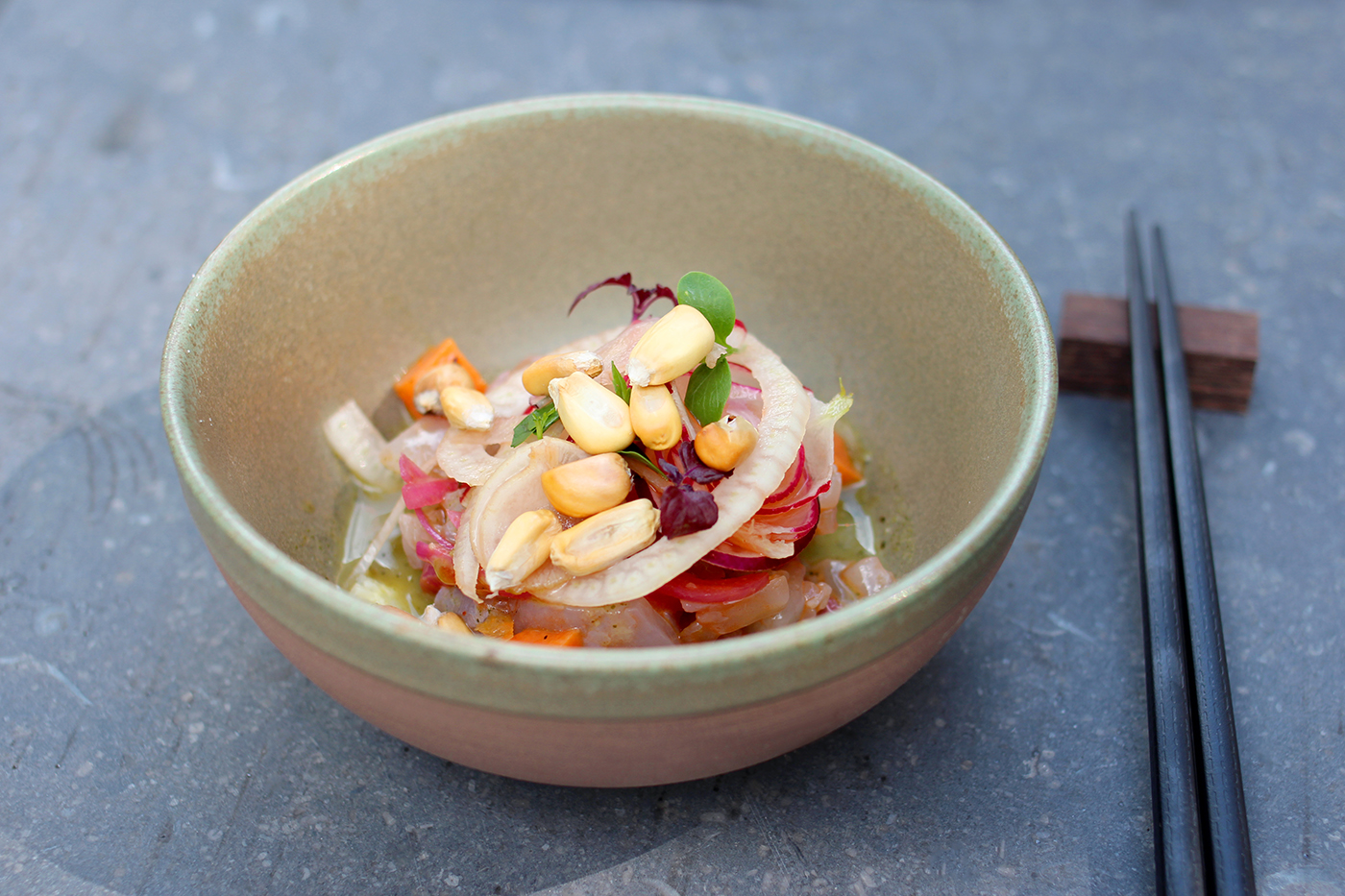 ail
For 4 people
4 sea bream filets
2 fennels
5 limes
4 avocados
2 red onions
½ coriander bunch
250ml dashi broth
400ml orange juice
60g ginger
50g vinegar
150g sugar
150ml water
40g honey
100g thick sea salt
salt
sea salt flakes
olive oil
Espelette pepper
Sanzaru is the only restaurant in Brussels offering Nikkei Cuisine – a delicate combination of Peruvian and Japanese influences. For you, their young chef Nathan has shared with us the recipe of their bestsellers, the sea bream ceviche : a Peruvian classic, slightly twisted with a Japanese touch.
Sea Bream ceviche, orange and ginger leche de tigre, guacamole and coriander
Fish marinade
Mix thick salt, orange juice, 50g of fine sugar and Espelette pepper. Cover the skinless filets with the marinade on both sides. Let marinate two hours in the fridge. Rinse the fish filets with cold water then cut them into 1cm cubes. Store in the fridge.
Red onion pickle
Peel the onions, chop them into strips, then place them in a jar. Heat 150ml water with 100g sugar and 50g vinegar (ideally at 90°C). Pour the liquid on the onions and seal. Let cool completely in the fridge.
Guacamole
Mix the avocados with ½ of the coriander bunch, the juice of 2 limes, 2 tbsp olive oil, a bit of salt and Espelette pepper in a blender. The mixture should become very smooth (you can add some water or dashi to help if necessary).
Fish dressing
Mix 100ml of orange juice, 40g of honey, the juice of 2 limes and a pinch of Espelette pepper. Store in the fridge.
Orange Leche de tigre
Mix 250ml of dashi broth, 200ml of orange juice, 60ml of ginger juice and a pinch of salt. Store in the fridge.
Fennel Salad
Chop the fennel very thinly (with a mandolin if you have one), season with olive oil, sea salt flakes and the juice of a lime.
Season the fish with the dressing and with the red onion pickles. Place the seasoned fish at the center of a bowl and pour the Leche de Tigre around, then gently place a bit of the fennel salad on top.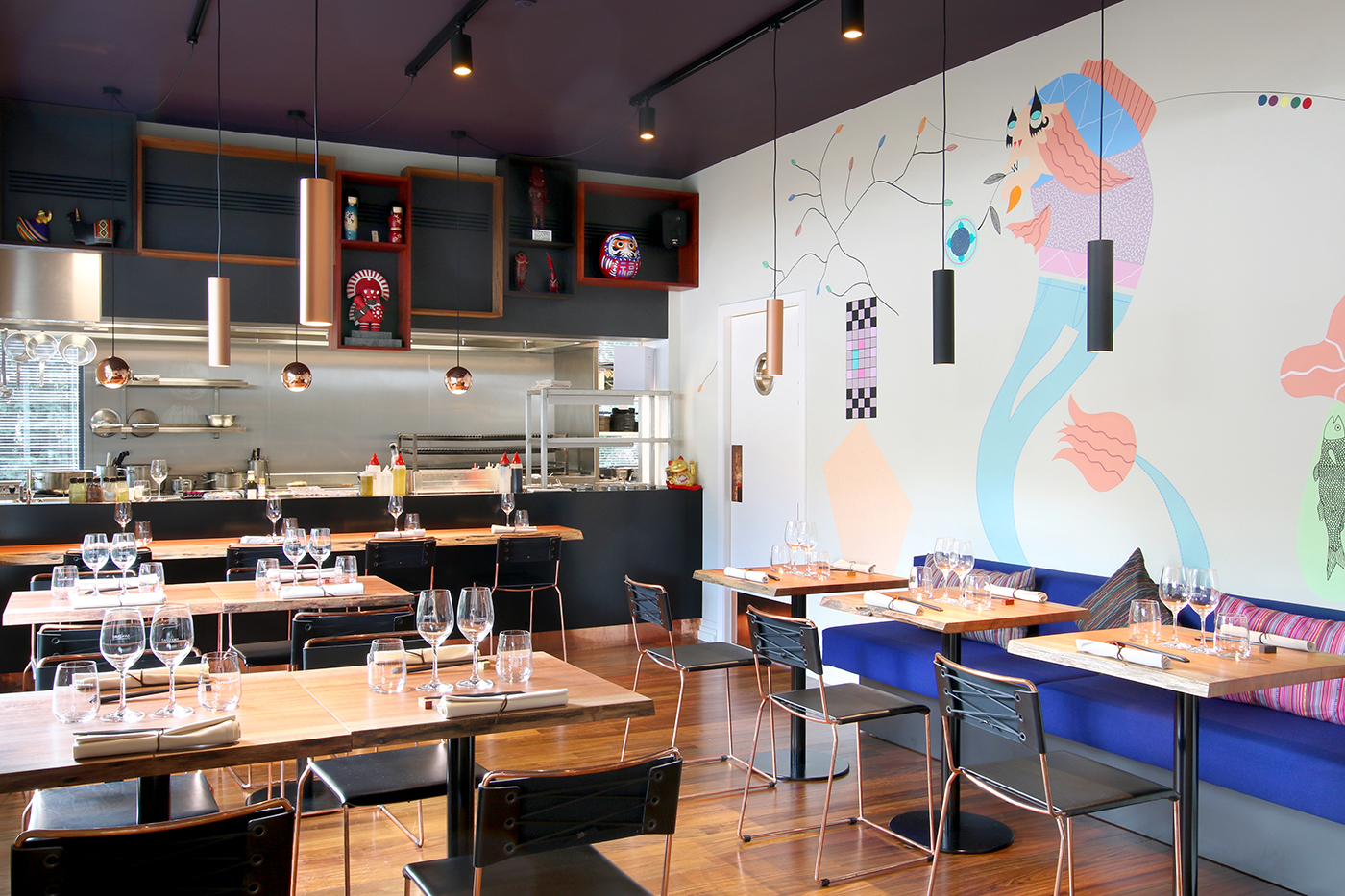 Can you tell us more?
JI'm a young cook, I'm 24, I studied in Namur. That's where I learned all the bases, in hospitality school. The good side to the school was the big amount of internships they would have us do. I had the chance to be an intern at Le Coriandre in Boitsfort, a small gourmet restaurant that was perfect for me. I learned the essential, and improved everything I had learned in school before that. Then I joined my friend Gilian at Sanzaru two and a half year ago. At the time, I had no idea was Nikkei cuisine was, then I started diving into it when he started working there, and even more when I myself joined. And I just loved it.
When I work, I give everything I have, 100%. I was a cook, then sous-chef, then executive chef and now I'm head of the kitchen.
To me, cooking is something that should stay really open-minded, everyone has got something to say in cooking, at their scale, whether it is a chef or a stay-at-home-mom.
Our cuisine is young, dynamic, spicy, original and hearty. We're in the middle of a transition phase: we're going to go from the 80-100 guests high-end restaurant to something a little more gourmet.
Your strongest food memory?
What I remember most, is licking the spatula when I would make chocolate mousse with my mom as a kid. I've always loved to eat ever since I was little. What really hit me – but it was more a whole – was working at Ventre Saint-Gris, in Uccle. It was during a period of time where I was sick of cooking, and I wanted to give up on everything. And I found in that restaurant everything that had made me fall in love with cooking in the first place; flavors, colors, smells. That's when I was sure that I really wanted to be come a chef.
Your favorite place to eat out in Brussels?
For now, Ötap. It's a restaurant where I really love to go and eat. It's young, dynamic, and I love the vision.