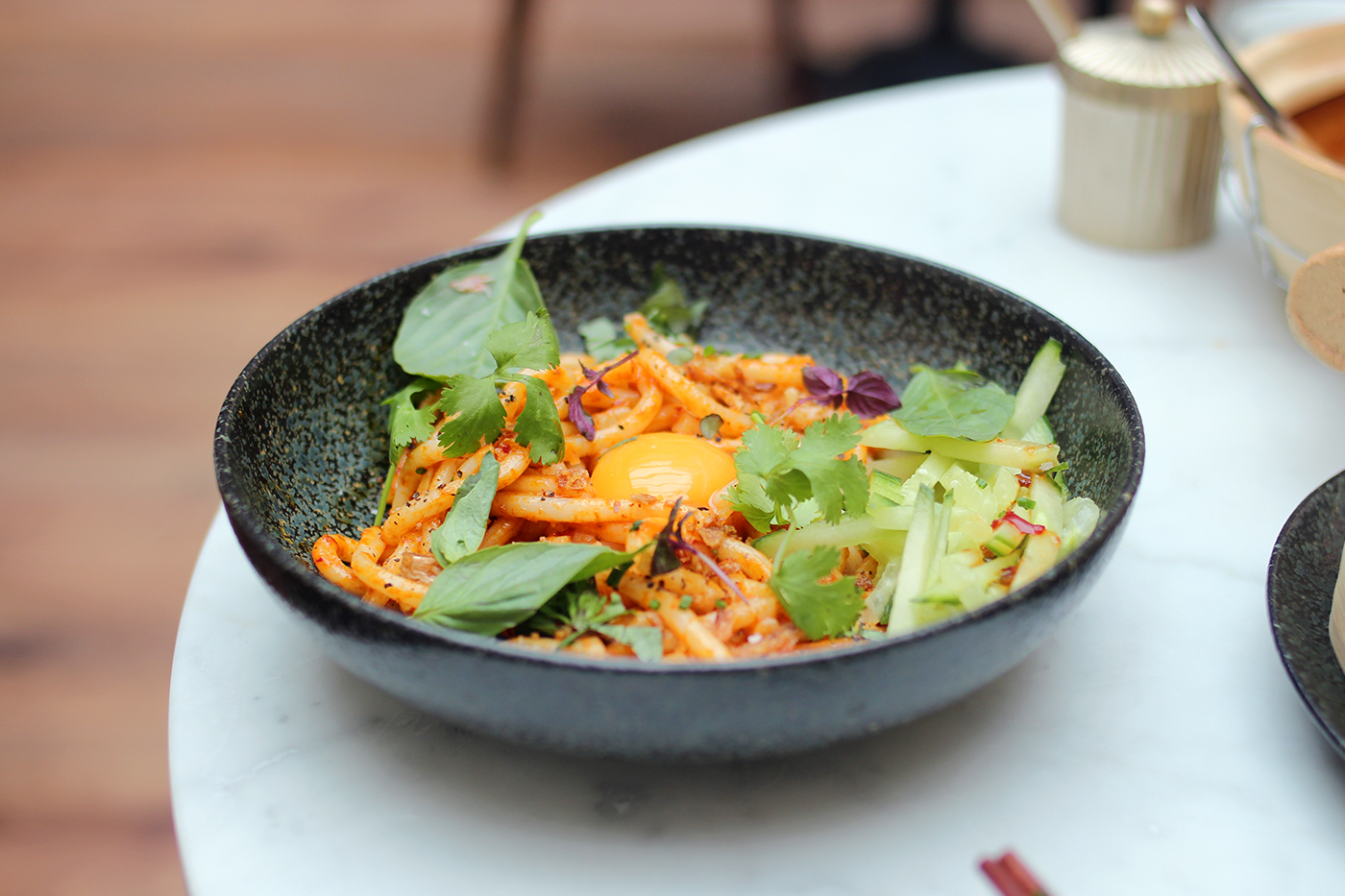 For 2
For the noodles:
400g round noodles (instant udon
or Banh Canh (rice and tapioca flour)
1 tbsp plant-based oil
2 tbsp red curry paste
1 garlic clove
1 shallot
1 tsp tomato paste
2 combava leaves
1 tsp oyster sauce
1 tsp sugar
For the cucumber sala:
½ a cucumber
4 tbsp sweet soy sauce
the juice of a lime
1 tsp chili puree
(sambal type)
Toppings:
2 egg yolks
Purple shizo
Rau Ram (Viet coriander)
Thai basil
Chives
Fried onions
Coriander
Lime zest or combava
Nénu was all anyone in Brussels could talk about when it opened. It was also the one article that made us reach the most daily visits we ever had on Brussels' Kitchen. That was before the lockdown, it was very different then. But there is no way we're going to let any of this bring us down. If you can't make it to Nénu anymore, let Nénu come to you. Now just read carefully.
Round noodles with red curry, garlic and fresh herbs
Cucumber salad:
Mix the chili puree, the lime juice and soy sauce to prepare a dressing. Cut the cucumber into thin strips then mix with the dressing and store in the fridge.
Noodles:
In a large pan, cook the shallots, the garlic then add the curry paste and the tomato paste, the oyster sauce, sugar (last), and the combava. Let cook for about 4-5 minutes on low heat to preserve the flavors. Cook the noodles al dente, then stir-fry them in the pan with the curry mixture and add two table spoons of cooking water to get the final texture of the sauce.
In a deep dish, dress the red curry noodles with the raw egg yolk, the fresh herbs, lime zest (or combava), fried onions and the cucumber salad.
Can you tell us more?
I grew up in the hospitality business, first through my dad, who owns the restaurant Nénuphar in Woluwé. I started working there when I was 16, then when I turned 18 I studied hospitality and management. I started working in hotels at first, and soon realized that restaurants were what I loved the most. So I went back to the Nénuphar to help my dad. At first I wanted to change everything, then I realized I still had everything to learn. That was in 2012. Then progressively I took over the kitchen, and since 2018-2019, I manage everything 100%.
I've always wanted to open my own place, but I'd pushed that in a corner of my head. Then I came across the building of Nénu, and fell in love with the place. Two weeks later, I had signed the paper and were diving full-on into the adventure. The idea was to serve Vietnamese cuisine with a modern touch, always staying true to authentic Vietnamese flavors. After a year of renovation, we decided to apply the Vietnamese "An Nhau" concept to the menu – the idea of eating to drink. In Vietnam, not all the food is about big street-food dishes. We also have a family culture of sharing lots of small plates on a table while having drinks.
I hired the chef in September, and we went through the menu I had initially written myself together and made some changes. And that's how Nénu's first menu was born.
Your strongest food memory?
I have a big one, and I always come back to that one. Two years ago, I was eating at Nuance, a two-Michelin starred restaurant. And I had veal with carrots, it was the simplest French dish, but it was so well executed and so good I almost cried.
Otherwise, my mother's Bun Bo Hue. People often talk about the Phô from Vietnam, but each region in Vietnam has its own soup. Phô comes from the North, but my mother comes from the center, and there the Bun Bo Hue is the main dish. It has a base of tomatoes, pork, beef, chili and lemongrass, served with rice noodles. My mom used to make a chutney to go with the soup, with lemongrass, shallot, tomatoes and chili. We serve the same chutney at Nénu today, with grilled fish, but when I was a kid, I would eat on bread for breakfast.
Your favorite place to eat out in Brussels?
My favorite dish in Brussels is pork feet from Au Vieux Saint-Martin. It's cut in half, and oven baked with mustard and tarragon, and it's served with the restaurant's homemade fries which are just crazy. There aren't many people who know about this recipe.
I also love going alone to Beijingya, an old Chinese restaurant behind Place Saint-Catherine. They sell everything, from chicken feet to jellyfish salad. It's an old canteen where the staff has remained the same for years, they're not very friendly and sell the wine by the carafe, but it's always full. It's a bit so and so decoration wise, it's really an old canteen with sauces on the table, and rice served from a big aluminum pot. And they heat the duck in the microwave, but it's delicious. Well originally lacquered duck is meant to be eaten cold, so they only eat it upon request. I order chicken feet and crispy pork guts. And I also love Dolce Amaro for their bottarga pasta.