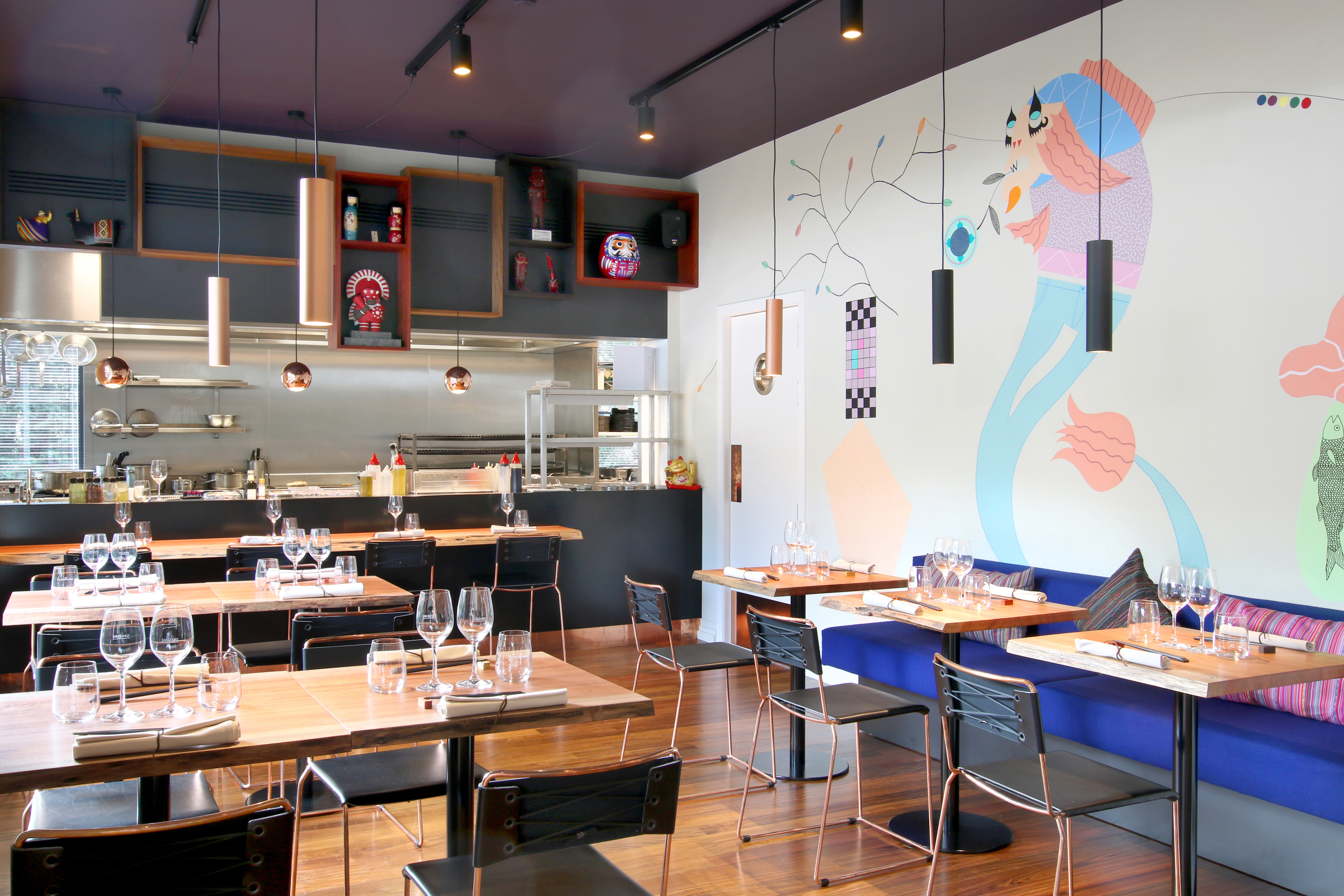 292B AV DE TERVUEREN, 1150 BRUXELLES
02 773 00 80 – site web
OPEN FROM TUESDAY TO SATURDAY FROM noon TO 2PM AND FROM 6 TO 22PM
The word "Nikkei" may now refer to the elegant blend of Japanese and Peruvian cuisines, it originally came from the word Nikkeiji, referring to a person originated from Japan. As numerous Japanese expats moved to Peru at the end of the 19th century, they slowly began to integrate local ingredients into their cuisine as well. Cilantro, chilies, red onions, lemon or even yuzu were slowly paired with sashimi or other raw fish specialties the Japanese had the secrets to. It was the birth of the Nikkei cuisine.
Located halfway into avenue de Tervuren in a modernist building from the 30's, the brothers Maxime and Cédric Gillet took the ambitious bet of importing Nikkei cuisine into Belgium. Helped by Lakhdar among others, they transformed the old Yume restaurant into a rather elegant Nikkei bistro, proudly displaying the colorful designs of the artists Arianna Musetta and Marcin Sobolev, the duo behind Double Mafia. With its beautiful terrace and its front garden, it was the perfect spot to discover a new cuisine while enjoying the last days of Summer.
On the menu, edamame were listed above tostaditas, and we first felt a bit lost. But when we looked deeper into the descriptions, we realized each dish was a subtle combination of both cuisines. We went for the tostaditas, tiny corn tortillas topped with teriyaki salmon (9€ for an appetizer). The sea bream ceviche (15€), rather classic with its leche de tigre marinade, was no less excellent, and gave a good glimpse of the quality of the menu. But our real crush went to the softshell crab tempura with rocoto chili and candied ginger mayonnaise (17€).
In the evening, we'll come back and try the bar upstairs while sipping on a Peruvian or Japanese gin-based cocktail, while feasting tapas from the shorter bar menu.