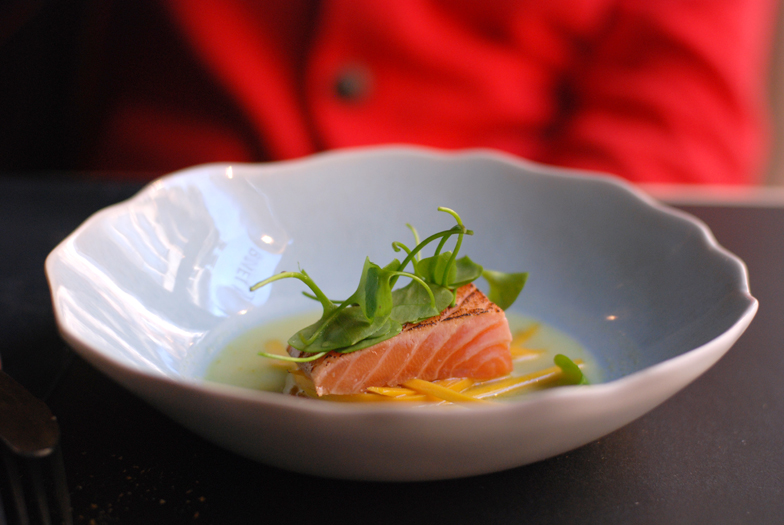 108 CH D'ALSEMBERG, 1060 BRUXELLES
PHONE: 02 534 13 03 – SITE WEB
OPEN on the EVENING FROM TUESDAY TO SATURDAY
If we had to recommend only one restaurant in Brussels, it would definitely be this one. La Buvette gathers all the different criteria which make a moment truly special. The restaurant is located in what used to be a gorgeous butcher shop, almost entirely covered in tiles from floor to ceiling, except for one dark black wall against which a blue tiled wooden door perfectly stands out. The original meat hooks were kept, hanging from metal beams across the room, reminding customers of the previous life the place had before becoming the Buvette we love. At the head of the restaurant, Nicolas Scheidt, responsible for some of the coolest venues in Brussels ever since he arrived. After opening La Buvette in 2010, taken over Café des Spores in 2011, launched Hopla Geiss right across the street in 2014, his last opening was Alimentation, a fine grocery shop in the Châtelain neighbourhood in 2016. But let's get back to La Buvette, where we can still find Nicolas in the kitchen. A unique tasting menu is proposed to customers, available in L – 6 courses for 49€-, or in XL – 9 courses for 64€. The chef works with seasonal ingredients, sometimes inspired by rather Japanese combinations, sometimes by more traditional recipes from Alsace, the region he is from. Two favourites that never leave the menu : the iconic spinach, ricotta and black sesame, the ultimate ingredient pairing, and the delicious black chocolate pie with its praline biscuit, no less ultimate. For the rest, we'll keep it a surprise. Let yourself go to the chefs adventurous and inspired dishes, in 6 or 9 key moments. The service, another important thing, is always relaxed and will guide you through their impressive wine list, natural for most of it.