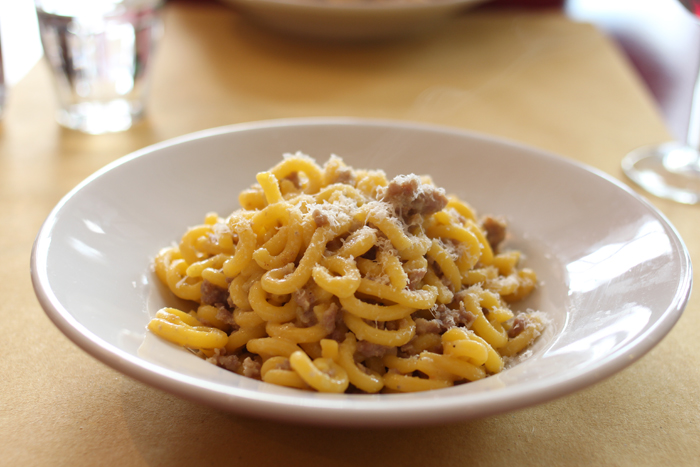 49 RUE DE LA PAIX, 1050 IXELLES
02 608 51 54 – SITE WEB
OPEN FROM thuesday TO FRIDAY FROM 12 TO 2PM
AND FROM 7 TO 10:30PM.
Since the very first day of its opening on rue de la Paix, the Osteria Bolognese has never emptied. Giacomo, the owner, directly saw in the space and its big front window the opportunity to turn it into a real Italian osteria. The decoration is warm and full of charm. Red wooden chairs are laid around small tables with checked tablecloth and paper placemats, and a big black board hangs on the wall, displaying the daily suggestions. We particularly love the little pig, a symbol of the restaurant, that you can find in all sorts of details of the decoration, from miniatures on the shelves, to a stuffed animal hanging from the coat rack.
This is where you will try one of the best tagliatelle al ragu (14€), prepared with the original recipe from Bologna. Besides the tagliatelle, about a dozen of other delicious pasta dishes are available every day. Another favourite is the Gramigna di salsiccia, small twisted pasta with sausage, a traditional recipe from Emily-Romagna, and also Giacomo's favourite. We also had the chance to try excellent radicchio and stracchino ravioli, and their unmissable cheese and cold cut platter, served with homemade fritters. Something you should try at least once in your life.
Seeing how hard it is to get a table at Osteria Bolognese, we'd recommend you book for lunch, or show up early on a Wednesday night. Wednesday is indeed the only day they don't take any reservations, and it has been our best chance to get a table there so far!