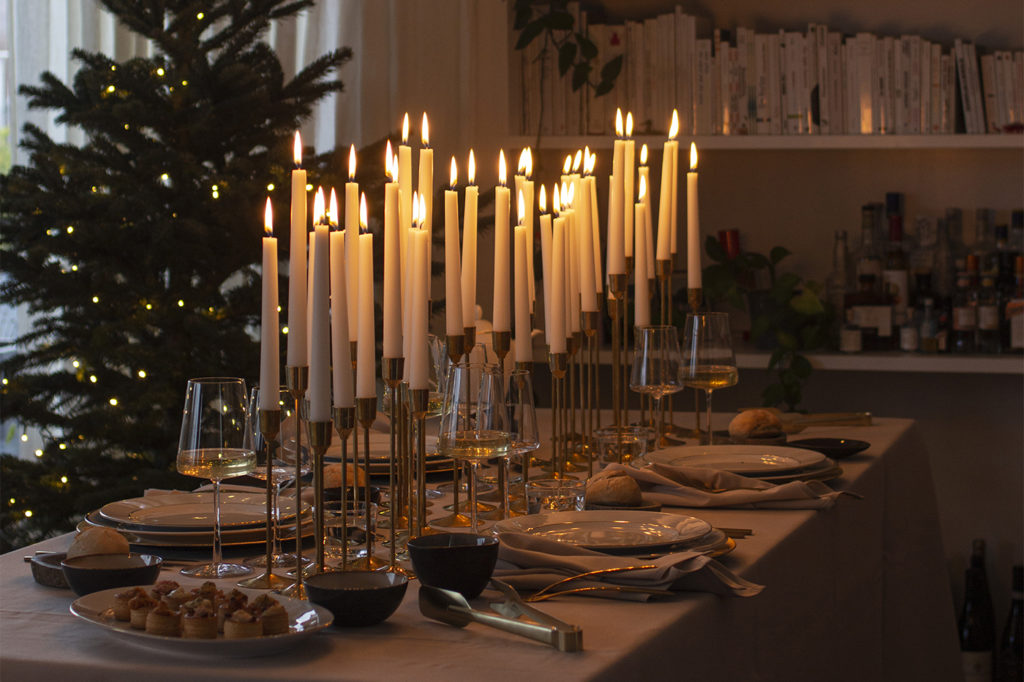 les menus de noël
de nos restos préférés
pour vos soirées de fêtes
un peu particulières
Many of you asked us for them, here they are: the Christmas menus of your favorite restaurants are back!
A non-exhaustive list, which will be updated regularly, based on our new finds. Be ready, we have selected the best of the best.
The hardest part now? Choosing which one you're going to go for.
But you know what, we heard it's not forbidden to celebrate Christmas more than once 🔥
To your orders ! 🍴🍾
Les menus des restos testés et approuvés par Brussels' Kitchen
Liu Lin
3 course menu (34€/pers)
Strarters
– veggie prawn crackers
– blissful bao with jackfruit & crispy "chicky"
Dish (to choose)
– Lalot: rice noodles with stir fried veggies & skewer with marinated soy wrapped in fragrant lalot leaves
or
– Tom Yam : noodle soup with dumplings, rice noodles, edamame, cabbage, soy, spring onions & cilantro
Dessert
– Deluxe speculoos-vanilla cheesecake with caramelized pecans
→ Menu available for Christmas & NYE
→ Order here before Monday 20/12 for Christmas and here before Monday 27/12 for NYE.
→ Pick-up at Liu Lin on the 24th between 2 and 4pm and on the 31st between 2 and 4pm.
Chabrol
For 4 people (25€/pers) or 8 people (42€/pers)
Savory (starters, main courses) :
– Fish terrine: cod, trout and crunchy vegetables / lemon mayo with herbs – [portion 200gr] 12 €.
– Trout gravlax with balsam fir and pink berries [portion 150gr] / blinis / raw cream / lemon – 14 €.
– The duck and pheasant pâté en croûte / herb salad – [the slice] €13
– Cream of Jerusalem artichoke soup with vanilla and coffee cream [300gr] – 11 €.
– Scallops au gratin in a shell, mushrooms, mussels and marinière sauce – [the shell] 15 €.
– Puff pastry with celeriac and Comté cheese, herb salad – 15 € [the shell
– Duck leg with orange sauce / Gnocchi à la romaine – 18 € [the shell
The sweet :
– The Christmas log: Viennese cookie, Guanaja chocolate buttercream, salted butter caramel, chocolate shavings
→ Takes orders until Monday, December 20 at noon.
→ You can pick up your order on Thursday, December 23 from 5:00 p.m. to 8:00 p.m. and Friday, December 24 from 9:00 a.m. to 12:00 noon.
→ Bring back your own containers
→ Order here
Martine
3-course menu of your choice (40€/pers)
Starters
– Smoked salmon with dill sauce and blinis
– Duck foie gras au torchon with onion confit
Dishes
– Quail stuffed with chestnuts and pistachios, sweet potato and rosemary purée, pear and ginger sauce and caramelized chicory
– Quail stuffed with morels, sweet potato and rosemary purée, Maury sauce and caramelized chicory
– Pan-fried scallops, Mardin sauce and cauliflower and almond purée
→ Place your order before December 14
→ You can pick up your order on the 17th, 18th, 23rd or 24th
→ Order at: reservations@martine-restaurant.be
Le Tournant
4 course menu (80€/pers)
– 1/2 Bellevue lobster
– Home-made semi-cooked Belgian foie gras & fig caramel
– Stuffed quail and seasonal vegetables
– Chocolate cake, coffee & almond cream
→ All offers can be found here
→ Order the menu on the website
Humus and Hortense
4 course menu (65€/pers) or 5 course menu* (75€/pers) with mignardises
– Celery ravioli, capers, watercress, fermented ajo blanco
– Terrine, leek, beet chutney, horseradish
– Roasted maitake, pumpkin mole, brussel sprouts
– Ballotine of green cabbage, turnip, parsnips, yellow wine sauce
– Chocolate, shiitake, praline
– Mignardises
→ Available on December 24 and 31.
→ to be ordered online here before 19/12 for the Christmas menu and 26/12 for the New Year's menu.
→ also aperitif and wine and cocktail pairing formulas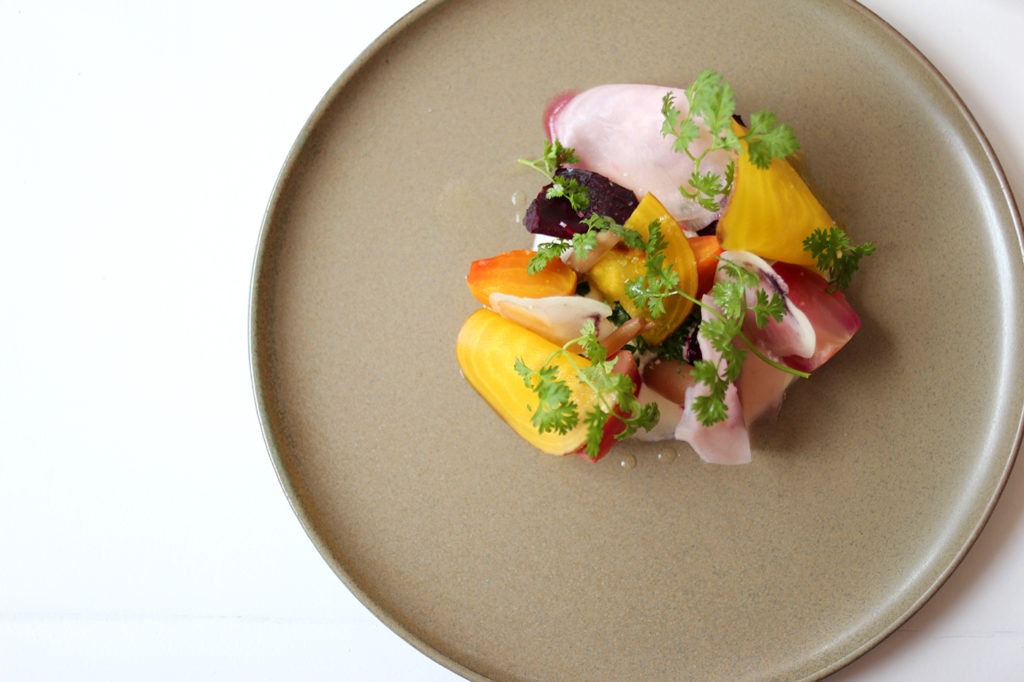 Notos
4-course menu (70€/pers on site or 58€/pers to take away).
Starters
– Crab with citrus fruits
– Foie gras stew with duck goujonnettes
Dishes (choice)
– Kakavia of scampi, scallops and rock fish with almond saffron aioli
– Arvanitiko : stuffed farm chicken (meat, liver, rice and currants) crushed pear and celery
Dessert
– Christmas chocolate cake, orange coulis, cardamom cream
→ Wine pairing formula available on request
→ Order by phone at +3225132959 or by email: info@notos.be
→ Pick up the order on site on December 24 between 12:00 and 18:00
→ New Year's menu available here
Hors-champs
4-course menu (60€/pers)
Starters
– Raw and slightly smoked scallops from Erquy, stuffed peppers and homemade dashi
– Carolegian cream soup with white beans and chef's spices & small stuffed with wild boar confit 24 hours and shellfish
Dishes (your choice)
– Belgian game, pie with spices, quince and seasonal vegetables
– Sustainable fish like a borscht, beets, chard and oysters
Dessert
– Our 3 Christmas delicacies
→ Order only by mail: info@hors-champ.be
→ All information on the different formulas, the little extras and a menu for the new year available here
→ Pick up on December 24th between 11am and 4pm
Isabelle Arpin
4 course menu + madeleine (80€/pers)
– Scallops, smoked and candied celery, chestnuts, burnt grapefruit
– Pan-fried foie gras, dried fruits, juice like mulled wine
– Bresse poultry, parsnips, coffee and truffle aroma
– Meringue, truffles, chestnuts, blueberries
– Madeleine
→ Available on December 24 (and December 23 and 25 upon request).
→ Place your order here or by phone at 0492 97 19 27
→ Children's menu also available on December 24 and 31. 45€/child. Info here.
→ New Year's menu also available, info here.
Fauvette
3-course menu (45€/pers) or 4-course menu (55€/pers) + amuse-bouches
– Amuse-bouche
– Scallops au gratin with Botteresses cheese
– Pike-perch dumplings and lobster en papillote, Riesling sauce
and/or
– Turkey roll from the Gibecq farm stuffed with cranberries, pistachio and mandarin
– Assortment of Belgian cheeses (8€ supplement)
– Rolled Christmas log with chestnuts and chocolate, buckwheat and candied lemon
Extra:
– Sourdough bread and old wheat 6€ (extra charge)
– Hollow oyster from cancale 2€/piece
– Gravlax of trout from Ondenval 10€/ 100g
– Cream of mushroom soup from our Ardennes 9€/ 2 persons
– Lobster bisque 9€/ 2 persons
– WECK of duck foie gras, prunes with armagnac 39€/ 250g
– WECK of game terrine 24€/ 250g
→ Order by mail: info@fauvette-restaurant.be or by phone: 0477666727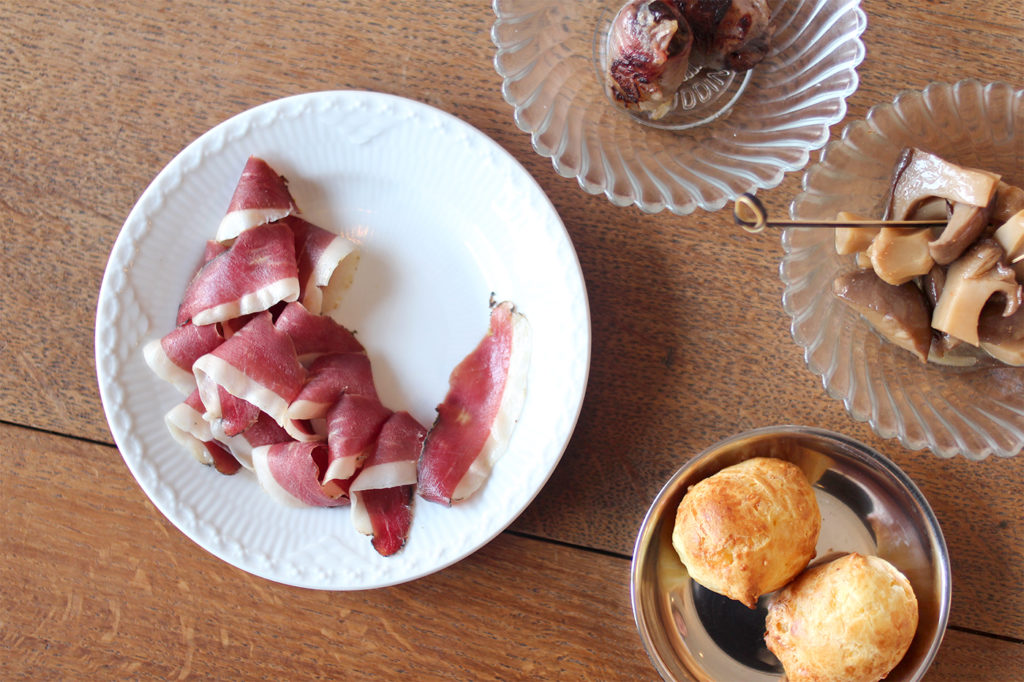 Angie's Kitchen
Menu available here, minimum 4 persons.
Some examples: leek and walnut ravioli (48€/4 pers), Fresh scallops and scampi cream (125/4 pers), La Tatin à la vanille de madagascar (20€/6 to 8 pers).
→ Pick-up in Flagey (Ixelles)
→ Place the order before December 16 here or by email to hello@angieskitchen.be or 0472 50 72 53
Noordzee – North Sea
Noordzee offers an à la carte menu, especially for the holiday season. The menu includes their famous shrimp croquettes, but also appetizers, oysters, seafood platters and prepared fish and seafood starters and dishes.
-> All the menu of the end of the year celebrations, here.
-> Orders exclusively by phone at 02/513 11 92, until December 21 for Christmas and until December 28 for New Year.
Brut
Classic 3 course menu (55€/pers)
– Carpaccio of scallops from Normandy, spelt, celeriac, citrus, hazelnut
– Beef Wellington, onion stuffed with mushrooms, potato financier with maple chips
– Mont blanc: chocolate cream, meringue shavings, roasted chestnut cream
→ A vegetarian version and a children's version are available here
→ They also have a Christmas aperitif menu here + a selection of wines
→ Order on the website
Humphrey – The Holy Menu
Christmas Box with Mallory Gabsi & Glen Ramaekers
Menu (65€/pers), DonPapa cocktail (10€/pers)
– Faux shot of oysters
– Roasted leek and oyster
– Kinilaw scallops with tiger leche, Little Miss Sambucus
– Farm chicken and Philippine herbs, Don Papa rum
– Candied Jerusalem artichoke
– Turon (banana spring roll) and aged cheese
+ Christmas log (25€/2 to 4 people)
+ Papa's Blossom cocktail (20€/2 pers)
→ Pick-up at the restaurant on the 23rd, 24th and 25th from 12pm to 6pm.
→ Order here, via Resengo, by email at info@humphreyrestaurant.com or by phone at +32472049583
Coquum
This restaurant offers a selection of 2 products to go:
– South West duck foie gras 200g (20€)
– Smoked salmon with berries and blackcurrants 200g (15€)
→ Reserve by email: info@coquum.be indicating your name, phone number, and the date and time of pickup.
→ Pick up on site from Monday to Friday between 6:30 pm and 7 pm or on Thursday or Friday between 12 pm and 2 pm. To be picked up no later than Tuesday, December 21
Frank
This restaurant is offering organized Christmas brunches on site from December 26 to January 2. No need to make a reservation, you can go and they will find you a place. But just in case, here is the link to make a reservation.
Le Bain des Dames
Christmas cake formula (4, 6 or 8 people)
– Paris-brest
– Royal chocolate
→ Place the order before December 20th
→ To be picked up on December 23 between 4 and 8 pm
→ Order by mail: orders.lebainsdesdamesbx@gmail.com
Cokoa
Available in 4 persons (26€) and 6 persons (39€)
– La Luz de Lemon (gluten free) – lime mousse, heart made of passion curd and kalamansi jelly and crunchy cookie crumble pistachio and roasted hemp
– Sunny Yuzu – dark chocolate mousse Ecuador 70%, dark chocolate yuzu heart, flourless cocoa cookie and roasted pecan crumble
– A l'ombre d'un amandier – Alliance between almond milk, mandarin and kumquat, heart with pieces of candied kumquats coated in a mandarin compote juice. Around it, a light mousse with almond milk and fir sprouts. And as a cookie, a crunchy toasted buckwheat and flaky feuilletine.
→ Order until December 22, 6pm for Christmas and December 28 for New Year.
→ Order on the website here.
Les Tartes de Françoise
4 logs available (between 16 and 24€)
– Bûche framboise nougat: Soft vanilla sponge cake covered with a nougat crisp. On this cookie rests a raspberry mousse with a light heart of white almond and lemon confit. Topped with a raspberry mirror glaze.
→ Available in small and large (24€ and 41€).
– Dark chocolate log, bourbon vanilla: Cocoa sponge base, praline crunch. On top, a dome of dark chocolate mousse with a creamy bourbon vanilla heart. Chocolate mirror icing.
→ Available in duo (two portions), small and large (16€, 24€ and 41€).
– Mango passion fruit log (gluten-free): Passion fruit mousse with a light insert of mango mousse and apricot confit. All on an almond dacquoise. Mango mirror glaze.
→ Available in small and large (24 and 41€).
– Coffee praline log: Crispy puffed rice, spoon cookie spread with a roasted hazelnut praline and coffee buttercream and rolled into a log shape. Covered with a new layer of coffee buttercream.
→ Available in duo (two slices), small and large (16€, 24€ and 41€).
→ Other cakes available here
→ Order on the website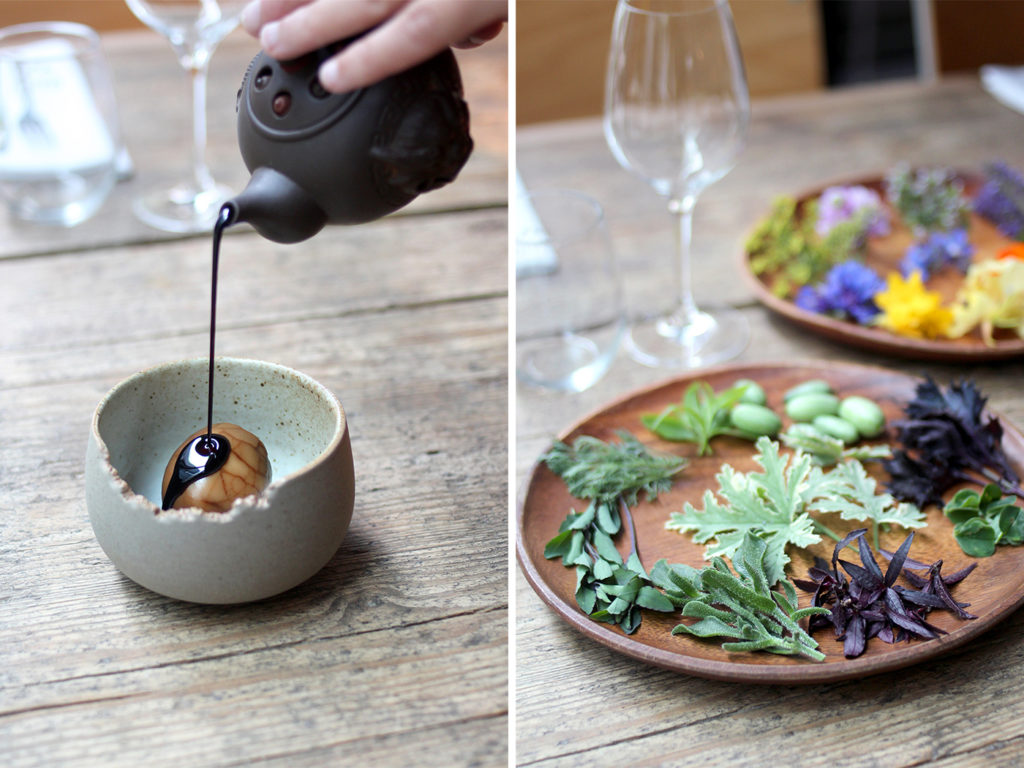 Les restos qu'on a très envie tester !
KTCHN
Choice of catering menu
Starters
Lobster Bellevue, mayonnaise & cocktail : 42€/piece (500g)
Smoked holstein beef, foie gras, hazelnut, wheat salad – 16€/pers (from 4 people)
Half-cooked scallops, green cabbage, celeriac, puff pastry, truffled nage – 22€/pers (from 4 people)
Foie gras au torchon with thyme and Espelette pepper – 75€/500g Tip: 60g/pers
Smoked salmon, sour cream with herbs & lemon – 30€/500g Tip: 180g/pers
Hollow oysters, lemon & shallot vinegar 36€/24 pieces
Dishes
Veal shank, truffle, port juice: 32€/pers (from 5 pers)
Roasted brill, Champagne butter, candied leeks, seaweed purée: 35€/pers (from 3 people)
Mushroom risotto, truffle flavor : 25€/pers (from 4 pers)
Stuffed capon, pistachio, foie gras, juice of the juices, grenailles, celery with hay, braised chicory: 180€ the piece of 4 kg (more or less 6 pers)
Fillet of doe, shoulder confit in cabbage leaf and grenailles – 32€/pers (from 4 pers)
Desserts
Pavlova style: chestnuts and citrus fruits 7€/pers (from 6 pers)
St Honoré style: vanilla and praline 7€/pers (from 6 pers)
Chocolate fondant: caramelized hazelnut chips 6€/pers (from 4 pers)
Pear in shortbread crust, chocolate heart, tonka custard 8€/pers (from 4 pers)
→ Drinks menu here
→ Orders on the website
→ Delivery at your choice from December 20th
The Mess
Choice of services
Zakouskis
Homemade root vegetable chips – 6€/80g
Mini croquettes with old Bruges & truffle – 6€/10 pieces of 30g
Truffle and parmesan twisted puff pastry – 7€/10 pieces
Pot of Mess Pesto – 9€/200g
Starters
Carpaccio of scallops, pink grapefruit emulsion, squid ink tuile – 15
Thin slices of marinated beef, cashew cream flavored with truffle – 14
Braised chicory tatin, orange zest – 11€ (French)
Royal Norwegian salmon, smoked and mild, long slices – 28€/500g or whole fillet (1,1kg to 1,4kg) for 54€/kg
Artisanal grey shrimp croquettes – 4,5€/piece
Old Bruges and truffle croquettes – 3,5€/piece
Norman oyster basket from Père Gus – 48€ / 24 pieces
Bourriche of flat oysters from Zeeland 4° – 65€ / 25 pieces
Artisanal duck foie gras with orange and onion confit – 34€/250g or 68€/500g
Dishes
Fillet of sea bass roasted with herbs, vegetable mille-feuille, virgin oil, pine nuts and taggiasche olives – 22 €.
Mechlin cuckoo cooked at low temperature, butternut and celery gratin, thyme and balsamic sage juice – €20
Mechelen cuckoo cooked at low temperature like a vol-au-vent du Mess, carrots, oyster mushrooms & chervil (optional sweetbreads (+10€)) – 20€.
Ricotta & butternut ravioli, pan-fried mushrooms, truffle & parmesan cheese – 16
Desserts
Chocolate and hazelnut moelleux, caramel fleur de sel – €7
Crumble of apples, pears and almonds – €7
Brownies on a cutting board – 8€/300g or 11€/500g
→ Place order before December 21, 6pm by email: info@lemess.be
→ To be picked up on site: Thursday, December 23, 2021 from 2pm to 6pm or Friday, December 24, 2021 from 10am to 12pm
→ Menu also available for New Year's Eve, order before December 28 6pm by mail.
→ Possibility of delivery (to be specified by mail)
→ Full menu here
Ventre Saint-Gris
4-course menu (58€/pers), with cheese (+10€/pers)
Terrine of duck foie gras from the Southwest, mango chutney, onion confit with Monbazillac, briochette
Cannelloni of lobster " Ventre Saint Gris " style
Ballotines of stuffed Bresse poultry, potato and truffle crystals, seasonal vegetables, spicy juice
Selection of 3 cheeses, black cherry jam, walnut bread (+10€)
Chestnut entremet, red fruit confit, Meringue on top Sacha. Lasne
→ Order before December 20
→ Pick up on December 24 between 9am and 3pm
→ Order by mail: info@ventresaintgris.com
→ Payment at the order by bank transfer: BE12310141261792
Monik
Menu 3 amuses bouche + 3 courses (68€/pers)
Appetizers
Matured beef roll with ricotta mousse and mushrooms
Carpaccio Saint Jacques, citrus fruits and burnt lemon vinaigrette
Mini tartufata queen bite
Starter
Lobster ravioli and bisque
Dishes (choice)
Quail stuffed with chestnut and cognac, wild mushroom sauce
Saint-Pierre, white butter sauce with clementine.
Assortment of vegetables (caramelized chicory, roasted carrots, broccolini, …)
Choice of purée: Robuchon purée, Butternut purée with rosemary, celery purée with homemade hazelnut butter
Dessert
Winter Pavlova
→ Menus can be ordered for December 23, 24 and 25. Deadline for ordering is December 18.
→ Orders are to be placed directly with Monik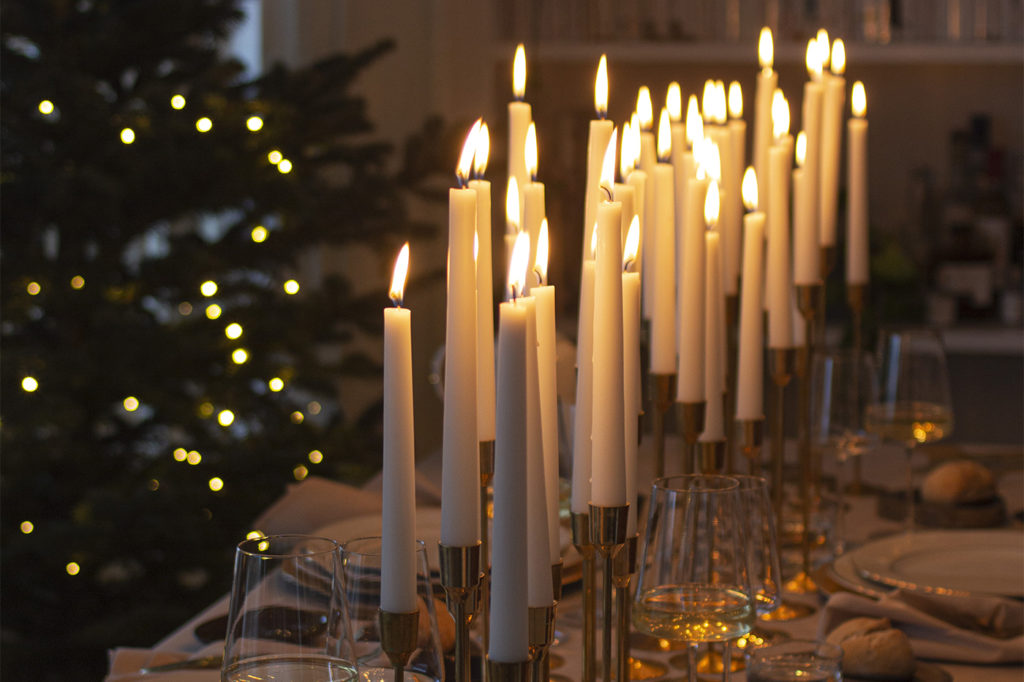 L'Improbable
Menu 2 starters + 3 courses (65€/pers)
Mises en bouche
– Australian oysters regal n°4, cucumber gel, trout eggs
– Beef tartar, sour cream, avruga caviar
Cold starter
– Unlikely foie gras, marinated in miso, onion and pineapple chutney, individual brioche
Hot starter
– Langoustine ravioli, tom kha kai broth, green cabbage embeurre
Dish
– Bresse poultry in two ways: low temperature cooking, leg stuffed with black truffle, cream of wild mushroom, root vegetable purée, Cox's apple with wild cranberries.
→ Order and delivery number: +32492178274
→ Number for order and pick up: +3223440900
→ Full No¨el menu here
→ Find the drink cards and menu for the rest of the restaurant here
Hadrien
3 course menu (75€/pers)
Starters
– Kamchatka king crab ravioli, bisque sauce
– Duck foie gras, brioche bread, red onion and apple jam.
Dishes
– Pure filet of doe, celeriac purée and root vegetables
– Tagliatelle with roasted lobster, citrus sauce
Dessert
– Christmas chocolate delight
→ Order from Hadrien's (closed Saturday lunch and Sunday)
→ To be picked up from December 24 to 25
Saussice
3 course menu + appetizer (45€/pers)
Appetizer
– Trout from Ondenval in gravlax, sausage bread and chutney
Starter
– Grilled scallops, squash and white butter
Main course
– Pheasant chicken, sexy red cabbage, quince, smoked potato mousseline and beer sauce
Dessert
– Baba, chestnut cream, whipped cream and clementine
→ To be ordered before December 19
→ Pick up on December 24 on site
→ order by email: saussice.restaurant@gmail.com or by phone: 0472374517
Foret a Faim
3-course menu + aperitifs (60€/pers)
Aperitifs
– Faux gras. Onion chutney with grapes. Gravlax salmon crackers. Wasabi cream and pink berries. Scallop, mango, yuzu and shiso tartar crackers
Appetizer
– Wild mushroom tartlets, Jerusalem artichoke and black olive cream, mesclun and vegetable pickles
Main course
– Pheasant supreme, poultry juice with morels. Potato and butternut millefeuille, root vegetables, caramelized apples with Calvados and blueberries
Dessert
– Half chocolate Christmas sphere: successful hazelnut cookies, vanilla creamy insert and hazelnut nougatine, 72% chocolate mousse (organic)
→ Order until December 17 at 9pm
→ Pick up on December 24 from 3pm to 7pm on site
→ Order by mail: contact@foret-afaim.be or by phone: 0485499250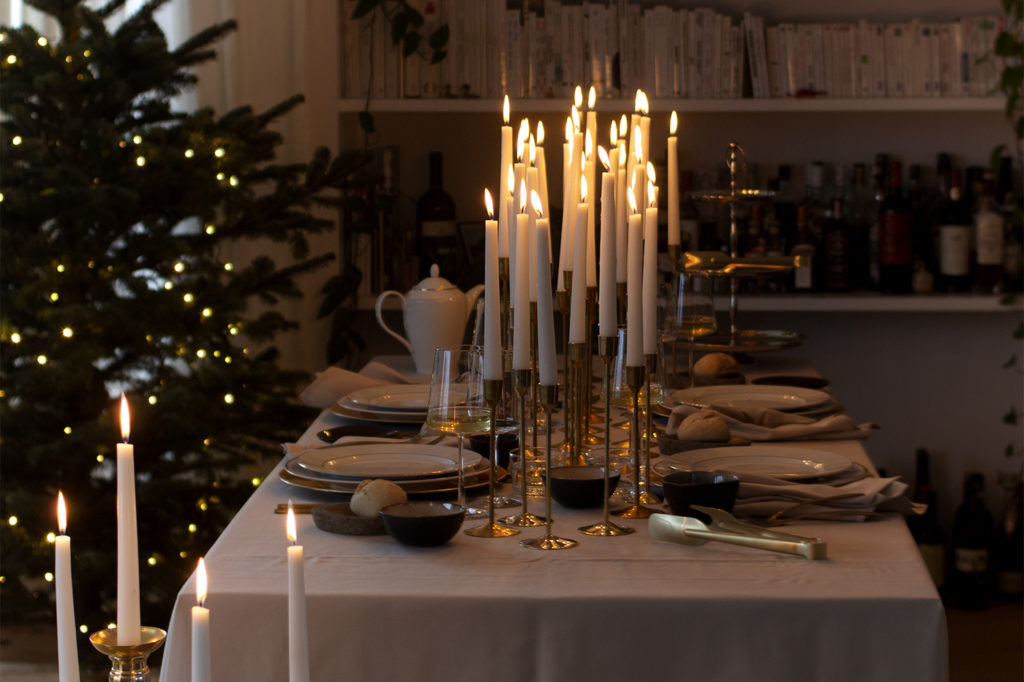 Dans La Foret
Great Christmas & New Year's menu also available here.
Some examples: Gravlax of Scottish salmon heart, red label marinated with red beet, sliced green apple, horseradish sauce (6,50€ per 100g), organic free-range chicken or turkey, veal stuffing, chestnut, truffle & foie gras, rosemary gravy (36€ per kg), pure fillet of hind, with chocolate grué, shallot confit & pan-fried Brussels mushrooms, pear in wine (28€/pers).
→ Place the order before 22 December 17 (Christmas menu) and 29 December 17 (New Year's menu)
→ Order by mail info@danslaforet.be or by phone 02/479 09 99
Belgobon
4 course menu (52€/pers) available here
→ Available from December 24 to 31
→ Pick up at the catering counter from 11am to 7pm
→ Delivery possible on December 24th from 10am to 3pm
→ Orders by email to info@belgobon.eu by December 21st at the latest
Le Divin Caprice
7 course menu (55€/pers) available here
Some dishes from the menu: lobster cappuccino with Armagnac, fresh salmon tartar "vodka and herbs", roe deer mignonette with peppered rosemary caramel, monkfish filet hazelnut and dried bacon leaf.
→ Order by phone at 0470 23 77 48
→ Closing of orders on Wednesday 22
→ Pick up on 24/12 between 1pm and 6pm
→ Menu also available for New Year
Bistro Bobo
4 course menu (55€/pers) available here.
Some examples : Red tuna marinated with oriental spices, tempura of scampi, fillet of doe with grand veneur sauce, Christmas log
→ Orders taken until Friday 17/12
→ Reservations at 02 761 31 21 or by email at info.bistrobobo@gmail.com
Ebullition
Menu available here.
Some examples: crayfish ravioli, Thai broth with coconut milk (15€), parsnip soup with truffles (6,50€), doe, truffled polenta, mushroom-infused juice (24€).
→ Order via this link or on 02 652 22 53
→ Order by 21/12 at the latest
→ Pick up at the workshop on 24/12
→ New Year's menu here