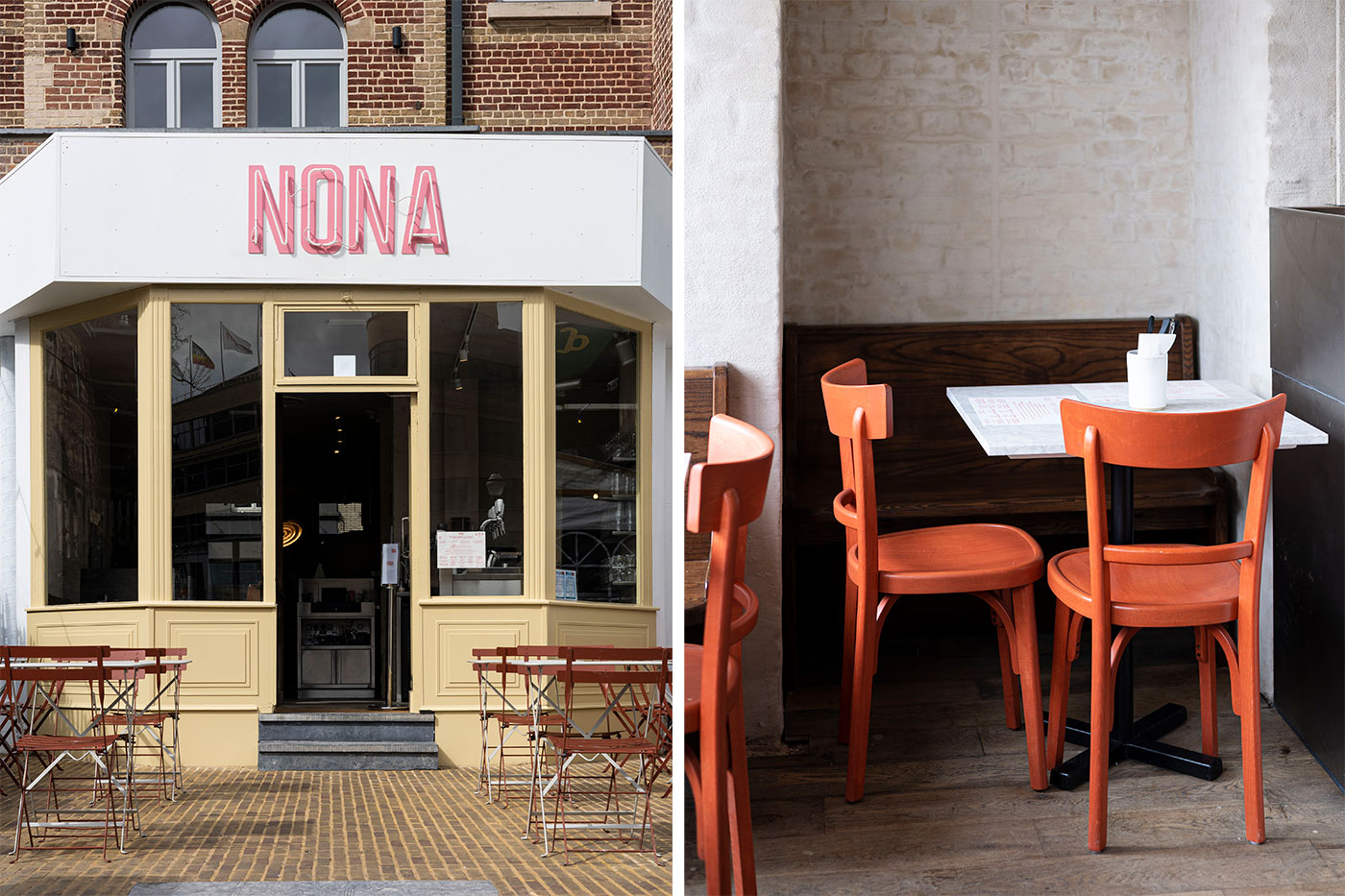 Av. du Général de Gaulle 3
1050 Ixelles
Instagram
sun – thurs 12pm – 10pm
fri & sat 12pm – 11pm
Pizza : 8,90 – 16,70€
It was quite clear to us at first we wouldn't be posting a whole new article about this place – I mean, Nona is already on Brussels' Kitchen twice, what more could this new place do right? It was before walking into Nona Pizza 3.0, the latest venue from the Nona Family, right by Flagey. Meaning also, right by where we live. Don't know about you but sounds like danger to me.
Interior-wise, Nona Flagey is the perfect mix between the other three venues: dark wooden benches from Nona Pasta, marble tables inspired by Nona center, and the iconic red chairs from Nona Mérode. A perfect match in this new Neapolitan Pizza temple, where pizza is tossed into the wood oven for literally 1 minute before coming out all delicious and puffy. That's right.
It may have been the first time we ate there, but it definitely wasn't the first time we tried Nona or their menu, which remains the same across all their venues. We had the classic but not less delicious buffalo mozza-bella (14,90€) which never disappoints, a fresh and seasonal ricotta, pancetta and thyme pizza (16,40€), just as bueno as the first. We also loved the super friendly and warm service from the Flagey team, which always makes a huge difference.
Outside, the view on the ponds calls for a caliente summer – it's about time we start spritzing again.
When leaving, we heard from the kitchen that, out of the three, this was the best place to eat the true Nona pizza, as the dough machine and oven are both slightly different than the other venues. So if you thought you'd tried it all, you might want to just give it another try. Andiamo amici !
C'est peut-être la première fois qu'on se retrouve ici, mais on n'en est pas à notre coup d'essai quand il s'agit de leur carte – qui reste la même à travers toutes leurs adresses. On opte pour leur classique Buffala mozza-bella (14,90€), qui ne déçoit jamais, et une saisonnière à la ricotta fraiche, pancetta & thym (16,40€), tout aussi bueno que la première. On notera aussi le service solaire de la team Flagey, un détail qu'on apprécie particulièrement en ce début de printemps.
A l'extérieur, la vue sur les étangs d'Ixelles depuis la terrasse annonce un été caliente – ça va Spritzer.
En partant, on nous glisse à l'oreille que c'est ici-même qu'on trouve les meilleures pizzas de la famille Nona, grâce à la machine à pâte et au four qui sont légèrement différents de leurs deux autres adresses. Alors si vous pensiez avoir tout vu et tout vécu chez Nona, ce n'est apparemment pas encore le cas. Andiamo amici!