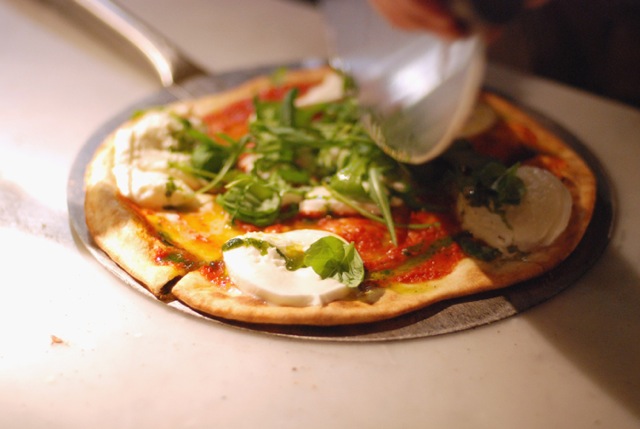 202 RUE ANTOINE DANSAERT, 1000 BRUXELLES
02 502 11 02 – SITE WEB
OUVERT EVERY DAY FROM 12 TO 11PM
A few days ago, we had the pleasure to try La Belle Equipe. A pizza and wine bar and Nicolay's last place in Brussels, at the very end of Rue Antoine Dansaert, a bit further than Bar Beton and right across the Walvis.
You'll easily recognize Nicolay's touch. Long wooden table, raw materials, red brick walls, and industrial looking lamps. Everything is perfectly built and put together to make the place feel cool and cosy. We particularly loved the wood fire, making us feel warmer and warmer as the time passed.
So ok, there are tons of places made by him opening in Brussels, but there are only a few of them that you'll go to for food.
Quality pizzas, that's what La Belle Equipe is all about. Mozzarella di Buffala on the pizzas, and good natural wines on the menu. That's exactly what we like.
While waiting for our pizzas, we notice a machine that seems to be flattening pizza dough. Weird is our first thought, a pizza guy would have much more soul, but once we do try the pizzas with their very thin and light crust, we feel much better about the machine.
The Buffala one is really good and the wine is great too. But the Sarde pizza is missing some cheese and filling. The pizzas get cold pretty quickly too, but that should be pretty easy to fix with warming up the plates in advance. The place only just opened, so we'll wait until they finish fixing all the details.
In the end, the place feels more like a real pizza "bar" than a restaurant, with its high stools and long table. Perfect to start the night with a glass of wine. Or for lunch, before going shopping, or even for a work break.