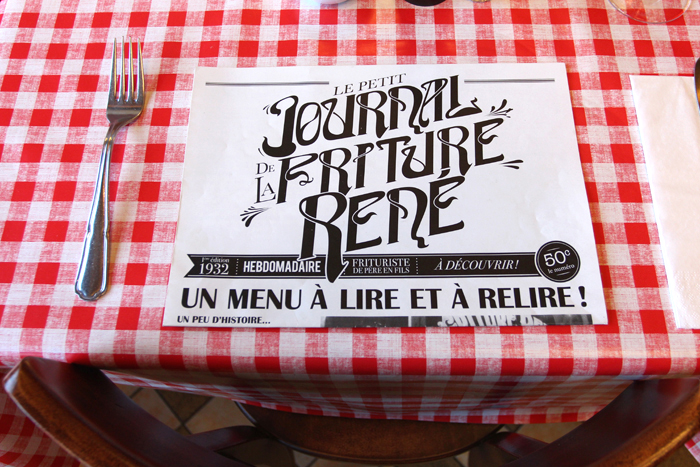 17 PLACE DE LA RESISTANCE, 1070 BRUXELLES
02 523 28 76 – Closed on mondays and tuesdays
Friture René is a family affair. When Dirk is in charge of the kitchen, his wife Dorine and their son Nicolas take care of welcoming the customers. Since 1987, this family has been running this renowned typical Belgian restaurant together. Opened on rue Wayez in 1932, the institution had been dragging customers from the other side of town since we can remember.
The restaurant, decorated with old woodworks and checked tablecloth, is a real landmark for the brusseleir. We discover a menu printed on newspaper, full of traditional dishes putting Belgian cuisine in the spotlight. The "moules parquées" (raw mussels), just opened then served with mustard dressing (9,60€), are amazingly fresh and easily compete with the Gillardeau oysters (21€). The Cube-roll rib steak from Argentina (31€), thick and marbled, is perfectly cooked and tender. Nothing to say except that its 400 gramms size makes it quite difficult to finish!
As the meal slowly comes to an end, Nicolas will surely offer you to experience a Chinese traditional tea ceremonial. A passion he has developed and now offers to his customers, taking them on an unusual journey after such a traditional Belgian meal. A special moment you would not want to miss to fully live the Friture René experience.