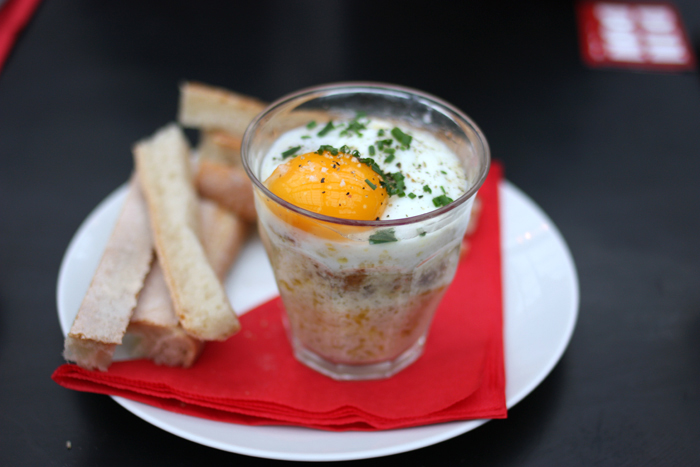 62 PLACE DU JEU DE BALLE,1000 BRUXELLES
02 540 89 99 – SITE WEB – DELIVERY
OPEN EVERYDAY FROM 8 TO 11:30PM
DE 8h à MINUIT
Pin Pon has taken residence for a few weeks now in the old fire station on Place du Jeu de Balles.
The place was opened at the beginning of october by Thomas Carton and Charli, already famous for his delicious bakery on Place Sainte Catherine, and the cooks are coached every now and then by Philippe Emmanuelli, for picking out products and deciding on new menus.
We first were a little confused when we faced the double entrance, then took a flight of stairs left and arrived inside a heated veranda, protecting us from the cold and the wind outside despite its direct open air access.
The place was completely renovated to create this new restaurant but is still seriously missing charm and coziness. Although the light it benefits does make the place very bright…
The menu makes us smile. Divided in three categories, scallops, pork shoulder and "autumn".
We read at the bottom of the page that H.V. means "Haricots verts but it was too long to write" (green beans).
We choose a starter to share in the autumn part of the menu which reminds us a lot of the Café des Spores.
Hardboiled egg with boletus mushrooms, brie cheese and chestnuts, served with grilled bread.
It was just amazing and we ate it in a few seconds, while thinking it would be amazing for brunch too. And it actually is, the waitress tell us.
Then come the grilled scallops on lemon mashed potatoes and the pork shoulder with oven roasted carrots.
The scallops are so good, and the pork is really savory and perfectly cooked. We really feel that the quality of the products is the main thing defining their weekly changing menu. Carrots are excellent and even the mashed potatoes are prepared with care.
And there is a lot of mashed potatoes and carrots.
The dishes are simple and authentic. Good seasonal products, put forward with accuracy, to reveal all their flavors. And the plates are served quite generously too, we never felt so full after eating grilled scallops.
Maybe it's a way to fit in Place du Jeu de Balles, where the food is known to be quite honest and with no prevention.
We still feel like dessert and order a chocolate mousse and caramel tart, from Charli of course. It's juste perfect to end this beautiful lunch, while watching the rain chase away the last tourist off the flea market.