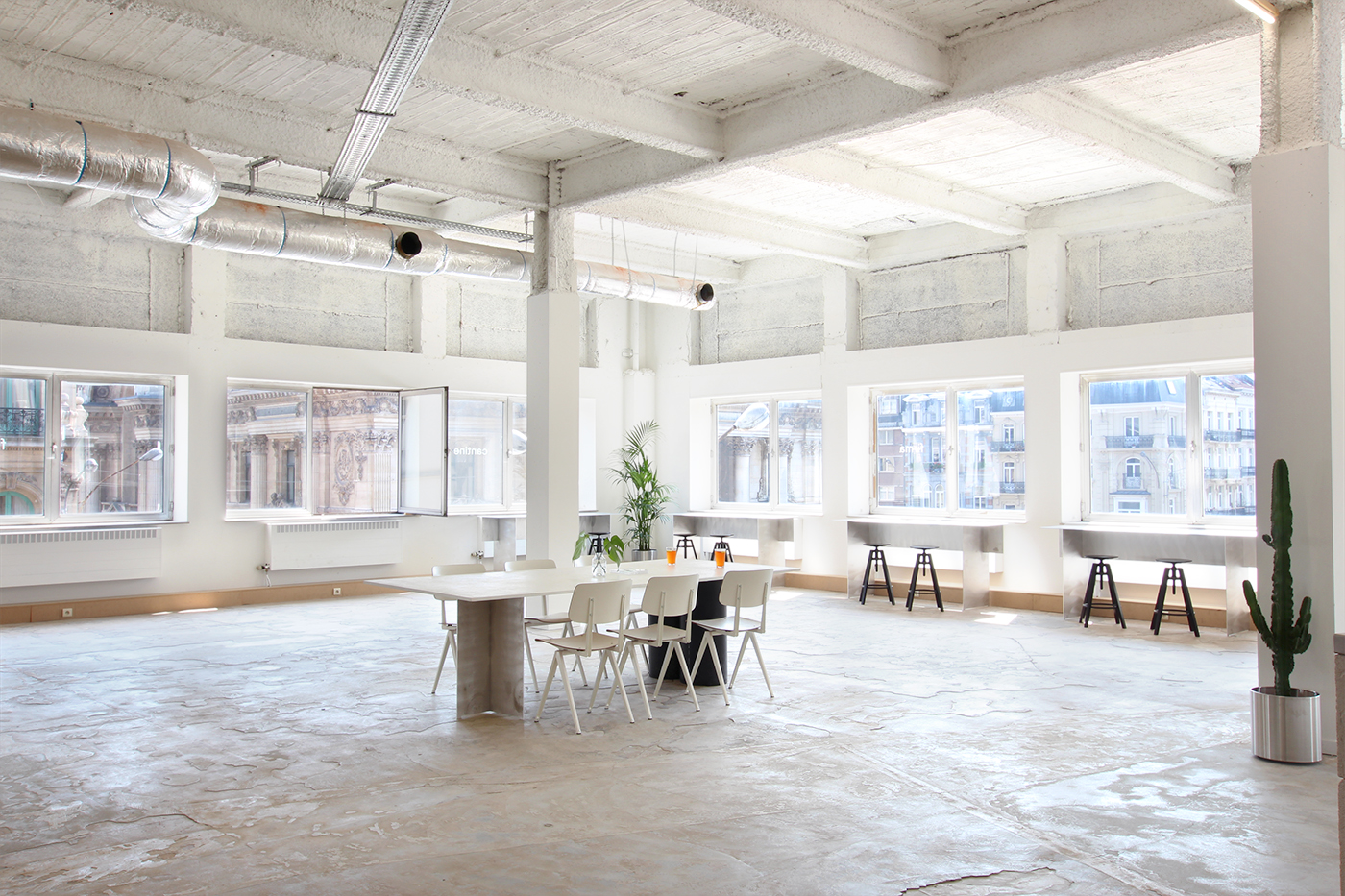 65 boulevard anspach, 1000 brussels
site web
from monday to friday: from 9am to 5pm
lunch: 6,50€ – 12€
brunch first sunday of the month: 25€
In the very center of Brussels – the real one, visited mostly by tourists, stuck between Central Station and boulevard Anspach, lower than Mont des Arts and right before the vibrant neighborhood of Sainte-Catherine – a new and gigantic eatery ad co-working space just opened. Anne, who had already open a similar project in Vilvoorde a few years ago, just moved into the boulevard – or the new "piétonnier" – in the old Actiris building. And just like in her first space, she combined with extremely good taste a co-working project – Firma – and a neo-canteen – Cantine.
You'll have to climb through the different floors – helped by playful and super-well designed indications, just in case you would get lost – to reach your goal: a 600 square meter space, so huge even the big bar and all the chairs and tables kind of seem lost in the light. The spirit is both industrial and sharp, far from all the pinterest mood boards – though we have to admit we also love those. It's an all-white-everything type of space, filled with pretty veils, a huge kitchen counter, tables and desks in white osb with steel feet – designed by Anne herself – and a few well-chosen design icons, like the lamps by Maarten Van Severen or the Togo chairs, which Anne borrowed from her own home. The menu is rather vegetarian, vegan and gluten-free, though nothing says so in clear bold letters. And there's no need to panic if you do not have any special dietary issues – a great pesto croquet-monsieur is there too (with real bread and real cheese) (8€), right next to the beetroot hummus and feta plate with gluten free-crackers (12€). With their delicious cappuccino, amazing light and super chill atmosphere, its by far one of the best news of the "piétonnier".