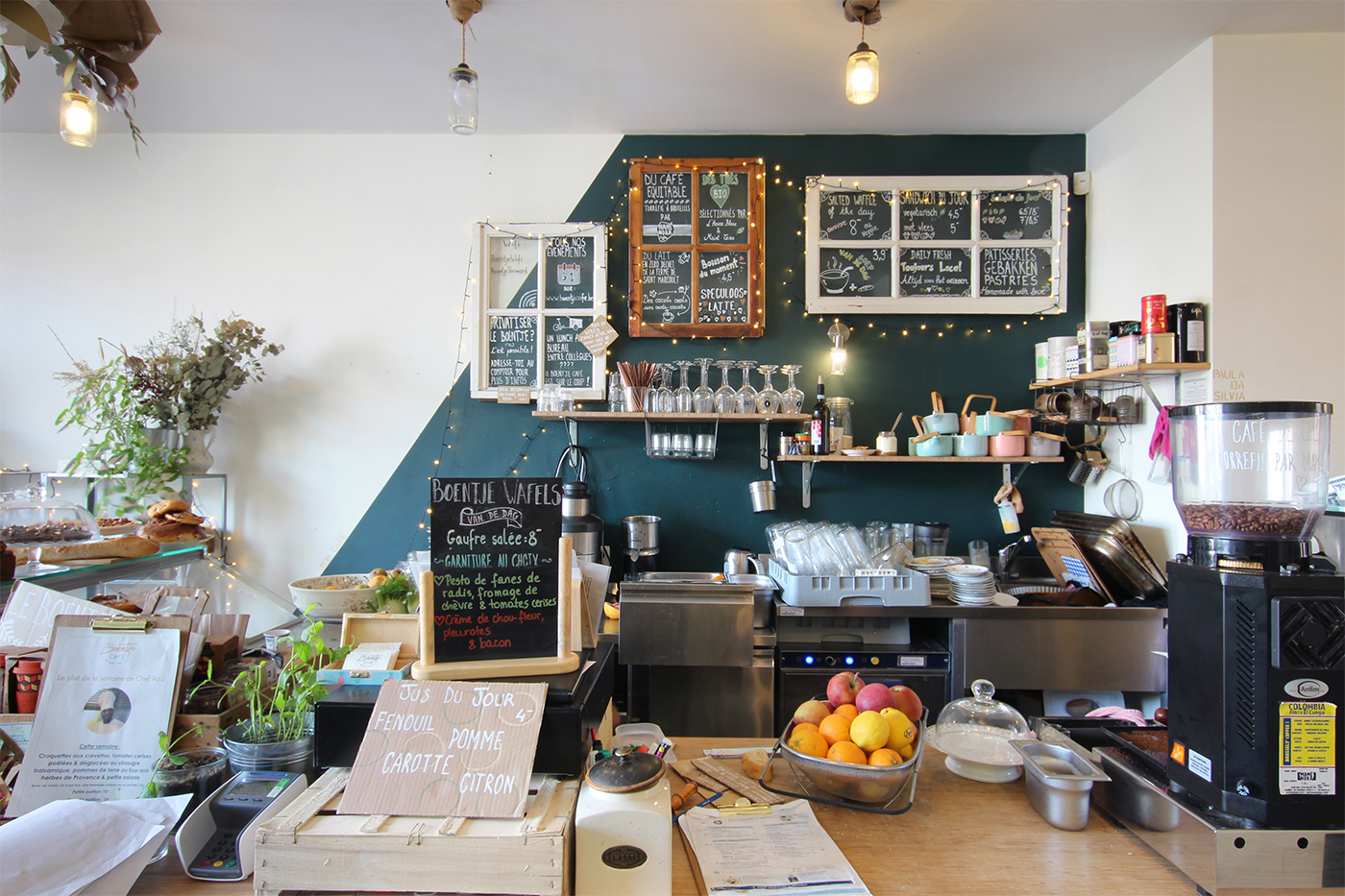 18 place colignon, 1030 schaerbeek
02 672 08 37 – website
Lunch: €4 – €12
Brunch: €7 – €25
Monday from 8 a.m. to 3 p.m.
Tuesday to Friday from 8 a.m. to 6 p.m.
and Saturday to Sunday from 10 a.m. to 6 p.m.
It's hard to miss the recycling spirit when stepping in for the first time at Boentje. In both the counter and the fridges, prices are written on little pieces of cardboard, looking as though they were torn from big moving boxes. Behind the bar, old windows hang against the wall, displaying the daily menu written in white marker. At the back, there is a cute little courtyard, where the we can catch the cook picking fresh herbs in the little garden.

This little café was opened two years ago by Victoria and Sandrine, on Place Colignon in Schaerbeek. Their project was to open a cool and laid-back eatery where customers could enjoy breakfast, lunch and brunch, while being inspired to adopt a zero waste and sustainable lifestyle. Why Schaerbeek? Because the scale of the mission made it seem all the more interesting. The most important while carrying their vision was to remain accessible to people from the neighborhood. Customers don't come because it is a zero-waste café, but it is something they remember and seem impacted by. When stepping in to get coffee to go, many are surprised to walk away with a glass jar instead of a paper cup. And many do actual bring it back. We tried the granola and the poached eggs served with delicious gluten-free bread – rare enough to mention it – for breakfast. For lunch, the girls always have a vegetarian and an "omnivore" option available, in their sandwiches, salads and savory waffles. The waffle of the day with radish leaf pesto, goat cheese and cherry tomatoes sounds delicious (8€), a good reason to come back. Before we go, we preciously pack one of their business cards carrying little seedlings of Poppy, to plant as soon as we get home.