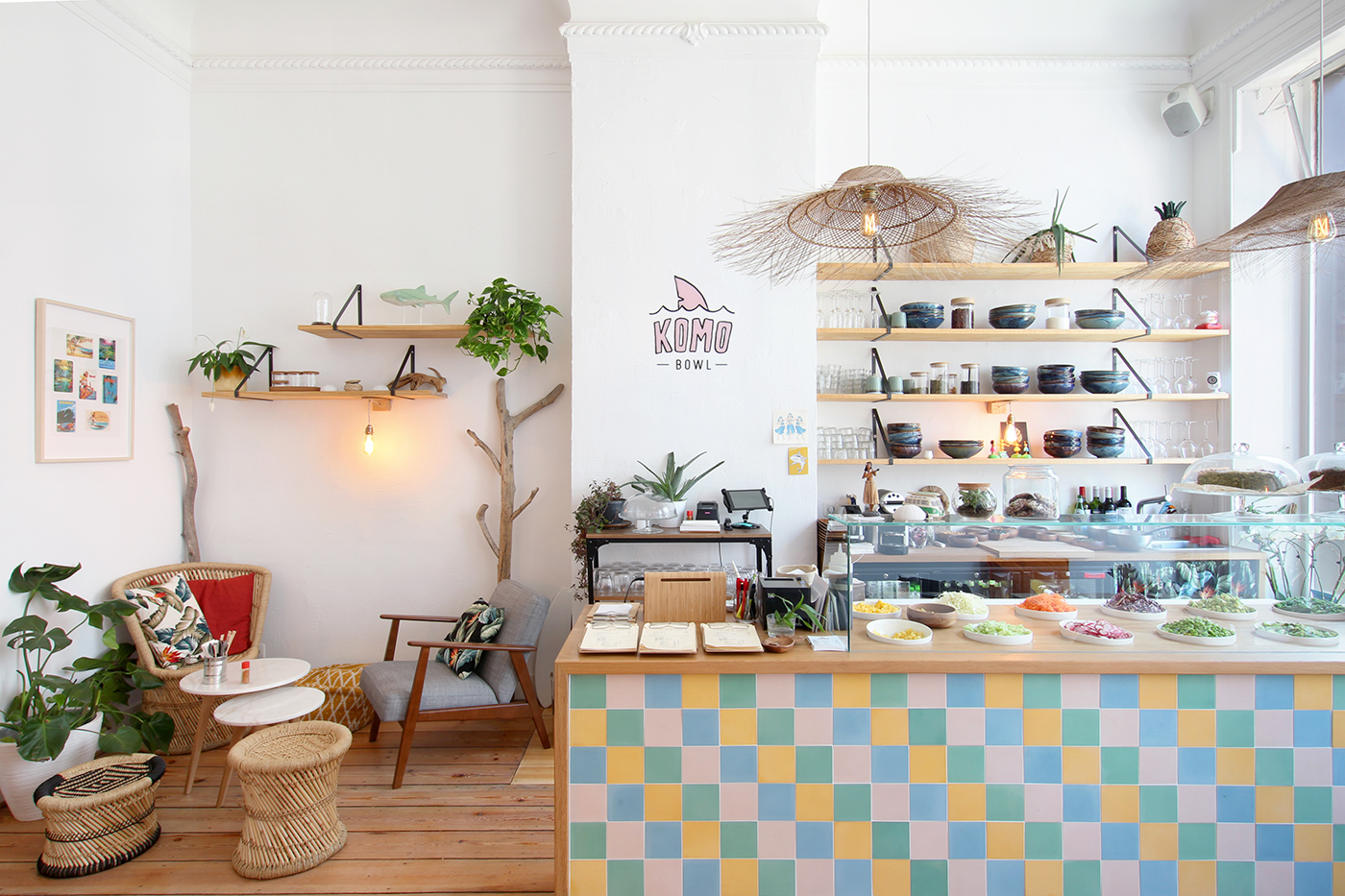 36 rue defacqz, 1050 Ixelles
02 751 00 38 – SITE WEB
from monday to friday, from 10am to 3pm and from 6pm to 10pm
saturday from 11am to 3pm
poke bowls : 11€ – 14€
smoothie bowls : 8,50€
It seems like in Hawaii, food is all about acai and poke bowls, from breakfast till sundown, including in between surf lessons. At Komo, both are served all day long, from Tuesday to Saturday, non-stop. It was during a trip to Hawaii that Lauren first got to discover and try both, everywhere, all the time. And back to Hawaii she went, once the idea of Komo was clear in her mind, so that she could pick up all the inspiration she needed.
As a food lover who'd worked in the hospitality business since she could remember and got trained in the coolest eateries in Brussels – Knees to Chin and Bao Bang Bang among others -, she chose to partner with two of her closest friends, Olivia and Juliette, to launch her own food concept: a smoothie and poke bowls bar, just like in Hawaii. And the girls haven't missed a single reference. From the surf board turned into a table, the little plastic belly dancers on the shelves, and the multiple shark objects and drawings – it feels just as if you'd walk into a surf shack. The place is fresh, colorful, and the girls are super nice and welcoming – pretty much everything you could ask from this type of place. Well not everything, what matters most still is inside those bowls. From Hawaii, they've kept the base: warm rice, marinated fish – which makes all the difference apparently -, avocado, edamame and exotic fruits. The rest of the add-ons will help you reach your five fruit and veggie target. It's quite straight to the point, as colorful as the interior, and simply delicious. For 14€ for the larger version, you've got yourself one of the best healthy lunch-deals of the city, hands down. In the morning and afternoon, Komo is the place to go to grab a smoothie bowl, made with acai berries, banana or even avocado; a great and healthy option to replace our more traditional and extra-sweet breakfasts and snacks. And there as well, it's no surprise by now: it's just delicious.