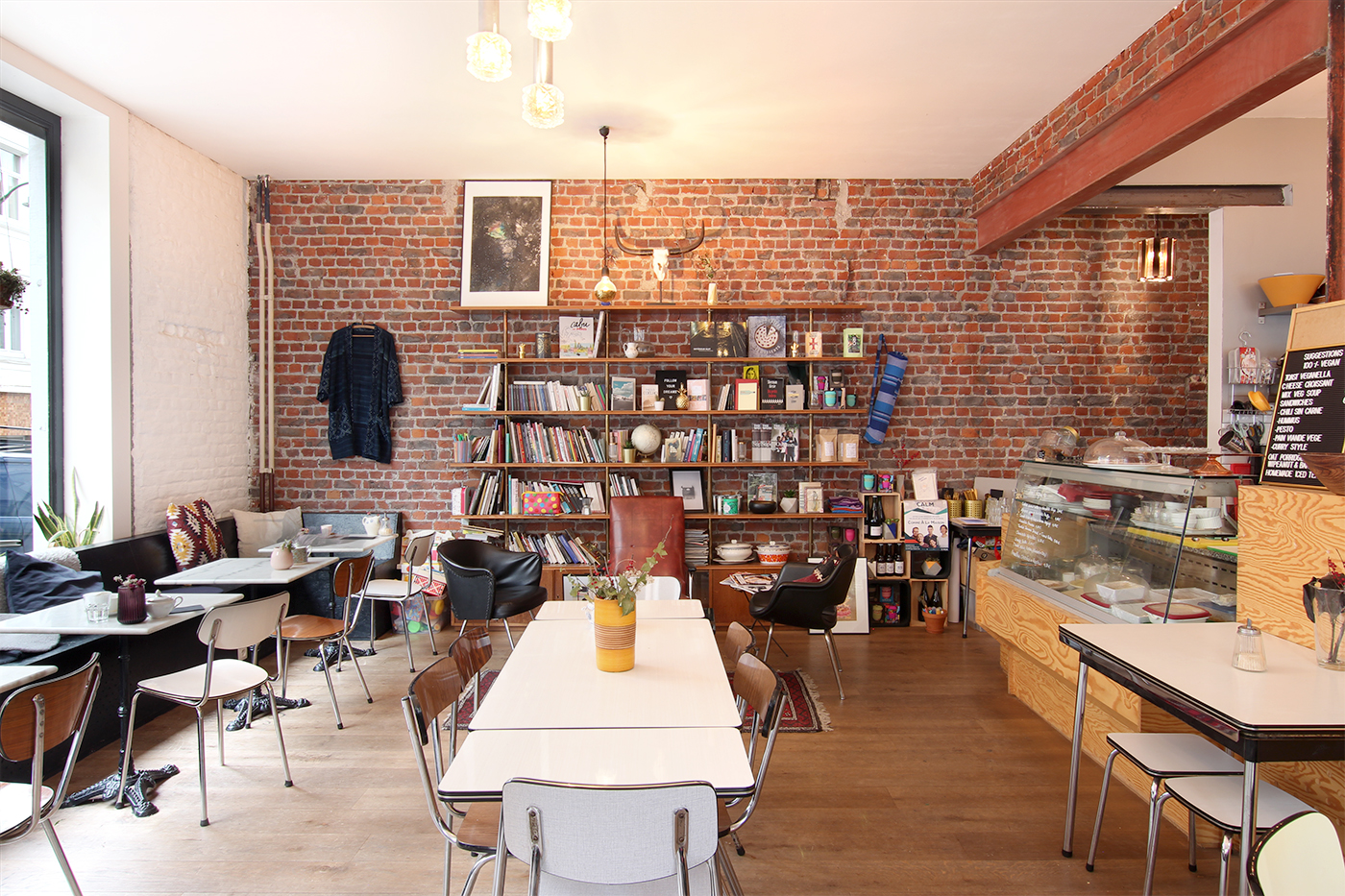 59 rue de savoie, 1060 Saint-Gilles
02 534 69 13 – site web
from monday to friday, from 7am to 5pm
saturday and sunday, from 11am to 3pm
breakfast: 2,20€ – 8€
lunch: 6€ – 12€
Against the red brick wall, a big bookshelf – filled with as many random objects as with books -, and surrounded by a little sofa and vintage carpet, has us feel as though we've just stepped into a millenial's apartment. The small bistro marble tables, the Formica chairs and the few freelancers half-hidden behind their computers remind us we're in a café, and a rather cozy one, between Albert and Van Meenen squares.
The breakfast offer seems rather on the healthy side, with a ton of gluten-free, dairy-free and plant-based milk options, put together by Perrine, who took over the Café Parade to transform it into L'Alchimiste just over two months ago. Croissant and pain au chocolat are delivered each morning by the (plant-based) bakery Succulente, should you need your fat and sugar fix. The quinoa Bircher with coconut yoghurt (6€) and the banana and peanut butter toast with honey (6€ as well) are making eyes at me. So is the granola and the acai bowl. Tough decision. As I devour my toast without any regrets, and the day slowly starts to lean towards lunch hour, L'Alchimiste is filled with hungry neighborhood customers. Even then, the atmosphere is still extremely peaceful and quiet, and so are the freelancers who still haven't moved an inch from their Macbook. Only as I order my "curry style" toast myself do I realize the place is 100% vegan. The fake chicken-curry soy protein toast with mango chutney I try definitely ranks among the best chicken-curry I've ever had – vegan or not, that is. The pea hummus is not bad either, and this first extremely positive experience has me thinking already about what I will be eating when I return – vegan mozzarella, chili sin carne or vegan meatloaf, to soon to tell.