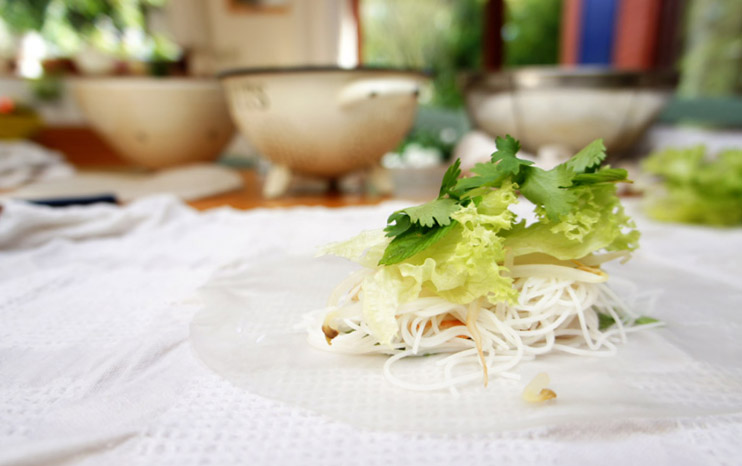 Today it's my mom's birthday, big family reunion, drinks in the garden and everything. So for the occasion I thought I'd try a spring roll recipe to serve as a starter. I bought those rice sheets like a year ago, and left them all alone in a drawer. I think they always scared me a little bit.
The truth is, there is nothing easier than making spring rolls. You just have to dip the sheet in hot water for about ten seconds, (hot, not boiling), until it become completely soft, then spread it on a wet towel, put your ingredients on top, then roll.
For the ingredients, I chose to start with the classic version, shrimps, rice noodles, soya beans, lettuce, cilantro and mint leaves. But you can change the filling.
Lay the ingredients a bit lower than the middle of the sheet, starting with the cilantro leaves, then the shrimps, rice noodles, etc.. cover with the lower part of the sheet, then fold the exterior sides then roll. Super easy. For the sauce, you can use the sweet and sour sauce made for nems and spring rolls, or make it yourself, the same way I did with the gyozas.
For one spring roll:
– one rice sheet
– two cooked shrimps
– a few rice noodles
– a few soya beans
– a small shredded lettuce leaf
– cilantro, 6 to 10 leaves, if you love it as much as I do
– three mint leaves.
For the sauce :
– 2 table spoons of soya sauce
– 2 table spoons of rice vinegar
– 1 tea spoon of sesame oil
– 1 tea spoon of sugar
– chili flakes