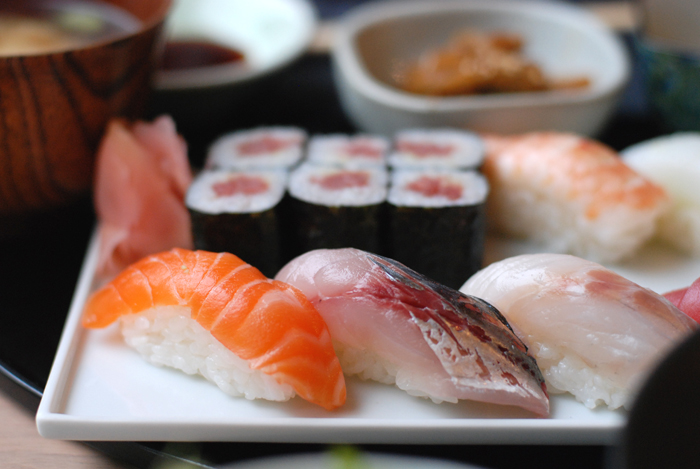 550 CHAUSSEE DE WATERLOO, 1050 Ixelles
+32 2 648 78 48 – SITE WEB
closed on saturday and sunday
It was for a lunch that we first discovered Kamo. We decided to sit at the counter, to observe the chef hard at work, while waiting for our different lunch menus, including sashimis, sushi and raw sea bream with sesame sauce, a specialty of the house. While waiting for our dishes, we sip on a glass of Umeshu, a Japanese plum wine served with ice-cubes, and check every detail of the place. We are in a Japanese Michelin starred restaurant, the only one of its kind in Belgium.
No white tablecloth or silverware here, but a friendly staff, a cosy atmosphere and a chef who only works with the best the sea has to offer. Our first impression was reenforced when our trays arrived. By the looks of them, we could have been eating in just any Japanese restaurant. At Kamo's, it's in the mouth that the magic happens. We tried a cuttlefish sashimi for the first time, which melted as soon as we put it in our mouths. A first that we still vividly remember. Same for the tuna maki, which were just superb. But the ultimate moment came when we tried the sea bream. A dish to eat in two steps, first with its sesame sauce and a bit of rice, then with a broth brought to the table in a small clay teapot. A dish that immediately erased everything we thought we knew about Japanese cuisine. The desserts shouldn't be left out either. This is where we tried the most intense and soft black sesame ice-cream, and to be completely honest, we haven't been able to find any other like it since.
Kamo is probably the best value for money Japanese restaurant in town, and their lunch offer definitely worth the trip. And as for their evening tasting menu, do keep it in mind for special occasions.