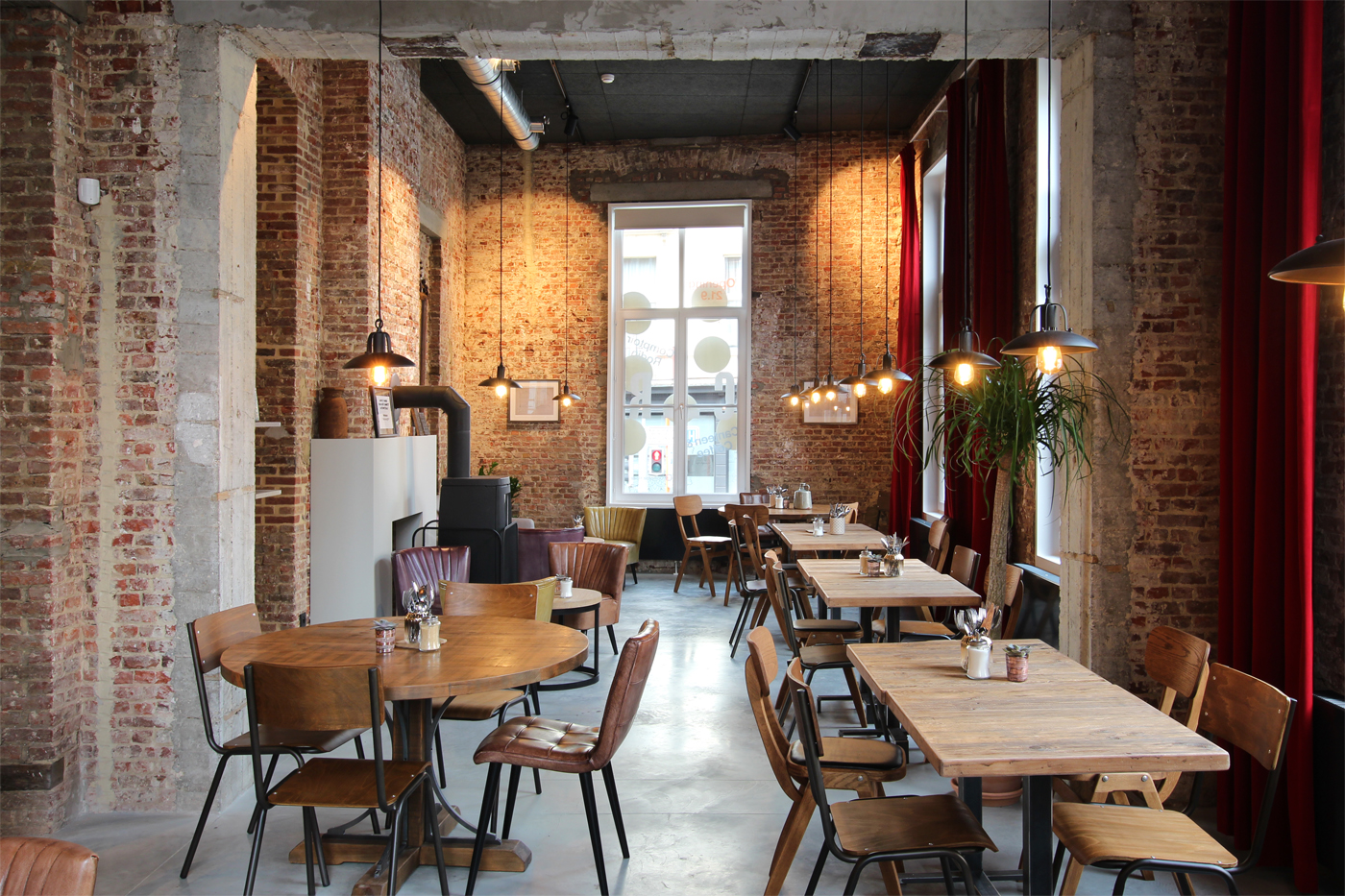 8 avenue auguste rodin, 1050 IXELLES
02 203 00 14 – site web
from tuesday to friday, from 8:30am to 3:30pm
saturday & sunday, from 10:30am to 4pm
Hidden between the walls of what is left of the old military hospital, the Comptoir Rodin is the type of place you'd need to know about paying a visit. From the outside, the tower rather reminds us of the casernes on boulevard Général Jacques, and it's only after stepping inside and climbing the first set of stairs that you'll discover this warm and cosy new-age canteen.
Right at the entrance, a little satue of Rodin, a tribute to the name of the street, will help you navigate throughout the space. Around it on the floor, arrows are pointing to the counter, the veranda, or the dining room, for those who may have lost their way. The inside, entirely renovated for the project, reminds us of the warm and cosy room of a theatre, where you'd sip on a glass of wine while waiting for act II. Heavy red velvet curtains surround the windows, brick walls left naked give the place a rather cosy feeling and mismatched leather seats complete the picture. The big windows of this four-facade house do the rest : the Comptoir is cosy, but always full of light.
At the counter, that's where you'll order before being served in the dining room, or in the beautiful veranda. We chose between a range of sandwiches, soups, hot, cold and hot and cold bowls. The bowls were a real success. The hot bowl (11€) – beef meatballs, yoghurt sauce, grilled vegetables, pine nuts, cilantro and wheat – was the definition of comfort food to us. Spicy, hearty and delicious. Same went for the hot-and-cold bowl (also 11€), with spicy roasted cauliflower, eggplants, pumpkin and chickpeas. But the Comptoir is open from early morning to evening, and aside its delicious bowls, it also makes for the perfect spot for breakfast, a sweet break, or a few hours of work along with a coffee.