Belgian buckwheat crackers
425gr Belgian buckwheat flour
375g water
55g oil
10g salt
Humus
250g dried chickpeas, soaked
beforehand for a whole night
thyme
rosemary
bay
1 garlic clove, pealed and sliced in half
1 carrot, peeled and cut into pieces
1 celery stem, cut into pieces
1 shallot, cut into pieces
75g tahin
150g oil
1 tsp coriander
1 tsp cumin powder
a pinch of cayenne
12gr of salt
500g of vegetable purée
cooking juice
Buckwheat crackers
Mix all the ingredients in a bowl, until they turn into a smooth and uniform cream. With a spatula, spread on a cooking sheet or a silicon mattress. Cook at 125°C for about 35 minutes, until the cracker is very crispy. Keep in an airtight sealed container.
Humus
Empty the soaking water and rinse the chickpeas thoroughly. In a pot, cover them with water and bring to a boil. Skim. Add the herbs and vegetables. Let boil until the chickpeas are very tender. Remove the herbs and keep a bit of cooking juice aside.
Mix the chickpeas with the tahin, oil, coriander powder, cumin powder, Cayenne pepper, salt and vegetable purée. Add a bit of cooking juice is necessary to obtain a very creamy and smooth result.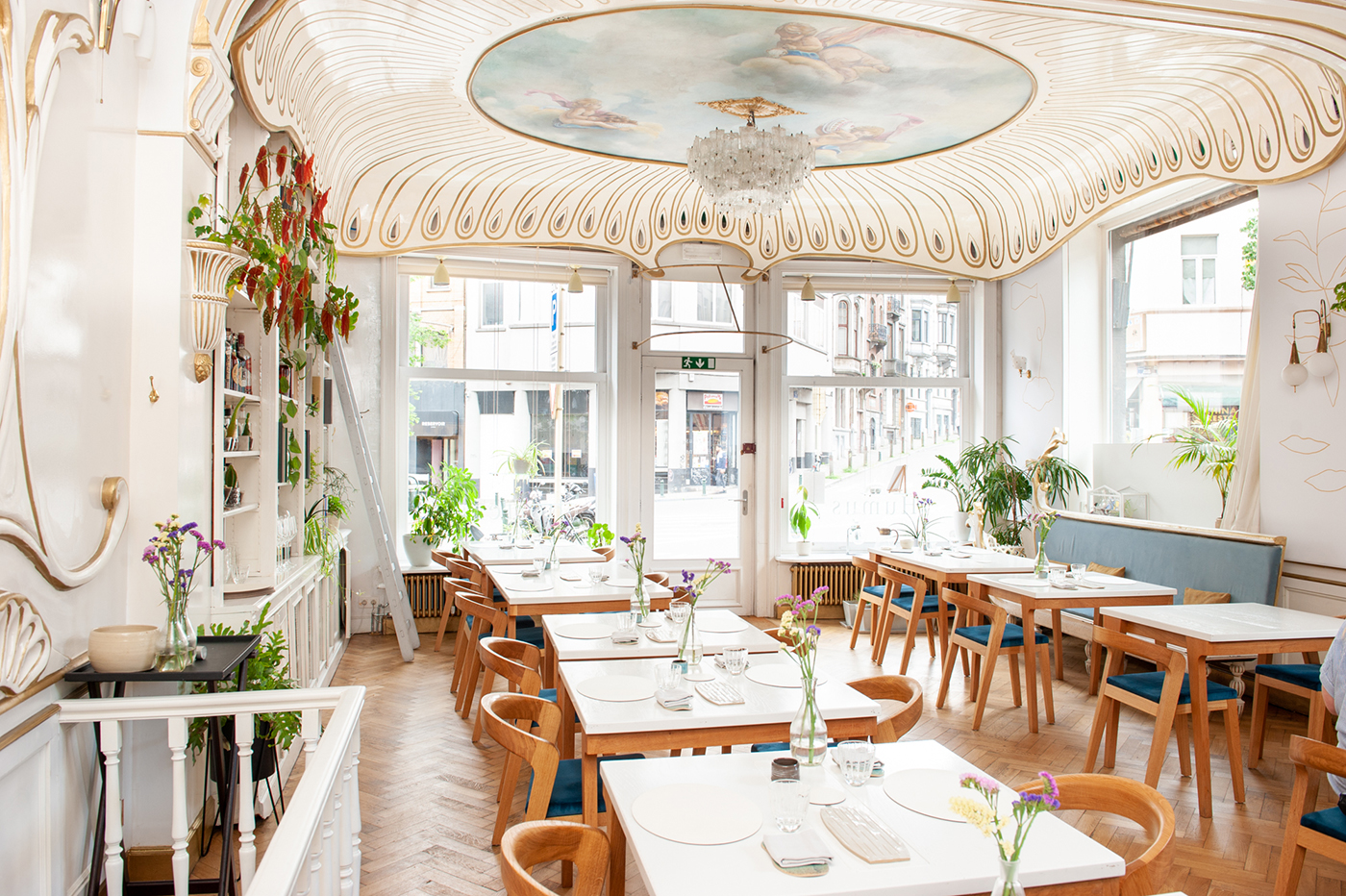 photo d'intérieur : equinoxlightphoto
Can you tell us more?
Humus & Hortense started 7 years ago. Caroline and I were throwing dinners in our own home, calling it "Humus" at the time. It was already a very similar philosophy, and we'd already work with the same suppliers. We used local and seasonal produce, natural wines, and served a unique tasting menu.
In 2016, we joined Matthieu's cocktail bar Hortense right here, where we still work today. Then it evolved. The first step was a cocktail bar with small plates to nibble on. The second step was a cocktail bar slash restaurant. And the third and final step was a restaurant, where we serve dishes paired with cocktails. For the cocktails, just like for the food, we have a zero waste policy. We try to value as much as we can the remaining parts of the ingredients that were not used in the food, turning them into cocktails. It also allows us to highlight our philosophy, which is all about sustainability, and is greatly important to us. It's everywhere in what we do: in the produce we choose to work with, fruits, vegetables and cheeses, but it goes beyond. All our furniture is local, and our clothes were tailored in Brussels. It's key for us to really try to put a spotlight on local artisans.
Before tagging ourselves as a vegetarian restaurant, it's more important for us to be acknowledges as a sustainable restaurant. We consider the ingredients we work with the same way another chef would consider fish or meat. The collaboration we have with Dries (from Le Monde des Mille Couleurs) is amazing.
The well-being of our team is also key to us. We created lighter work-schemes, allowing everyone to take an extra night off, for instance. We've also removed two lunch shits so they could start working only in the afternoon. We really tried to remove the most painful part of a classic hospitality schedule.
Your strongest food memory?
Last year, we were in Peru, and tried all three restaurants of Pia & Virgilio (world famous for their Michelin-starred restaurant Central). They opened their third restaurant in Moray, in the middle of nowhere, two hours away by car from Cusco. It's an old archeology zone where Incas used to make agricultural experiments. Seen from the sky, it's a series of circles and terraces, and on each terrace, there is a different micro-climate. They also brought in different soils from different parts of their land, and grow a different crop for a different ingredient on each single terrace.
They opened Mil, in which they work with ingredients harvested in those terraces. They also try to favor local employment among their staff. I think that's what touched us the most, and the atmosphere in general. The way the restaurant is implanted, their philosophy: all the work that is being done there is incredible, and makes for a total experience that was simply: Waw! Given the location – quite poor in terms of electricity and gas – what they're able to make is outstanding. Even if Central is a bit more advanced, here we really love the atmosphere and the overall experience.
I remember a dish with potatoes and other root vegetables, cooked in the soil, with sauces made from wild herbs. I also remember a chocolate dessert made with both local chocolate and cocoa, prepared in different textures. It was super cool. They also offer a drinks pairing, and have this whole library of pure alcohols which they combine with local ingredients.
Your favorites in Brussels?
Barge, for a couple reasons. They work with the same vision and mindset as us, highlighting great farmers and suppliers, and do it very well. For the little anecdote, Grégoire was my first kitchen help, even before he joined hospitality school, over 13 years ago. It was a student job for him during a summer, in a restaurant where I used to work in Knokke. We went to try Barge in February, and are lucky to live only 5 minutes away, which makes it really easy for us.
Also Frank. By Matthias and Marianne. Matthias used to work at Hummus, and he now also works with Dries – he's chosen the same supplier as us. We went just a week before the lockdown, and really loved it. They do a really great job.