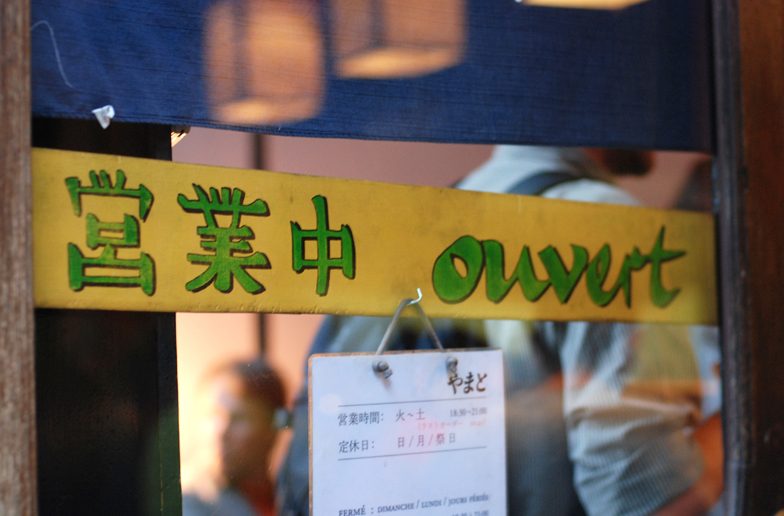 11 FRANCART STREET, 1050 BRUSSELS
PHONE : 02 502 28 93 – delivery
OPEN everyday
FROM 12am TO 2pm AND FROM 6:30PM TO 10PM
Having dinner at Yamato should be something that you really want. That's what we love so much about this tiny place, which can only host about ten people around its open kitchen. Two benches by the window allow the hungry customers to patiently wait for their turn, while helping themselves with Japanese Manga from the shelf nearby – that is if they know how to read them. That shouldn't be a problem here as most customers at Yamato are Japanese, which we take as a good sign.
You'll have to patiently wait until your turn comes (about 30 minutes), to climb up the little platform and enjoy a beautiful bowl of ramen, which have been making the reputation of this place for years. Once our turn comes, we'll take a seat at the counter, and place our order directly to the chefs on the other side. Homemade gyozas (7€ for 6), Katsu-don and Shoyu Ramen is what we go for. The Katsu-Don (14,50€), a delicious bowl of rice topped with fried bread coated slices of pork, is hearty and served so generously it's hard for us to finish. The Shoyu broth, served with the ramen is full of flavours. A real delight completely worth the wait.
Once finished, we'll have to play fair and regretfully leave our seats to the next customers in line. But if like us, you'd rather take your time, come here around 9:30 pm. That way you'll be among the lasts served and chances are you won't have to give up your seat.
In the summer, you can also enjoy your ramen on the little terrasse, and get a seat quicker that way too. Be careful though, you might wait much less to get seated, but the experience for sure won't be the same either!