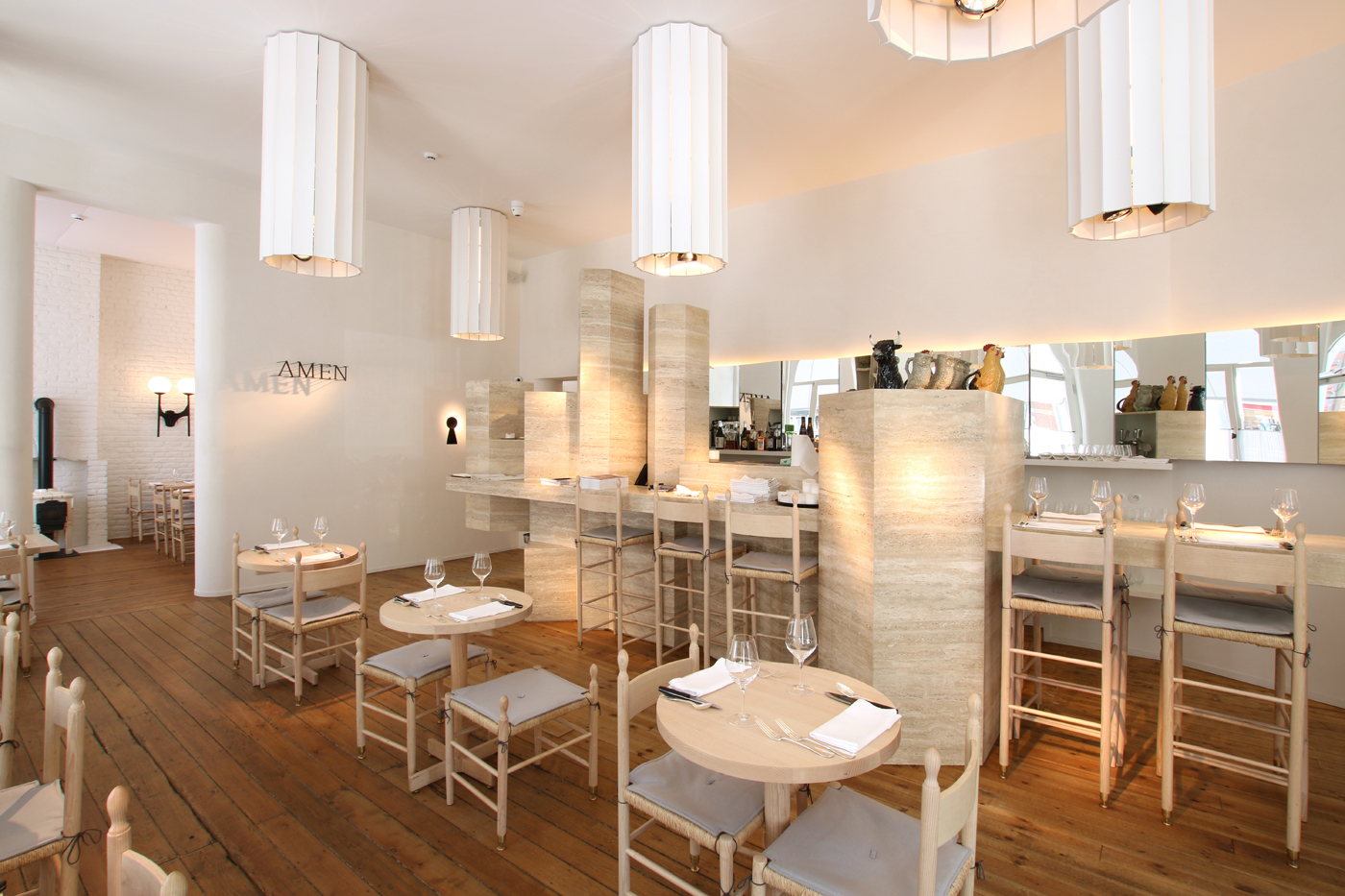 RUE FRANZ MERJAY 165, 1050 IXELLES
02 217 10 19 – WEBSITE
OPEN FROM TUESDAY TO SATURDAY FROM 12 à 2:30PM
AND FROM 7 TO 10:30PM
In early August 2016, the twice Michelin starred chef from Le Châlet de la Forêt opened Amen, a second restaurant located a few steps away from place Brugmann. Taking over what used to be the bistrot Gaspar, Pascal Devalkeneer and his partner Pili Collado created an impressive scenery, both sober and extremely elegant. The design of the interior was inspired by the "Shakers" movement, a protestant community from the beginning of the 18th century, resulting in huge white lamps hanging from the ceiling and incredibly simple wooden furniture. The bar, carved into a massive block of travertine, crosses the room from side to side, giving it a lot of charisma, while in the evenings, white tablecloth and candles cover the tables, for a more intimate and cosy atmosphere.
The cuisine is classic and refined, with Mediterranean inspirations. On the menu, wood oven grilled squid with candied lemon (24,50€), rock fish Bouillabaisse (37,50€) or the Amen « Vitello Tonnato » (17,50€). The fish is perfectly cooked, and the ingredient combinations are full of flavors, and every detail of the dishes are well thought of and perfectly mastered. The water is home-filtered, then brought to your table in stunning ceramic jugs shaped like owls and bulls.
If the prices are rather high, the lunch menu really is worth the detour. We tried a potato risotto with clams, followed by Lustin poultry with roasted beetroots and squash, for 26€. Amen is definitely worth a visit for a remarkable lunch in an extraordinary setting.